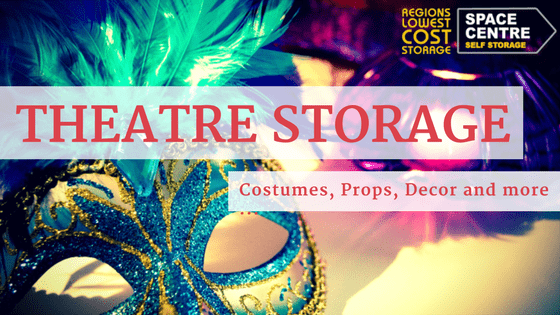 Open air theatres are particularly popular among locals and this summer in Gloucestershire, it's no different. We are spoiled for choice with the likes of Berkeley Castle, Cowley Manor and Tuckwell Amphitheatre among others. So we say it's time to pack a picnic basket, your favourite bottle of wine and enjoy the show!
What we don't see though is behind the scenes. There is so much to consider when setting up for a show and theatre storage is one of them. Many people associate self-storage with e-bay traders or small home based businesses but all sorts of people use self-storage. Many smaller theatre groups do not have big theatre storage so using a storage facility is a good, cost effective alternative.
Theatre Storage Tips
Every great show needs the right stage with the best props and costumes. Making sure these important assets are safe, effective theatre storage is essential.
First and foremost, take note of what you're storing so you can select the right size storage unit. Why pay for space you don't need? Remember to use the right boxes and make sure you label them correctly. Light items should be stacked on top of heavy ones and should be securely fastened in storage and in transit to avoid damage and possible injury.
If you're storing expensive equipment like stage lights or sound equipment, use bubble wrap or blankets to keep expensive equipment safe. You can also use padding material on items with sharp edges so it doesn't damage other goods in transit or when packing your storage unit.
Benefits of using a self-storage unit
It doesn't matter your type of business or what you are storing, using a storage unit can be extremely beneficial. Here are a few reasons why so many people choose to use self-storage facilities.
Decluttering your office or home has never been easier and more affordable
Units are clean, safe and come in different sizes at affordable prices
24 hour surveillance with access control
Limited access – only you have a key to your unit
Clean, dry temperature controlled environments mean the scenery boards stay dry and don't warp
Props and costumes don't get damaged by damp, mould, mildew
Stage blocks don't fill your garage
Drive up access allows for quick and easy transport of larger set pieces
Costume Care and Storage
There are some important aspects to consider when storing costumes or other materials if you want to avoid damage or deterioration. Whether it's your props like sofas, stage essentials like curtains or your invaluable theatrical costumes, you need to pack and store it carefully. But first, everything needs to be clean and dry before you start packing. If you don't, there is a real risk of fabric rotting.
Prior to transit and storage, inspect costumes for any stains or residues that may harm them in the long term. Speak to your dry cleaner about your intention to store. They may be able to help you by stuffing sleeves etc. Some may even prepare your items for storage so you don't have to.
When choosing a storage method, decide whether you are going to hang the costumes or lay them flat. In most cases and if the storage unit has rails for this purpose, hanging costumes are recommended. Just make sure the hanger used is padded and sturdy enough. If costumes are laid flat, avoid stacking or creating too many layers.
Store in a place where there is no damp and no extreme changes in temperature or humidity. This discounts garages and lofts and the safest option would be a temperature controlled self-storage unit. Small units can be rented for a very reasonable price, but be sure to view any unit you are considering to make sure it is clean and dry.
Regardless of what you want to store and where, remember to read the facility storage rules carefully. Most storage facilities offer similar services but it's always good to know the fine print. Don't just sign the contract without doing your due diligence.
Please get in touch if you need advice or more information about self-storage. Our friendly staff will be happy to help. We have vast industry experience and storage facilities in Stroud, Bristol and Gloucester areas.