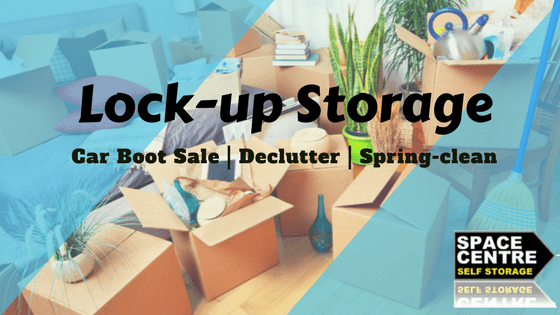 Spring is already in full swing and it's never too late to start re-organising and decluttering. Have you considered a car boot sale to sell your 'trash' for cash? It's a great way to declutter your life and make some extra money in the process. You could also rent your own lock-up storage unit to store your items between sales. It certainly is recommended instead of overloading your car, stall, home or shed.
Preparing for a Car Boot Sale
Before jumping right into it, follow these simple guidelines for a successful car boot sale:
Pack the night before and store your goods in appropriate boxes for safe storage and transport.
Label your boxes clearly to easier find what you're looking for later.
Don't forget to check your tyre pressure when carrying a heavy load.
Make sure you have a clear line of sight before you start driving.
Ensure you have enough change. Take a few bags of pound coins and some notes.
Take enough carrier bags, bubble wrap and/or tissue paper for wrapping if necessary.
Keep your boot locked while unpacking and keep a close eye on potential thieves (Yes, this can and has happened more than you might think).
Think like a retailer. Group items together and don't leave things in boxes – people won't be able to see it.
If you made the right decision to rent a storage unit, you can rest easy knowing your items are in good hands. Most units are climate-controlled and under 24 hour surveillance. Storing excess goods at home could also increase the risk of damaging valuables or burglars doing early Christmas shopping.
Benefits of Using a Lock-up Storage Unit
Your excess stock or items are out of sight, out of mind and safely under lock and key. Storage units are also very cost effective and convenient with easy access to drive up, load and offload in no time at all. They're accessible to you at any time, 24 hours a day, 7 days a week. Storage facilities are also flexible when it comes to seasonal changes so you can ask for a bigger or smaller unit at any time as your storage needs change.
Tips on storing your items in a lock-up storage unit
Use the right boxes for your items – make sure they're labeled correctly
Know what you're storing so you can accurately determine how much storage space you need
Choose the right size storage unit
Stack light and small items on top of big and heavy ones
Leave an aisle or walkway for easy access to all your items
If packing TV's and electronic equipment, put these at the back of your unit
Wrap expensive equipment in bubble wrap or blankets
Use padding material on items with sharp edges so it doesn't damage other goods in transit or when packing your storage unit
If you decide on a secure storage facility near the location of your car boot sale or summer market, remember to ask the facility staff for assistance in packing your storage unit in the most efficient way. Saving space ultimately means saving money. Also leave your contact details and those of an emergency contact in case they need to get hold of you.
Please get in touch if you need advice or more information about self-storage. We have vast industry experience and storage facilities in Stroud, Bristol and Gloucester areas.