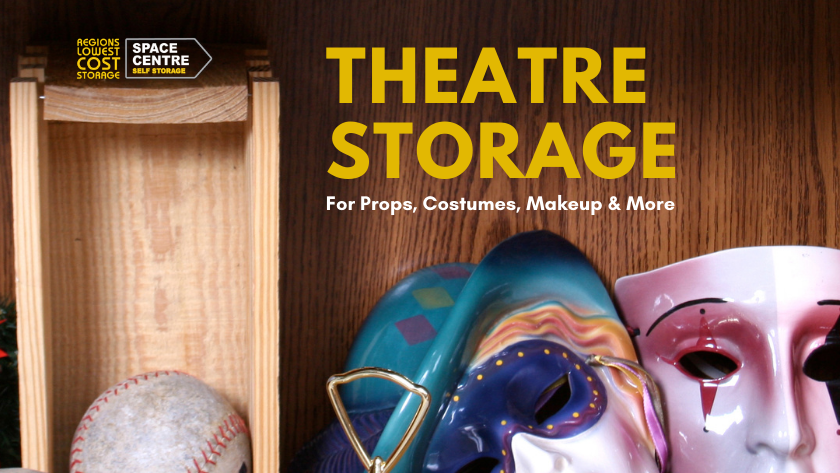 Hooray! It's time to celebrate as theatres are once again allowed to open and that means the show can go on. With the hiatus in performances due to Covid-19, there may not have been much work in preparing and making sets and props. But now, amateur and professional drama groups can get back to normal and to help avoid chaos on and off the stage, you need some smart theatre storage tips.
As anyone in performing arts can tell you, putting together a show requires a lot of effort, including rehearsals and setting up the stage. The all-important question is whether there's enough room to put everything. You don't want to spend hours preparing backdrops and props only to have them damaged when being squeezed into a small cupboard backstage.
Using Theatre Storage For Props, Costumes, Makeup And More
Theatre storage is vital if you want to avoid damage and theft of equipment, props and other related items. Considering the number of people in various roles, including dancers, actors, makeup artists and costume designers working in close quarters, it's easy for things to get misplaced, especially if there's no system in place.
There is so much to consider when setting up a show but many organisers don't give theatre storage a second thought. Whilst you may associate self storage with e-Bay traders or small home businesses but the truth is, all sorts of people and companies use it.
As smaller theatre groups often don't have sufficient on-site space, many have turned to a storage facility as they are a good, cost-effective alternative. Here are some theatre storage tips anyone in the performing arts can benefit from.
Theatre Storage Tips And Tricks
Most equipment for shows are expensive so it's important to do everything you can to keep it clean, dry and safe. A self storage unit at a reputable facility offers all of that and more but you also need to pack things properly. The first thing you should do is make note of what you are storing so you can select the right size storage unit. Besides, you don't want to pay for space you don't need, right?
Use the right boxes
Label everything correctly using a permanent marker or labels
Pack lighter items on top of heavy ones
Fasten everything securely in storage and during transit
Use bubble wrap or soft blankets when storing expensive stage lights or sound equipment
Use padding material on items with sharp edges to avoid damaging other goods
Dismantle whatever you can to save space and to make it easier to transport
Keep a detailed inventory list near the entrance and leave an aisle down the middle for ease of access to all the stuff inside
The Importance Of Good Costume Care And Costume Storage
As we've already established, you need to pack and store everything properly whether it's props, stage essentials or theatrical costumes. However, it takes a bit more effort and discipline to take proper care of those valuable costumes. Most importantly, you have to make sure everything is clean and dry before you start packing. If you don't, there is a real risk of the fabric rotting so here's what you do:
Before transit and storage, inspect costumes for stains or residues that could cause harm in the long term
Talk to a dry cleaner as some do offer special preparation services for storage so you don't have to
When choosing a theatre storage method, decide whether you will hang the costumes or lay them flat. If the storage unit has rails, or you can install your own, hanging theatre costumes is always recommended
Use a padded and sturdy hanger or if there's no hanging space, don't stack them or create too many layers
Make sure the storage area has no damp and no extreme changes in temperature or humidity
For the most part, you should avoid garages and lofts as the fluctuations in temperature and humidity may damage your costumes. Small theatre storage units can be rented for a very reasonable price, but always request a viewing before signing the contract so know it is clean, dry and in good overall condition.
Why Use A Dedicated Theatre Storage Unit?
Whether you're a small or large production company, individual costume designer or sound engineer, self storage can be tremendously beneficial. Here are a few reasons why so many people choose to go this route for safe theatre storage.
Decluttering your production office, home or garage has never been easier and more affordable
Storage units are clean, safe and available in various sizes to suit all types of budgets
Reputable storage facilities have 24-hour CCTV surveillance with access control
It offers limited access where only you have a key to your storage unit
Having a clean, dry temperature-controlled environment means everything stays dry and won't warp
Props and costumes are safe from dampness, mould and mildew
No more stage blocks filling up your garage
Many facilities offer drive-up access which allows for quick and easy loading and unloading of larger set pieces
Finding the right one can be challenging. It often depends on several factors, including the location, level of security, access times and the distance you need to travel to and from. Here are some amazing insights into choosing the best storage unit for your needs.
Theatre Storage In Bristol, Gloucester, Stonehouse And Stroud
If you're looking for theatre storage in Bristol, Gloucester, Stonehouse or Stroud, Space Centre has conveniently located facilities in Stroud, Gloucester, Stonehouse and Bristol. Thanks to our easy-to-use online Price & Size Guide, you can find the right storage unit for your requirements and we also offer free storage insurance up to the value of £3,000.
Our facilities are monitored by 24-hour CCTV surveillance and alarmed for added safety and peace of mind. We can also provide you with a padlock and you are the only person with a key. Visit the website or contact our friendly, experienced staff for more information about self storage costs and how to reserve yours today.
Have a look at whatsonstage.com to find out more about upcoming shows. If you're in the industry and have any additional advice or some clever theatre storage tips, please leave a comment below or chat with us on social media using the hashtag #SCSStips.