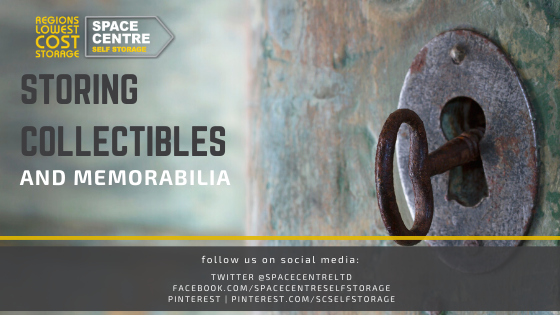 Storing collectables or memorabilia is something many people choose to do for many different reasons. Some may be after the thrill of finding and storing collectables while others want to make a profit from buying-and-selling items. Anything unique enough is worthy of storing from paintings, glassware, comic books to antique furniture. Regardless of what people store, the common goal is to keep collectables in the best possible condition.
Preserving And Storing Collectables
Many people have spent a small fortune on their collections, not to mention all the time spent collecting as well. Make sure your commitment is not wasted by properly taking care of and storing your collectables and memorabilia. Paper items, especially, suffer from high humidity in storage while vinyl and furniture items are susceptible to high temperatures.
Getting the maximum financial benefit from your investment whether it's short or long term is simple really. Storing collectables is all about making sure everything is in tip-top condition when displayed or in storage. Follow these simple guidelines on how to reduce wear-and-tear on your collectables and avoid expensive damage.
Safely Displaying Collectables
When displaying your collectables, some collections may require special attention but there are several rules that apply to most items.
Avoid placing in direct sunlight as it can cause fading or colour changes in colour
If possible, use LED light bulbs for your display as it produces fewer UV rays than fluorescent lights. As a result, it also reduces the chance impacting on colours etc
Don't hang on walls or display in areas where damp may be present
Art, in particular, should not be in an area with fluctuating temperatures such as a radiator or fireplace
Keep things out of the way by making sure they can't easily be knocked over or damaged
Avoid chips, scrapes and scratches by not overfilling display cabinets or containers
Packing And Storing Collectables
Before deciding where you'll store your collectibles, it's important to know how to pack everything properly. Let's take a look at a few items people love collecting and how you can extend the lifespan while keeping the value in check.
Trading Cards, Comic Books And Coins
Trading cards and comic books are popular collectibles but they are not the sturdiest of items especially if they are vintage. If you have these sort of collectibles, you should get some protective sleeves or casings for preservation purposes. There are also sleeves for competitive play if you still actually use them for fun.
When it comes to handling collectibles, our hands are dirtier than you may realise even after washing. Without knowing, you could be damaging your valuables so you should always wear sanitary rubber gloves. In terms of cleaning, there are various rules that apply but if you have vintage coins, many collectors seldom clean theirs as it can greatly reduce the value. If you absolutely have to, read this handy article on 'How To Clean Coins'.
Toys And Collectible Action Figures
While some people collect exceptionally valuable toys and action figures, others merely do it as a passion. Either way, it's important to keep them out of direct sunlight and dust-free. When these valuables are not dusted regularly, a dark layer could accumulate becoming almost impossible to clean.
Bugs seem to like toys as much as collectors do which means you need to do regular inspections. They tend to make holes in the toys which will undoubtedly cause damage and lead to a loss in value. Refrain from putting these items in an airtight bag as even the smallest amount of moisture can turn to mould.
Vinyl Records
Vinyl records always seem to be in high-demand and their prices are also increasing. This is even more reason to take special care of your dad or grandad's vinyl records. First and foremost, your hands should be clean, dry and without any lotions before handling the paper sleeves.
For optimal protection, use polyethylene sleeves to cover the record and the actual cover and store at 50 degrees with 35% relative humidity. Always store vinyl records upright and organise them according to size; don't mix 33s, 45s and 78s.
Antique Furniture
Antique furniture is extremely valuable and usually well-made. However sturdy and durable the furniture may appear, it is still old and you need to store it properly. Start by adding a layer of wax treatment before putting it in storage to avoid cracking and splitting. Remove items from the drawers and cabinets to avoid anything on the inside from damaging your furniture.
Avoid using bubble wrap or plastic wrap as wooden furniture needs to breathe. You are better off using cotton sheets, old soft blankets or some other cloth to keep it covered. For best results, keep furniture elevated to protect it from unforeseen water damage using pallets, bricks or wooden planks.
Tips For Storing Collectables In Self Storage
Packing a self storage unit is often challenging, especially when it comes to collectibles or valuable memorabilia. The first thing to consider is the facility's rules and regulations in terms of what you can and cannot store. Once you've read and signed the agreement, these tips will help you pack your storage unit like a pro.
Use storage boxes for magazines and programmes to avoid them becoming dog-eared
Maximise the height of the unit by adding more shelving and tall racks but don't overload them as it could topple over causing damage and injury
Prioritise ease-of-access by planning the layout of your storage unit by placing a walkway in the middle so you can easily reach items at the back
For obvious reasons, place heavier items at the bottom to minimise collapses and possible injury
If you are storing a large number of collectables, you could also create a list of everything to make it easier to find what you are looking for
Where possible, clearly label everything
Storing Collectables With Space Centre Self Storage
Consider storing collectables at Space Centre Self Storage as our units are clean, dry, secure and affordable. Prices are guaranteed for 12 months with no deposit required and no hidden costs. On top of 24-hour CCTV security, each unit has a smoke detector and you are also the only one with a key to your unit.
Our storage facilities in Bristol, Stroud and Gloucester are conveniently located near major access roads with indoor, outdoor, small, medium and large units. Get in touch for more information or request a quote and start storing those valuables today!