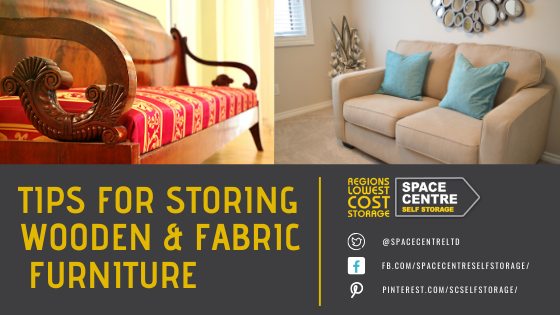 Looking after and storing furniture is a common theme in the self-storage industry and for many reasons. It could be that you are decluttering, downsizing, moving, taking a gap year or dealing with bereavement. Whatever the reason, it's important to properly take care of and store wooden or fabric furniture in particular.
Most of us will run out of space at home during some point in our lives but do you know what to do when that happens? In this article, we explore some useful cleaning tips and share expert advice on storing furniture the right way.
Common Reasons For Storing Furniture
Furniture storage should be a top priority but it involves more than just finding a good storage place. If you want to keep your furniture in tip-top condition, you should really consider renting a self-storage unit. Not everyone has room at home for storing furniture and keeping it in the garage or shed is not the best option. So what are the main reasons why people want to store their furniture?
Unused furniture taking up unnecessary space and just gets in the way
Following a bereavement, you may have inherited valuable family heirlooms and have no extra space at home
Moving house and you need a clean, dry and safe place for your furniture
Furniture items with sentimental value that you can't seem to let go
Renovating, downsizing or redecorating your home where you can safely store everything until your place is ready
Storing Wooden Furniture
Some wooden furniture is robust and can last for decades if it is maintained properly and stored in the right conditions. Fact is, humidity, scratches and dings are very real possibilities if you don't store it properly whether it's short-term or long-term. It all comes down to preparing your wooden furniture for storage and we've highlighted a few important tips below.
Clean, Dry And Polish For Added Protection
Always wash your wooden furniture with warm, soapy water and a brush but don't forget to let it dry completely before storing. If you are sanding it down and applying varnish or a protective coating, it must also be bone dry for maximum protection.
Storing furniture in unstable conditions can cause the wood to crack, swell or shrink and in some cases, even loosen glued joints. Applying a coat of furniture polish will help seal the wood and keep it from drying due to fluctuating temperatures while in storage. For antique wooden furniture or other items, use paste wax if you're storing it for long periods of time.
Important Cleaning and Storage Tips For Fabric Furniture
Most garages and sheds are damp and susceptible to insects and pests. This can be particularly detrimental to fabric furniture and you are better off choosing a clean, dry, self storage unit. Make sure to wash the furniture with fabric or upholstery cleaner and let it dry before storage. If it contains metal or wooden parts, clean and polish it appropriately.
Store your fabric sofa in the same position it would be at home and don't place it on its end to save space. This could seriously damage the fabric and also put pressure on the joints. Do not push it up against the walls or anything else that could possibly cause staining and cover with a cloth sheet.
Disassemble, Organise And Store
Some furniture can be dismantled especially tables or couches with removable legs and knobs that screw on. This makes everything more compact to save room and also makes it much easier to wrap, transport and pack.
Another benefit of dismantled furniture is that you won't be tempted to place other objects on top or underneath. This is one of the most common causes of scratches or dings.
Remember to keep all the removed bolts or screws in plastic bags taped to the corresponding furniture item. You should also label it in case they get separated and you are left with random screws with no idea where they belong.
Wrap It Up
Covering wooden furniture will protect it from scratches and fading but be careful what you use. Plastic can make wood sweat which causes it to swell or rot, especially if the storage area is not climate-controlled. Wooden furniture with leather or fabric parts can also go mouldy. The best items to use for storing furniture are old bedsheets or soft blankets as they don't trap moisture.
Raise It Off The Floor
Whenever you are storing furniture without climate control, don't put it directly on the floor. Lay down planks, plywood, pallets or wooden blocks and build a base to keep furniture off the floor. This will give you an added layer of protection against flooding or leached moisture. While not ideal, you could even use a layer of cardboard or a drop sheet as it is better than nothing.
Related Article: 'How To Pack Your Storage Unit'
Final Words Of Wisdom On Storing Furniture
Furniture storage is often a real challenge even for the most organised people. Thing is, we tend to focus on our immediate surroundings without considering the sheer benefit of self storage. It is a cost-effective and simple way of storing furniture without having to find space at home (or worse, asking a friend to keep your things in their garage).
The ideal solution is a clean, dry, safe and conveniently located self storage facility near you. With short lease agreements and the ability to change the unit size as you see fit, why choose any other furniture storage method? For more information about our storage facilities in Bristol, Stroud, Gloucester and Stonehouse, please visit our website.