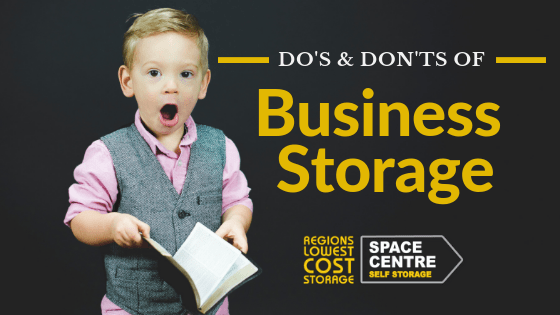 Many business owners would agree that business storage is rather limited as not everyone has sufficient space to store extra equipment, tools or products. Renting bigger premises or a warehouse could prove costly and a better solution would be renting a business storage unit.
If you are starting a new business, finding the right location is one of the most important factors. Same applies to your business storage needs as you strive to minimise cost and maximise profitability. It all starts with choosing the right storage solutions for your type of business.
What if you have an existing business and are in the process of expanding? What if you hired more staff, have a bigger fleet of vehicles or more products in your portfolio? Space can become a major issue for effective business storage but there is something you can do.
We take a quick look at how businesses use self storage and what to avoid or check before signing any contract. While business storage is an incredibly convenient, versatile and affordable option, there are still rules you need to adhere to.
Business Storage Rules and Regulations
Nobody really likes rules but with self storage facilities, ignoring them could prove very costly for you and others. Although self storage facilities are generally very flexible in accepting various types of goods, there are several banned items. Some of the items include the following:
Flammables and combustibles – Petrol, oil, propane, gas and certain chemicals are flammable so accidents could destroy your goods and those around you
Animals, plants and foodstuffs – Cans, jars and bottles are normally okay, but not perishable food. Plants can also attract vermin and of course, you cannot store pets or other animals
Hazardous and pressurised materials – Toxic and chemical substances are often entirely disallowed in case of an accident and pressurised items like aerosols could burst
Illegal goods and weapons – Stolen or illegal goods are definitely banned from self storage Firearms and other weaponry face severe limitations for obvious reasons
Perfumes and fragrances – Some providers don't allow storing of fragrances as they could leak and result in odours
Jewellery and valuables – Unless you have special insurance, some sites won't allow the storage of special goods
While working out of a business storage unit seems like a great idea, it's not always possible (or legal). In many cases, starting a storage unit workshop or converting your storage unit into an office is not allowed. That said, self storage has proved extremely beneficial to many types of businesses and for various reasons.
How Companies Use Business Storage
Normal storage units can really help ease some of the stresses associated with a growing business. Fact is, retail business owners, artisans, e-commerce brands and other entrepreneurs can greatly benefit. Take a look at these types of businesses that use self storage.
Publishers and Book Dealers
A business storage unit is perfect for publishers or book dealers to store inventory, extra boxes and supplies. Rather than using a garage or attic at home that is not really weatherproof, companies can keep everything clean, dry and safe in a self storage unit. This applies to books, magazines, pamphlets, flyers and brochures.
Even better, publishers can make arrangements to have their products delivered straight to the storage unit without being there to receive the shipment. While companies have the only key to access their storage unit, if they decide to use a delivery acceptance service, the facility keeps a copy for couriers deliver and secure shipments inside the unit.
Construction, Landscaping, Roofing and Painting Companies
When it comes to construction, many contractors don't have an office but still need space to store their equipment. Some may need to store lumber, cement, ladders, spades and other supplies. Many storage units have drive-up access which makes it easy to load and unload large and heavy items.
Landscaping, roofing and painting businesses have numerous tools and equipment that need safe keeping. The nature of the business requires everything to be easily accessible at all times. It's all about quick loading and unloading when moving between jobs or sites. From paint, ladders, scrapers, tiles and adhesives to compressors and generators, a business storage unit is ideal.
Retail and E-commerce Businesses
There is no denying that we are seeing more and more online shops. This can range from jewellery, furniture, pottery and clothing to books, toys and crafts. Online shops dealing with physical items need greater availability of storage as their inventory grows. Same as publishers and book dealers, e-commerce brands need a secure space to keep their stock until it ships out. Business storage units can help keep products safe between production, storage and dispatch.
Restaurants and Catering Companies
In the restaurant business, it's important to dedicate as much space as possible to the dining area. It ultimately helps maximise profits as the establishment can accommodate more diners. Business storage can benefit restaurants especially when they make subtle changes between seasons. This includes moving tables and chairs outside during the summer months or making space in the main area for a special event.
When it comes to catering businesses, many will only have a commercial kitchen which they work out of to keep costs to a minimum. This means that they need additional space to store their supplies and equipment, including large appliances, tables, chairs, baskets, table decor, linen, chafing dishes, crockery and cutlery. Ground business storage units provide easy access for culinary professionals using speed racks and carts.
Sales and Servicing Businesses
For the most part, salespeople travel extensively while holding on to marketing materials, sample products and stock. Even if you drive a van with ample storage space, it is not ideal to carry everything in the car. Many sales professionals travel across the country and carting loads of stock around are tiresome and risky. Instead, some will rent business storage units in different locations to keep what they need closer to their customers.
At the same time, companies that offer repair, maintenance or restocking services also benefit greatly. This applies to people who are responsible for restocking several establishments or maintaining flats in different areas. Don't forget about plumbers and electricians as they can also minimise travel time and overloading their vehicles. Instead of keeping everything in the van or at a central distribution centre, using business storage facilities can really shorten response times.
What You Need To Know When Renting A Business Storage Unit
You need Insurance. This is not always provided as standard so upgrade your existing insurance, get a new policy, or buy with the storage firm. Here at Space Centre self storage, we DO provide free insurance up to £3000 and DO NOT charge an upfront deposit
You may need special item insurance. Some goods will require specific item insurance in addition to your overall policy
Check the facility's terms and conditions for vehicles as you may need to empty the fuel tanks. You aren't allowed to treat the storage site as a workshop for repairs and you will probably need to show proof of insurance as well
Keep your unit clean. It is essential that you return your unit in the condition you found it so that you get your deposit refunded
Self storage is more versatile than one would expect with so many ways to improve and help grow your small business. It is the perfect solution to keep vital supplies safe in a cost-effective way while being easily accessible, conveniently located and securely locked up.
Choosing the right storage unit for your business can be challenging but our staff are ready to help you every step of the way. Get in touch if you need a business storage unit or have any questions about our policies and procedures. You are welcome to visit any of our branches to take a look or experience a virtual tour of Gloucester and Stroud.