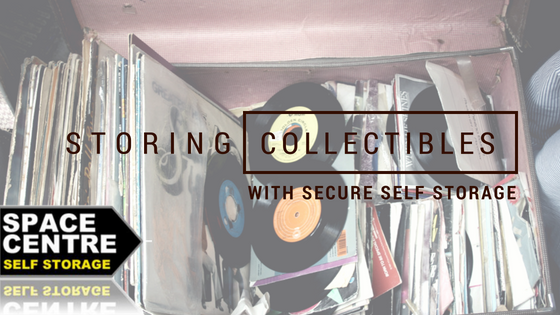 Summer fairs and car boot season mean some will begin collecting while others will add to their growing collection. For the most part, there are two main reasons for storing collectibles: they're either valuable or cherished.
If you're at a point where you need to purge some of your valuables, you need to make smart choices. Is your collection outgrowing the spare wardrobe, guest room or garage? Choosing to keep collectibles in self storage is usually a worthy gamble especially if you're not ready to sell. To keep their value, collectible items need to be kept in top condition and storing collectibles correctly is huge importantly.
Tips For Storing Collectibles
Many of the most popular collectibles can change as quickly as the seasons although some are timeless. Items worth collecting include vinyl records, antique furniture, comic books, classic cars, toys or coins and currency. Whatever you do, effective storage is a non-negotiable and below we've outlined a few tips for storing collectibles.
Storing Antique Furniture or Art
Although beautiful to look at, if you have the space, keeping these in pristine condition is vital. Avoid direct sunlight and steer clear of areas with considerable temperature fluctuations like the garage, shed and loft. It goes without saying that the storage area should be clean, dry and damp-free.
Make sure you use proper packing materials to store these valuable items. Wrap them in blankets or plenty of bubble wrap and always store paintings upright. If you disassemble pieces of furniture, wrap each part store it with the main item. Storing antiques can be fun but make sure you are prepared.
How To Store Vinyl Records
Preserving your own vinyl collection ensures that they remain useful, treasured and retain their value. Some of our storage tips include the following:
Vinyl records should be stored upright and organised according to size. Different sizes should not be stored side by side.
Wash and dry hands thoroughly before handling the sleeves or albums. Ensure that no lotions or other substances are present.
Only handle vinyl records on the edge or the center label and avoid touching the grooved portion.
Use polyethylene sleeves inside paper sleeves to further protect the surface of the record. It can greatly limit deterioration of the vinyl over time.
More importantly is consistent temperature control wherever the records are stored. Many self storage facilities can provide that consistency for storing collectibles of this nature.
Storing Comic Books, Magazines and Books
While comic books are fun to read, even the smallest defect can greatly impact their value. Whatever reason for storing your comic collection, good handling and storage practices should apply. You can use special bag and acid-free boarding for long-term storage and maintenance.
It's all about keeping them flat and avoiding tears and bends. It's the same for books. Always store comics with the glossy side of the board facing the comic. If you are not displaying your collection, keep comics bagged and boarded in a cool, dry place, slightly below room temperature.
Coin Storage Tips
Coins are among the most popular items people like to collect. A great thing about a coin collection is that it takes up very little space but due to the potential high value, keep in mind effective storage. There are a few things that can damage coins including acids, extreme heat or cold, humidity, air pollution and chlorine.
The best place for storing collectibles like coins is a temperature controlled, airtight environment with minimal moisture. An ideal storage solution for coins is a holder or an album. Besides using a secure self storage unit, you could invest in a safe for extremely valuable collections.
Storing Classic Cars
Storing collectibles as valuable as classic cars is no easy feat but it's not impossible either. It's not enough to keep it covered in your garage as the constant access exposes your car to the elements.
Before storing your car, fill up the tank and change the oil. If the tank is full, there is a smaller chance of moisture build-up which could cause rust. Remember to drive the car a short distance after filling the tank and changing the oil.
If you're storing the car for a long time, remove the battery completely. Be sure to top up all the fluids including antifreeze, transmission- and brake fluid. Fill the tyres to the maximum recommended PSI and consider jacking it up if you don't plan to drive it for a while. The added support not only relieves the weight on the tyres and suspension, it also prevents flat tyre spotting.
Last but not least, wash and wax your car before long term storage. Any dust or debris that's left on the car can lead to scratches and expensive damage to the body work. The ideal environment for storing a classic car should be clean, dark and dry.
Consider storing collectibles at Space Centre Self Storage. We offer clean, dry, secure and affordable storage units with prices guaranteed for 12 months, no deposit, no hidden costs. In addition to 24-hour security, you are the only one with a key to your unit.
We have storage facilities in convenient locations in Bristol, Stroud and Gloucester. Get in touch for more information or request a quote and start storing today!