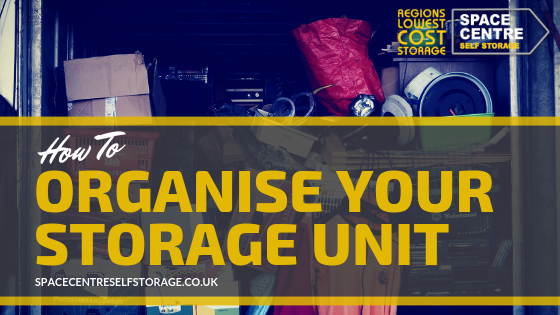 More and more people are turning to a self storage unit to keep their belongings safe. Whether you're storing household goods, collectibles, antiques, business stock, equipment or records, organising your storage unit is essential to easily find your things. Poorly organised storage units can be a dangerous playground in many ways. Incorrectly stacked boxes stacked that are too high or uneven could easily topple over damaging goods or cause serious injuries.
Once you have chosen your self storage unit, you must determine exactly how you are going to store your things. You might have a wide variety of items that you want to keep in a damp-free and secure environment. These items can range from books, personal records, old discs and files, to antiques and other valuables.
This simple guide will give you a few helpful ideas, enabling you to maximise space, keep your goods in excellent condition and make it easier to find what you are looking for.
3 Ways To Organise Your Storage Unit
When you've established what you wish to keep and what to discard, it's time to pack and store. While it's tempting to just use any old bags or boxes, we suggest a more organised approach.
Use The Right Boxes
If you are using boxes, it's best to only use a few different sizes with lids to prevent dust and rodents. Sturdy boxes with lids are also best for stacking but just make sure they can handle the weight of the contents and what you intend to stack on top. Strong plastic tubs or boxes may work out better if used at the bottom of any stacked piles.
Below are some additional tips on how to use boxes when organising your storage unit:
keep heavy items at the bottom and lighter items at the top
don't overfill your boxes or it will be difficult to transport and move your boxes around
clearly label them and keep an inventory list so you know where everything is
leave a walkway if you are using a large storage unit so you can easily access boxes
stack boxes on the floor or on racks to free up space and make it easier to find what you are looking for
Hanging Shelves In Self A Storage Unit
When storing loads of paperwork, you should consider using hanging shelves and filing cabinets in your storage unit. Hanging shelves are ideal if your business produces large volumes of paperwork that needs long-term storage such as tax, health and safety, legal and employee records. If you don't have space at the office, this is a great way to ensure that your documents are kept secure and in excellent condition.
Using a business storage unit is particularly useful especially if you have confidential records. Make sure you put papers back in the right place if you need to remove them for whatever reason. We recommend using a log book of sorts to record items that are removed or added and the person involved.
Mobile Shelving For Self Storage
Mobile shelving is designed to maximise space and provides easy access to your goods while making room for other items. Using mobile shelving effectively can either halve the required space or double your storage capacity. It can help increase retrieval times, improve productivity and overall workflow.
The key, once again, is to label items carefully and to keep a detailed inventory so you know when items have been added or retrieved. The sturdy design will help protect your goods, ensuring that paperwork, delicate files and other items will not deteriorate over time. A storage unit or bays of steel shelving are fitted onto mobile carriages which move along concealed floor tracks. These carriages are moved from side to side to create access aisles for document retrieval.
Mobile shelving is the ideal solution for high density storage for the following:
Audio storage, CD & DVD storage, vinyl records storage, Beta Max and VHS videos
Video tape and film can storage or canned film reels
Museum storage include picture racking, pull out mesh hanging panels for textile storage, map storage, map cabinets and artifacts storage
Medical records such as x-ray storage, off site record storage, theatre stores, pharmacy stores, laboratory storage, sterile storage and cold room storage
Additional Storage Tips
To help you understand the importance of organising your self storage unit effectively, we've highlighted a few additional tips.
When storing household items, collectibles or antiques, make sure everything is protected. You can use blankets, bubble wrap or special packing paper.
Where possible, dismantle furniture to save space but remember to keep the screws, nuts and bolts
Event displays often take up a lot of space so once dismantled, pack everything back into any cases or packaging
Always keep the nuts, bolts, screws and other small items in bags within the case or packaging
If any special tools are required for disassembly or assembly, make sure you remember to include it as well
Store business files with the most used documents toward the front and the least used towards the back
If you are looking for extra space to store your goods, give us a call at Space Centre Self Storage. You can also visit our website to get an idea of how we can help you with your storage requirements. We can provide information on how to store your belongings, files and how mobile shelving could help you.
We are conveniently located near major access roads in Stroud, Bristol and Gloucester. Our storage facilities are in secure compounds and each unit is alarmed along with CCTV and smoke detectors. We also provide your own high-quality padlock so only you have access to your unit.