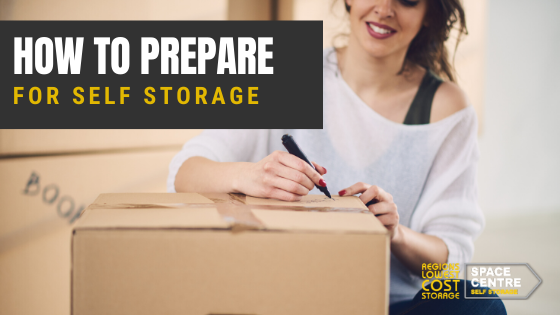 Are you moving, renovating or decorating your home or relocating to a new business premises? This can be stressful but planning ahead and following these self storage tips will help you prepare for anything.
Whether you are looking for a temporary storage space while unpacking or a long-term solution for all the clutter, a self storage unit is ideal for households and businesses.
Finding the right facility is one thing but you also need to pack everything properly. If you consider that some items may stay in storage for a long period of time, it's best to pack everything like the pros.
Self Storage Tips to Keep Your Belongings Safe
Using the right packing materials and storage method for your belongings is as important as finding the right storage unit. Not all facilities have the same rules so make sure you ask all the right questions beforehand. Here are some important aspects that will help you prepare for self storage:
Make sure all your items are allowed or appropriate for the particular storage facility
Clean and dry everything before packing and storing
Use the right storage containers or boxes
Don't forget to use packing tape or bubble wrap for fragile items
To save space, disassemble whatever you can like desks, wardrobes or chairs
Make a comprehensive inventory (master list) of everything you are storing
Indicate what you will need easy and frequent access to so you know what to pack at the back and closer to the entrance
Self Storage Rules, Regulations and Restrictions
Before you decide on a storage facility, find out what you can and can't store inside your storage unit. The facility should provide you with a list of restricted items but if they don't, ask them to explain their rules and regulations. Some common examples of prohibited items include:
petrol or diesel
fertilizers
paint and chemicals
fireworks and explosives
narcotics
propane tanks
perishable food
medicine
plants
Recommended: 'Self Storage Dos and Don'ts'
Organise Everything You Want To Store
One of the simplest storage tips is to group items you wish to store according to how they will be organised. Furniture can be freestanding while other items must be packed into boxes or plastic crates and stacked. This is just the beginning as you need to pack your storage unit in an organised way to avoid damages while making it possible to easily find what you are looking for.
Before you start packing, create an inventory list of everything going into self storage. This master list will help organise your belongings from paintings, pictures, desks and furniture items to collectables or stock. Keeping a copy for yourself and leave one inside the storage unit to easily find and unpack what you are looking for.
Clean Everything Before Packing
The storage facility should have cleaned the unit but give it a good wipe down with an all-purpose cleaner before packing. Next, clean and dry every item you are packing whether they are in boxes or in bubble wrap. Wipe down all items, vacuum furniture and clean appliances with disinfectant wipes where necessary. Not only will cleaning help prevent a dust build-up and smelling musty but it can also reduce the risk of mildew, rodents and insects.
Helpful Advice: 'Tips On Storing And Preparing Furniture'
Invest In Proper Packing Materials
Before you pack anything, it's important to have all the right supplies on hand. This includes boxes of various sizes, packing peanuts, packing tape, bubble wrap, furniture covers, marker pens, newspaper and a sharp pair of scissors.
Don't use old or flimsy boxes as they may have to last longer than you initially intended. Quality boxes, storage containers or plastic crates can withstand extended storage periods and shouldn't crack or bend under normal conditions. We don't recommend using plastic bags as they will more than likely tear and attract mildew.
If you need special packing supplies, Space Centre Self Storage can provide you with whatever you need along with a heavy-duty padlock only you have a key to.
Clearly Label All Your Boxes
Don't rush the packing process and make sure you clearly label each box on the top and at least on one side. You could even use a unique number, the room it came from and a short description of the contents. Be specific though and instead of labelling it "Kitchen", include something like "Pots, pans and roasting dish."
Also mark any boxes with fragile items using words such as "FRAGILE", "GLASSWARE", "BREAKABLES" or "HANDLE WITH CARE". If you are going to access a specific box more often, add a special mark or sticker to make it easy to see and get to.
Top Tip:
We recommend packing items inside airtight, clear plastic bins or containers. This will allow you to see the contents when visiting the storage unit instead of having to go through several boxes trying to find a specific item.
Dismantle Big Furniture and Other Items
Some items can be dismantled which makes moving, packing and storing a breeze, including TV units, tables, desks and sideboards. If furniture can be disassembled, it's best to do so before packing them into your self storage unit. Save even more space by using drawers from cupboards to store smaller items inside. Remember to put nuts, bolts and other small components into a Ziploc bag and tape it to the relevant item.
Pack And Stack
Now that you've done all the hard work organising, packing and wrapping, it's time to pack your storage unit. Many of available self storage tips encourage people to approach packing and storing from a strategic point of view and not to randomly pack items all over the place. To avoid damage and injuries from things toppling over, store large and heavy items at the bottom with lighter ones on top.
Use your master list to identify the items you might need in the future and place them closer to the front of the unit. In larger storage units, we recommend leaving an aisle down the middle to easily access items at the back.
Essential Self Storage Tips For Businesses
Depending on your business and what you are storing, most of the aforementioned self storage tips apply but here are a few more focused on documents and stock.
Make sure your storage unit is dry as mould can easily appear and cause serious damage
Store items on wooden pallets to keep it off the floor to avoid damage from water or damp
Store important documents or items you need to access regularly at the front of your storage unit
Clearly label all your boxes and organise them by year and the type of record
Only provide essential personnel with access to your storage unit
When choosing a storage facility, make sure it is in a convenient location near the office
For large amounts of stock, invest in inventory management software for easy and accurate stock counts and balancing
Recommended: 'How To Organise Your Business Storage Unit'
Looking For Affordable Self Storage Units In Bristol, Gloucester Or Stroud?
Space Centre Self Storage has units of all sizes and they are available on a flexible, short-term basis. We also provide FREE insurance up to £3000 without any upfront deposits or small print. You are welcome to use our provider if you need additional self storage cover or your own insurance company.
Our storage facilities are conveniently located near major access roads in Bristol, Stroud and Gloucester. Each facility is armed with CCTV and smoke detectors to offer the type of security and peace of mind you deserve. Get in touch with our friendly, experienced staff for more information or to reserve your storage unit.