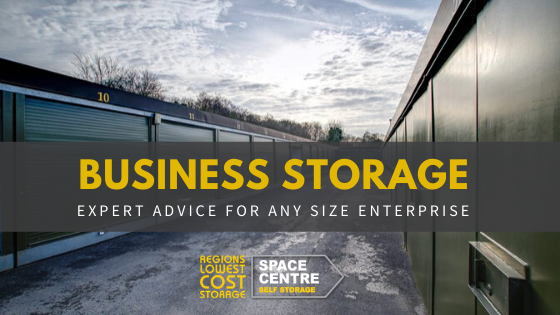 Business storage can mean a lot of things to different people as it has several benefits across the board. Whether you run a home business, a start-up, small or medium enterprise, a business storage unit can help. Any business selling products need storage space for all of their goods from online retailers, e-commerce start-ups or brick-and-mortar stores.
Fact is, business storage units can even benefit bigger companies as they will save on overheads. It just makes sense to rent a self storage unit as it provides the required space but at a much more affordable rate than renting additional warehouse space. However, you still need to know what to store and how to avoid damage. Here are a few general storage tips that will help you save time, space and avoid damage or stock loss.
Storing Documents, Furniture, Equipment And Stock
While many small home businesses can store stock on premises, in the garage or garden shed, self storage is more viable, safer and economical. Whatever the reason for renting a business storage unit, the benefits are overwhelming. Storing extra office furniture and equipment means everything will be safe and in excellent condition whenever you need it.
Having the right storage space enables a business to function optimally and stay organised no matter what. Whether you are a home business, online retailer, small or large corporate company, a business storage unit should be part of your plan.
How To Use Business Storage Units Effectively
Make sure your storage unit and items are dry as mould can grow quickly and cause serious damage
Store items on wooden pallets to keep everything off the floor to avoid damage from a flood or burst water pipe
Store important documents or items you need to access regularly at the front of your storage unit
Clearly label all your boxes to know exactly where to find something specific
Organise your boxes by year and type of record when storing documents
Only provide essential personnel with access to your storage unit
Document Storage Advice
All businesses have important documents which they need to keep safe, especially accountants or financial consultants. Although businesses choose digital storage, many need long-term storage to adhere to HMRC requirements. Let's have a look at some of the documentation and how long you should keep it.
Shred credit card bills and bank statements after paying what you owe
Insurance policies and investment statements should be shred as soon as you receive renewals
Tax records should be kept for seven years. Remember to keep copies of your tax returns with supporting documents including statements and receipts.
All businesses must keep accident records to record all workplace injuries. Companies that require health surveillance checks must keep their records for 40 years
Birth certificates, marriage licenses, divorce papers, military discharge and death certificates should be kept for life
Tips For Effective Business Storage
Without a good storage and stock management plan, your items could get damaged, stolen or become obsolete. When choosing a storage facility, make sure it is in a convenient location. Somewhere near the office would be ideal especially those who collect and drop off stock between customers and the office.
Maximising the available space all depends on how well you use the unit. Fortunately, it doesn't have to be a guessing game as to how much space you'll need as many facilities can help determine exactly that. Don't compare it to the space your stock takes up at the office or in the garage and rather base it on how much space everything takes up once it's packed and ready to transport.
Related article: 'Pros and Cons of Running a Business from Home'
How To Pack Your Business Storage Unit
Packing a self storage unit properly is often challenging, even if you have experience as there is so much to consider including the facility's rules and regulations. Once you've thoroughly read and signed the agreement, keep these tips in mind to help you pack your storage unit.
Maximise the height of the unit with additional shelving and tall racks
Place the more popular items closer to the entrance
Always put heavier items at the bottom to minimise collapses and possible injury
For large amounts of stock, invest in inventory management software for easy and accurate stock counts and balancing
Create a master list of every item in the storage unit so everyone knows where to find everything
Leave an aisle in the middle so you have better access to all of your stock
Clearly label everything on multiple sides especially if you have multiple walkways
Why Customers Choose Space Centre Self Storage
Our facilities in Stroud, Bristol and Gloucester are conveniently located near major access roads. We listen to our customers and have responded with an expansion of our Stroud storage facility and also a new premises in Stonehouse. All of our storage facilities are in secure compounds and each unit is alarmed along with CCTV and smoke detectors. You can also get your own high-quality padlock so only you have access to your unit.
Space Centre Self Storage provide quality self storage units in a wide range of sizes at affordable rates for all types of businesses. Get in touch with our friendly, experienced staff for more information and to reserve your storage unit.