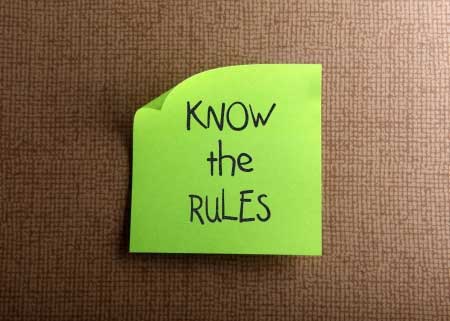 We all turn our nose up at rules and regulations. After all, most of us still associate the dos and don'ts with getting told off at school! However, they are a fact of life. When it comes to self storage, there are a number of self storage rules and regulations which, if you choose to ignore, could prove very costly for you and others. Here at Space Centre Self Storage we are happy to discuss any concerns you might have with regards to self storage rules and to allay any fears over insurance, protection and security. We will also inform you what you can and can't keep in our units and containers. For the time being, however, we have detailed just a few of the key points you will need to know when it comes to choosing your self storage unit.
Restricted and Banned Items
Although self storage facilities are generally very flexible in accepting various types of goods in their units, there are of course a number of banned items. These things are banned for good reason: either they are illegal, flammable, likely to attract vermin or otherwise dangerous. Here's a run-down:
Flammables and Combustibles
Certain products are restricted because they are flammable, it's as simple as that. Accidents could end up destroying all your goods and everyone else's possessions besides. That's why you need to empty the fuel tanks of vehicles and lawnmowers before putting them away into storage. It's vital to be aware of petrol, oil, propane, gas, fuel and chemicals' storage rules.
Animals, Plants and Foodstuffs
Cans, jars and bottles are normally okay, but perishable foodstuffs attract vermin and will not be allowed. Cleanliness at self storage sites is hugely important. Similarly animal products will attract vermin whilst plants encourage pests. And of course, you are not allowed to keep your pets or other animals in storage.
Hazardous and Pressurized Materials
Toxic and chemical substances are often restricted or disallowed entirely in case of an accident, whilst pressurized items like aerosols could also burst.
Illegal Goods and Weaponry
It should also go without saying that stolen and other illegal goods are also banned from self storage sites, whilst firearms and other weaponry face severe limitations for obvious reasons.
Surprising Everyday Restrictions
You are probably more likely to be affected by some of the more everyday restrictions though. For instance some providers veto the storing of fragrances which could leak and cause a smell. Meanwhile some sites either restrict or require you to hold special item insurance for jewellery and valuables.
Here's a simple list of miscellaneous rules and conditions
You need Insurance. This is not always provided as standard so upgrade your existing insurance, get a new policy, or buy with the storage firm. Here at Space Centre self storage we DO provide free insurance up to £3000 and DO NOT charge an initial deposit.
You may need item insurance. Some goods will require specific item insurance in addition to your overall policy
Check the terms for vehicles. You'll need to empty the fuel tanks; you aren't allowed to treat the site as a workshop for repairs and you will probably need to show proof of insurance as well
Keep your unit clean. It is essential that you return your unit in the condition you found it so that you get your deposit refunded
Co owner Lucinda Dangerfield said; "We are here to answer any questions or concerns that you might have with regards what you can or can't store with us. We are certainly not looking to prevent people from using our storage units, so just speak with us and we will help you accordingly. We provide free insurance in with the price up to £3,000 and we don't charge a deposit."
Have you ever fallen foul of the rules for self storage or suffered because someone else has ignored them? Let us know what happened and help others avoid the same thing happening to them