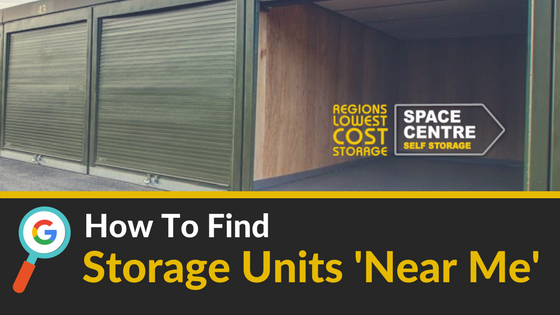 Self storage is the ideal solution for anyone looking for additional space at a low cost. It's also important to look for a storage facility as close to your home or office as possible. Nowadays finding anything online is so much simpler with Google search where people use 'near me' searches more frequently. Have you searched for storage units near me? If you haven't yet, you should try it and see what comes up in the search results.
Searching For Storage Units Near Me
Every year, millions of people use self storage, from renovators, builders, university students to home and business owners. Self storage can also be used for wine storage, vehicles, small commercial businesses and long term storage. You'd be surprised how many people search for storage units near me and also reasons to use self storage units. One of the most interesting uses of a storage unit is for band practice but it's always advisable to check with the facility first. Not all of them apply the same rules or service offering.
Most of us search for things daily on Google without even thinking about how it works. From a business perspective, it's important to understand how it impacts Search Engine Optimisation (SEO) and how people search for (and find) your business. If a business utilises SEO effectively, search results will be much more accurate and satisfying for potential customers.
With so many uses and benefits of self storage, can you imagine the endless search possibilities for storage units? The Google search 'near me' trend has grown considerably with year on year searches increasing 130% since 2014. According to Google Trends data, location search phrases such as 'near me', 'closest' or 'nearby' have been on the rise and is set to continue.
Using 'near me' in Google searches is as easy as 1-2-3 but your web settings need to be correct for best results. You need to enable the geo-location in your browser which allows you to then find storage units near me or pizza delivery near me. If businesses in your area, relevant to your search, have done their SEO homework and laid the groundwork, they should appear as soon as you hit Enter. Here is an interesting article on why you should be watching the 'near me' search trend.
When it comes to self storage though, it's not just about location. There are other important factors to consider like quality, cost, insurance, security and cleanliness.
What To Look For When Renting A Self Storage Unit
Self storage facilities range from the independently operated 'family' business to regional chains and national corporations. Renting a self-storage unit is typically on a month-to-month basis but it can vary from location to location.
It's important to check what amenities a storage facility offer such as climate control or 24-hour access. If you need of a specific service, check with the facility manager before reserving your unit. In addition to monthly rent, you may also need to pay insurance and a one-off admin fee when you move in. These are common practices but it pays to always check first to avoid any nasty surprises.
We've highlighted a few important questions you should keep in mind when renting a storage unit:
How many storage units do they have and what is the occupancy rate?
When exactly can you access your storage unit?
Are they open on Sundays and holidays?
Is there a smoke alarm and sprinkler system in each building in the event of a fire?
What kind of security system do they have?
Does the facility have security patrols and how often?
It's essential to ask the right questions so you can make an informed decision. Keep a look out for facilities with online customer reviews when searching for storage units near me. Reviews are worth gold and a facility without any, is grounds for further investigation. Good facilities are well-lit, dry, clean and secure, offer fair prices with easy contract terms and no hidden costs.
When you are ready to rent a storage unit, contact Space Centre Self Storage. Our storage facilities in Stroud, Bristol and Gloucester offer a wide range of storage units in different sizes and prices. We offer free insurance, don't tie you to a long term contract so you can store for as long as you need.