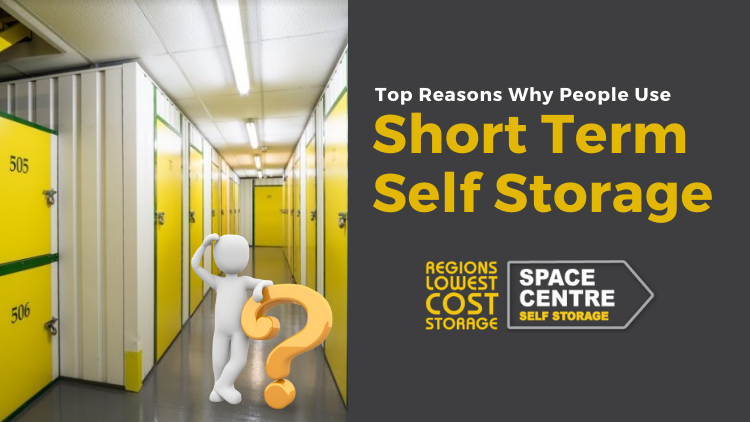 Is your home or office packed to the rafters with belongings you don't have room for anymore? Or are you looking for a temporary spot to keep everything safe whilst renovating or moving? If that's the case, it's time to consider renting a short term storage unit to free up some much-needed space.
A self storage unit is often the perfect solution to your short term storage concerns. You can transport your belongings to the unit and store it in a clean, dry, safe and damp-free location. From there, once your home or office is ready, simply collect everything and move it to your new property.
What Are The Main Reasons People Use Short Term Storage?
Whether you are decluttering your home, garage or the office and need a secure place for a few days or week, short term storage is the answer. Whilst not exhaustive, here are some of the most common reasons why people choose short term storage.
Unsure about your current office space
Relocating to new business premises
Business storage for stock, equipment, tools or vehicles
Easy storage for start-ups
Home or office renovations
Selling your home
Cleaning out the spare room
Life changes such as divorce, downsizing or family bereavement
Student storage
Sports equipment and hobbyist storage
Short Term Storage For The Office
Looking at how Covid-19 has impacted everyone, uncertainty over office space or business premises is a real concern. Many companies are unsure whether they should opt for a remote work structure or rent a smaller space.
Short term storage gives you the time to plan and make the right decision as to what is best for your business. By storing office furniture such as desks, chairs, computers, tools, equipment and other office-related items, it is easier to see how much space you need.
Self storage is ideal whether you're an online retailer or just need a secure place to store your stock, marketing materials or exhibition equipment. It is undoubtedly the cheapest and most convenient solution especially considering the costs involved when renting a warehouse or larger premises.
Recommended: 'Stock Storage Tips For Online Retailers'
Moving To A New Office
We don't have to tell you that moving can be stressful and that applies to your home or the office. Whether you are relocating due to the pandemic, downsizing or need more space as a growing business, short term storage can work for you.
It not only gives you time to plan but it also offers a temporary, safe space to keep your equipment or stock. If you want to streamline the moving process whilst minimising disruptions to your staff, there's no better solution than a short-term storage unit.
Business Storage For Start-ups
Starting a new business is challenging regardless of the type or style. Among the many considerations, you must think about premises in terms of size, location and purpose. If you deal with loads of paperwork and documentation or seasonal stock, business storage should be at the top of the list.
For start-ups, a self storage unit can provide exactly what you need in terms of a secure, affordable, easily accessible offsite business storage location for sensitive documents, equipment, tools or stock. Choosing the right storage facility and unit can help minimise cost and maximise profit.
Related: 'What You Need To Know About Starting A Business'
Short Term Storage For Home Renovations
Doing home renovations is already stressful so why add to it by not being prepared? If you are not careful, paint or dust can end up on everything so make the smart choice and choose self storage. Many people rent a short term storage unit whilst renovating or decorating as it helps clear up the house and avoid damaging furniture, kitchen equipment and other household appliances at the same time.
Decluttering your home or clearing out the spare room falls into the same category. Whether you're an empty nester or have an extra room full of junk, a self storage unit can help keep things super organised. If you don't want to sell or donate anything, put it in storage but remember to follow best practices as packing incorrectly can result in damages.
Recommended: '6 Packing Tips When Using Self Storage'
How Short Term Storage Can Help When Moving Home
Today, you can't always sell your home and immediately move into your new property but short term self storage has helped many people. When selling your home, you can simply rent a small or large storage unit to keep all of your belongings safe in one place. That means you don't have to ask several friends to keep things in their spare room or garage.
If you're moving to a newly renovated property, you can take with most of your belongings but it's different when the place still needs some work. In this case, only take the basics and send the rest to your short term storage unit. It's much easier to do renovations without having to rearrange furniture or other big household items.
Student Storage Lockers
As many students stay on campus they often go home for the holidays and that means taking most of the belongings to mum and dads. If there's space in the garage or the spare room, it's not a problem but what if you've downsized and you no longer have an extra room?
If you don't want to (or can't) take everything home but are tentative to leave things at uni, why not rent a temporary storage unit or storage locker? At Space Centre we understand first-hand the importance of budgeting, especially for students which is why our small storage lockers are the most affordable option.
Storage For Life Changes
A breakup or divorce is never easy but when a couple has lived together it is often far more complicated. Sometimes they have to move out and that means making arrangements to store their belongings for some time.
A family bereavement is another great example of how important short term storage can be. In some cases, the inheritance includes all the person's belongings which have to be distributed, sold or stored. If the house has to be sold, you will secure storage for everything until the time is right.
A new baby is also a big life-altering experience as you need to clear out the spare room and find a safe place to store all of your junk. If you have a spare bed, chest of drawers and a desk, put in long term storage so the little one will have a refurbished room in a few years.
Why Choose Short Term Storage?
The best part about short-term storage at Space Centre is that there's no lengthy contract, no deposit or hidden costs. You have complete access to your goods within a secure facility monitored by 24-hour CCTV. You pay for short term storage by the week which makes it a convenient choice.
At Space Centre Self Storage you can change the size of your unit at any time without an additional charge provided the unit is available. This way you will never have to pay more for space you don't need!
If you are looking for a place to keep your things safe for a few weeks, contact us to reserve your storage unit today. Our facilities in Stroud, Bristol, Gloucester and Stonehouse are all conveniently located with various size short term storage units to choose from.