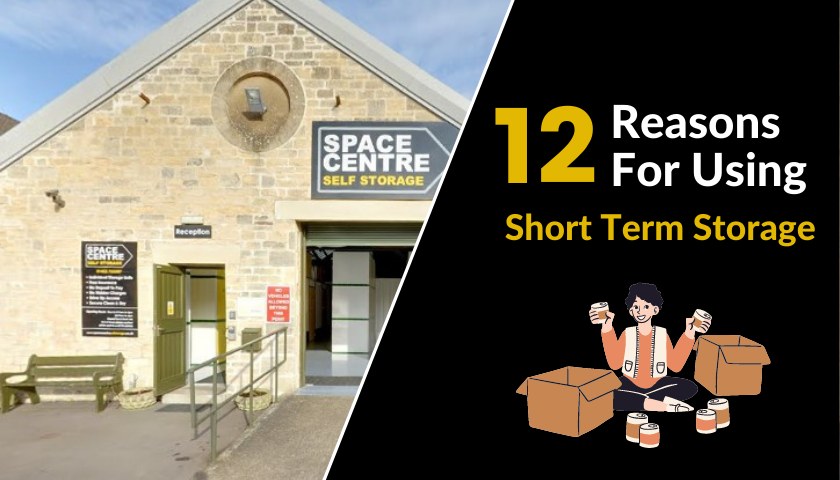 Many people think that self storage is just for long term projects and keeping big or bulky items, storing business files or work tools. The truth is, short term storage can be the answer to many challenges.
Are you expecting visitors and need to empty the spare room to make extra space? Is there a delay in a house move and do you need storage for a few items? How about keeping Christmas presents hidden from those prying eyes at home? Short term storage can help.
Why Use Short Term Storage?
Short term storage is the preferred solution for many people when decluttering the home or workspace. It offers a clean, dry and secure space for all your valuables whether it's a few days or weeks. The best part is that you can take your belongings out whenever suits you and only pay for what you have used. There are lots of reasons people use short term self storage and in this article, we explore how and when you might need to use it.
1. Selling Your Home
Anyone who has moved might agree that it's not always easy to sell a home and move into your new place right away. There is always a risk of losing a buyer while you sort out the purchase but with short term storage, you can keep your belongings safe and in one place. It's a much better alternative to the garage or spare room of friends or family members. This is hugely beneficial especially while you are renting or staying with family until you've found your new home and finalised the purchase.
2. Doing Renovations Or Decluttering
If you are doing home renovations or a proper clear-out, you need some space to spread everything out and sort through. Many people use short term storage while renovating or decorating as it helps clear up the house and avoid damaging furniture, kitchen equipment and other household appliances. Whether you're an empty nester or have an extra room full of junk, a short term storage unit can help keep things organised.
3. Storing Seasonal Sport Equipment
If your sport of choice requires a lot of kit, such as kayaking, rafting, skiing or surfing, you need more space which is what a short term storage unit can provide. Instead of trying to squeeze it into the garage or spare room, adding the risk of damage and personal injury, it's easier and safer to just put everything into a short term storage unit. Your seasonal sports equipment will be clean, dry and safe until you need it again next season.
4. Seasonal Decorations and Christmas Presents
When it comes to seasonal holidays, short term storage is the preferred choice for many of our customers. Think about all of the Halloween and Christmas decorations, not to mention birthday banners, wrapping paper and other bits and bobs. Rather than cluttering your loft or spare room, simply rent a self storage unit short term and keep your home organised. Have a look at our easy-to-use Price & Size Guide for more information.
5. Short Term Storage Of Bicycles
Not everyone likes riding their bikes in winter so many people, especially those with children, put their bicycles into short term storage. Unless you can properly store your bicycle in the garage by hanging it on the wall or from the ceiling, we recommend using self storage. It will clear up some much-needed space at home while keeping your bicycles in excellent condition.
6. Garden Equipment, Tools and Furniture
Seasonal changes leave us with little choice other than storing garden tools, equipment and furniture. If you leave them outside during the winter months, they may get damaged and require loads of TLC before you can use anything again in the spring. Whilst you can use special covers, it's best to keep tools, equipment and furniture clean, dry and safe in a short term storage unit.
Recommended: How To Prepare Garden Furniture For Self Storage
7. Camping Equipment
Whether you're an avid adventurer or like the occasional camping trip, you know how much equipment is involved. Do you really want all of that extra stuff taking up space at your house? You are better off renting a short term storage unit for the tent, sleeping bags, camping stove, folding table and chairs among other equipment. You can keep it all in there until you need it again.
8. Short Term Storage For Students
Sadly, would-be thieves know that student digs are often left empty over the holidays which only increases the risk of theft. If you are concerned about this, or just want to keep your student goodies safe when going home over the holidays, you can rent a small short term student locker or unit.
Related: How To Make Your Student House Safe From Burglars
9. Clearing Out The Spare Room
Speaking of students, a related reason for using short term self storage is when clearing out the spare room. When the kids come home from Uni, finding extra space for the home gym or home office things can be challenging. Putting everything into self storage is easy, affordable and super convenient.
10. Temporary Business Storage For Startups
Whether you run a home business or a small to medium enterprise, a short term storage unit offers many benefits. You can use it to store excess stock, equipment, documents and even vehicles. Rather than keeping it around the house or renting bigger premises, the better option is a flexible storage unit. You can save big on rent and additional storage costs often associated with business premises. This also means you can find a better use for your budgets such as marketing, new equipment, more stock or staff.
11. Running An AirBnB
In recent years, aside from Covid, AirBnB and similar sites have become increasingly popular. Not only is it a great way to enjoy more affordable accommodation for holidaymakers but homeowners can also make some extra cash by renting out a room or the entire house. Many guests prefer to not have loads of personal belongings around the home so you can safely put most of your items in short term storage until your house is your own again.
12. Short Term Storage For Life Changes
Life is not always easy and we are often faced with unforeseen and unfortunate situations. A breakup or divorce is never easy but when people do part ways, it usually means making arrangements to store their belongings somewhere temporarily.
A family bereavement is another example of how important short term storage can be. In some cases, the inheritance includes all the person's belongings that have to be distributed, sold or stored. If the house has to be sold, you can store everything safely until the time is right.
While a new baby is an amazingly beautiful life-altering experience, it also means you may need to clear out the spare room and find a safe place to store all of your junk. If you have a spare bed, chest of drawers, a desk or gym equipment, simply put it in storage.
Packing Tips For Short Term Storage
Many people are tempted to use old boxes from the local supermarket to meet their short term storage needs but it's often not worth it. You may end up with mismatched shapes and sizes which will affect your ability to organise and pack effectively. Here are some simple packing tips:
Wrap breakables in newspaper or bubble wrap
Evenly distribute the weight in packed boxes
Don't make boxes too heavy to lift
Don't overfill or under-fill boxes as it makes it harder (and more dangerous) to move and pack
Wrap fragile items and breakables separately and mark the boxes as "Fragile"
Label all the boxes on more than one side so you can easily identify the contents
Short Term Storage At Space Centre
Space Centre has been in the industry for more than 20 years and knows the importance of good quality, affordable rates and exceptional customer service. Our facilities in Bristol, Stroud, Gloucester and Stonehouse are in convenient locations with 24-hour CCTV, access control and a special lock only you have a key for.
If you need a place to keep your things safe for a few weeks, contact us to reserve your short term storage unit today. From everyone here at Space Centre, we wish all of our customers, friends and followers a Merry Christmas. May you have a fun-filled holiday with loved ones but please stay safe no matter what your plans are.