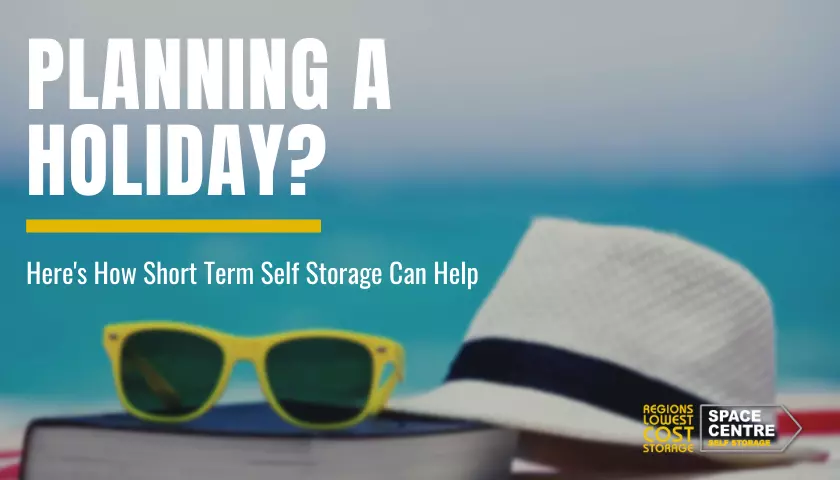 Do you feel burnt out from not having had a holiday for nearly two years? Are you planning an extended holiday to make up for it? If this sounds like you, then this guide is all you need. We share expert advice on home safety, getting the right home insurance and how short term self storage can help keep your belongings safe.
Holidays And Home Insurance Companies
When planning an extended holiday, home insurance companies have limits on how long your home can remain unoccupied. This is typically for 30 days so if you are away for longer than this, your insurance provider may classify your home as unoccupied. That means your existing home insurance policy may be invalid but you can arrange unoccupied house insurance for holidays.
Unoccupied home insurance is necessary as insurance providers class an unoccupied home as a higher risk. A vacant home is an easy target for would-be burglars and there's also the maintenance of the building to consider. For example, if there is a water leak and nobody is there to notice and fix it, the damage could be more extensive than if you were there. If you're looking for unoccupied home insurance, try comparethemarket.com to find the best quote for you.
Home Safety Tips And Short Term Self Storage
If you are going on holiday, you don't need the added stress of worrying about someone breaking into your home. The best way to have some peace of mind is to disguise the fact that your property is vacant. If burglars notice signs that nobody is there, they will see this as an open invitation.
Another great way to keep your belongings and other valuables safe is by renting a short term self storage unit. Not only is it convenient and secure but most storage facilities have 24-hour CTV surveillance, smoke detectors, access control and some even offer storage insurance but more on this later.
How To Keep Your Home Safe When Going On Holiday
Before we look at short term self storage or holiday storage as we like to call it, here are some tips to help keep your home and belongings safe when you are away.
Get someone to clear up your post or get it held at the post office
Use timer lights but if they are set to operate at the same time for a long period, people may notice
You can also buy timers for your TV and radio which simply plug into regular sockets
If you are taking your car which is normally visible, ask a friend to visit or park a car from time to time to make it look as though someone is in. They can also check the house when visiting.
Keep your curtains or blinds open but make sure to hide any valuables from plain sight. An even better option is to consider putting your belongings in a short term self storage unit
If you have an alarm, make sure it is in good working order. If you don't, we recommend having one installed as it is a great deterrent
Tidy your garden by cutting the grass, pulling out weeds and packing your garden tools in the garage or shed
Don't put your key under a brick or the front door mat
Have someone take out your rubbish and recycling bins
If you have an electric garage door that is opened by using a remote, disconnect it before you go
Invest In Smart Lighting
Adding to the previous point about light timers, you could go a step further and invest in smart lighting. Smart LED bulbs, for example, contain software that connects to an app, smart home assistant, or another smart accessory. These allow you to automate your lights or control them remotely from anywhere in the world.
Many types of smart bulbs offer a "holiday mode" as a theft deterrent where they will turn the lights on and off randomly to mimic the usual behaviour of the homeowner. Have a look at the recommendations from techadvisor.com on the best smart lights in the UK.
Mum's The Word
Be careful who you tell about your holiday and only reveal details to people you trust. And, as much as we love sharing updates and checking in on Facebook, for example, keep things to yourself or set it as private so only friends and followers can see your posts. If you don't, you are essentially advertising to the world that your home is unoccupied.
Short Term Self Storage For Holidays
Before deciding what to do with all of your stuff, consider your needs. Are you more concerned about your electronics, confidential documents, furniture, jewellery or outdoor equipment?
The amount and type of stuff you want to store will ultimately determine the size storage unit you need. Don't choose a tiny unit if you want to store big items just to save a few pounds. Cramming your belongings into a small space could cause damage as you won't be able to pack everything properly.
To make the most of your short term self storage unit, make sure you pack your belongings properly. With decades of experience, we cannot stress the importance of this enough so here is how to pack your short term self storage unit.
Recommended: Top Tips For Packing Your Storage Unit
How To Pack Your Short Terms Self Storage Unit
Use packing paper, bubble wrap and the correct boxes when packing breakables
Don't use any old box that you find in the garage as they often flatten quickly or collapse under pressure
Fill boxes while distributing the weight evenly. This helps to avoid partly-filled or bulging stacks of cardboard boxes from tipping over
Label your boxes so you can easily find stuff
Take apart or fold down items where possible
Don't stack or lean furniture against the walls of your secure self storage unit as this may prevent proper ventilation
Cover all furniture with dust sheets
Hire A House Sitter When Going On Holiday
If you don't want to do anything to your home or rent a short term self storage unit, consider hiring a house sitter. This could be a trusted friend or family member, or you could reach out to a company or agency that offers professional house sitting services. Examples include trustedhousesitters.com or housesitters.co.uk
While they are at your house, the sitter can take care of regular domestic duties, including gardening, feeding of pets, watering plants, and taking out the rubbish for collection. At the same time, having someone at the house will certainly help deter would-be thieves.
Short Term Self Storage At Space Centre
If you are planning an extended holiday or travelling abroad for work, don't risk leaving your things in the spare room, garage or shed. Your safest bet is to either hire a house sitter, rent your property on Airbnb or rent a short term self storage unit.
At Space Centre, we offer long-term or short term self storage at affordable rates with free insurance up to £3000 and no hidden costs. Our facilities in Bristol, Stroud, Gloucester and Stonehouse are conveniently located with 24-hour security, smoke detectors and only you will have a key.
Contact us today for more information about our wide range of flexible and secure short term self storage solutions. Our friendly and experienced staff are happy to help in any way they can.