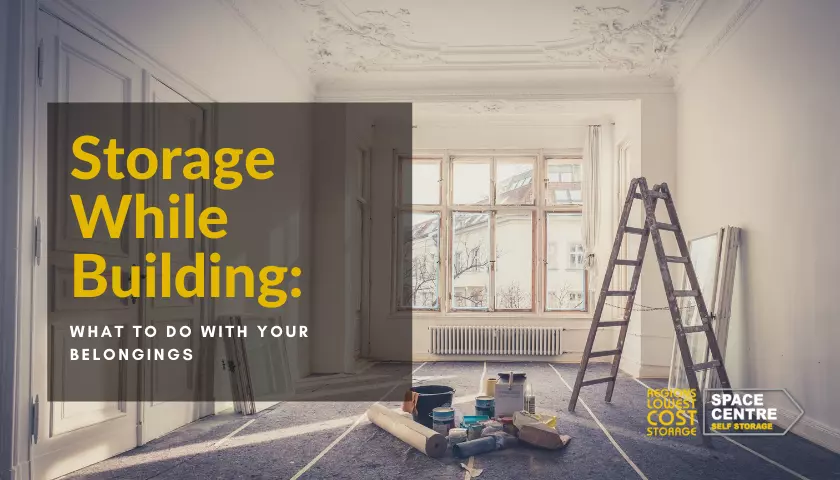 After the holidays and with the new year in mind, you might be thinking of doing some home improvements. If a bigger renovation project is on the cards, you have far more to consider. How do you choose the right contractor? How do you get the most from your builder? You also start wondering what to do with your belongings. However, the good news is that renting storage while building can help keep things organised and safe.
At this point, you've given the rooms a good clean to make sure you've got all the remnants of the Christmas tree, moved the sofas to retrieve the bits of party poppers left from New Year. Before you give yourself a pat on the back, you realise it's probably time for a lick of paint.
How To Tackle Any Building Project
One of the most important things to remember when starting any building project is to be organised. This means having an idea of what you want, getting quotes from a few contractors and making sure that you can be easily reached in case of any queries.
In addition, it's important to remember that not all builders are the same. While some may be happy just to do the work and leave, others will want more of a say in how things are done. Make sure you find out what kind of builder you're dealing with early on so there are no surprises down the line.
Getting The Most From Your Builder
As well as being organised, it's important to be accessible. This not only refers to having a space where the builders can work without any obstructions but also making sure that you are available in case they have any queries.
If there are any problems with the work, make sure you get them sorted out as soon as possible. The longer they are left to their own devices, the more likely it is that the builders will just move on to the next job.
For that reason, it's vital to make sure you have a clear idea of what you want before putting them to work. This way, everyone knows what is expected of them which helps avoid delays and disappointments. Here are some valuable tips on what to do when looking for the right contractor and how storage while building can help.
Things To Consider When Finding A Contractor
One of the first things you need to check is whether they have the appropriate public liability insurance. While recommendations and referrals are good, they don't guarantee quality or trust.
Protect yourself and your belongings as anything can happen during the renovations such as accidentally hitting a gas or water pipe. Ask the builder whether they have insurance as they should be able to provide a certificate.
AGREE TO EVERYTHING IN WRITING
Make sure everything the builder is contracted to do is agreed upon and in writing before any work starts. It has to include everything you would like them to do, including supplying materials, safe removal and disposal of waste.
SCHEDULES AND PLANS
Make sure to set up a schedule at the beginning so you have a good idea of how long it might take. While nobody can confirm with absolute certainty, your builder should be able to give an accurate indication with detailed plans for each stage of the project.
PAYMENT OPTIONS
It's best not to pay the entire amount upfront as anything can happen, leaving you with a big bill and possible issues. Always keep approximately 10-20% of the final amount for contingency reasons and chat to your builder about staggered payments.
Naturally, you need to make an upfront payment so the builders can get started on the project. This could either cover building materials or wages but you should discuss this with them either way. Considering how renovations typically go, keep in mind extra costs may come up along the way.
WHERE TO FIND A GOOD CONTRACTOR
The secret to finding and keeping a competent tradesman is simple: do your homework. What you should be aiming for all along is the best way to discover a recommended builder or specialist.
If they are accessible, read some online reviews; but bear in mind that certain review platforms may be manipulated with phoney reviews, which are surprisingly simple to accomplish, according to WHICH.com.
Anyone reading this could reach out to someone, even a friend on Facebook, and should be able to suggest a reputable tradesman, but that doesn't mean you shouldn't do your own due diligence. After all, your mate may not have the same expectations or standards as you do.
Storage While Building: What To Do With Your Belongings
Another thing to consider is how much storage space you'll need. Clearing clutter and any obstructions can help but even then, there might not be enough space. If that's the case, you may want to consider storage while building.
This way you can keep your belongings safe and organised until the renovation project is finished. It also means you don't have to worry about where to put them while the builders are working, helping avoid potential damage and dirt.
Place your most important belongings in one area outside the construction zone. If your entrance is blocked during reconstruction, look for a safe, temporary shelter for your phones, chargers, keys, and other essentials.
How Storage While Building Can Help
If you're doing a major remodel, especially if it's an entire kitchen, it's important to keep the rest of your home clean. Make arrangements with the builder to keep the mess and debris from spreading throughout your home unnecessarily. This might involve covering the doors with plastic sheets to seal them off or using heavier plastic tarps.
Remove everything from the room or area before the project begins and consider storage while building. This includes placing things like furniture, clothing, curtains, blinds, decorations, and other home goods in a secure storage unit. If you can't remove the furnishings, at least cover them with clean plastic or sheets to keep them dust-free and in good condition.
Recommended: Which Renovations Add The Most Property Value?
Tips For More Effective Storage While Building
Storage units that are poorly organized can be dangerous in various ways. Boxes stacked incorrectly and excessively high might easily fall over, causing damage to goods or, worse, serious injuries. Packing your storage unit is not a game of Tetris, but hopefully, these straightforward hints will help you manage it more effectively.
Label All Your Boxes
Pack Large, Heavy Items First
Dismantle Furniture and Other Items
Create A Master List And Location Map
Leave Space For An Aisle
Space Centre: Household Storage Near Me
If you're not sure where to find suitable storage while building, companies like Space Centre Self Storage can help. With a range of storage solutions available, we can find one that is perfect for your needs.
Our facilities are located in Stroud, Gloucester, Bristol and Stonehouse providing a dust-free, dry, and safe place for your goods. We also provide free insurance up to the value of £3000. Contact us today for more information on renting storage while building.