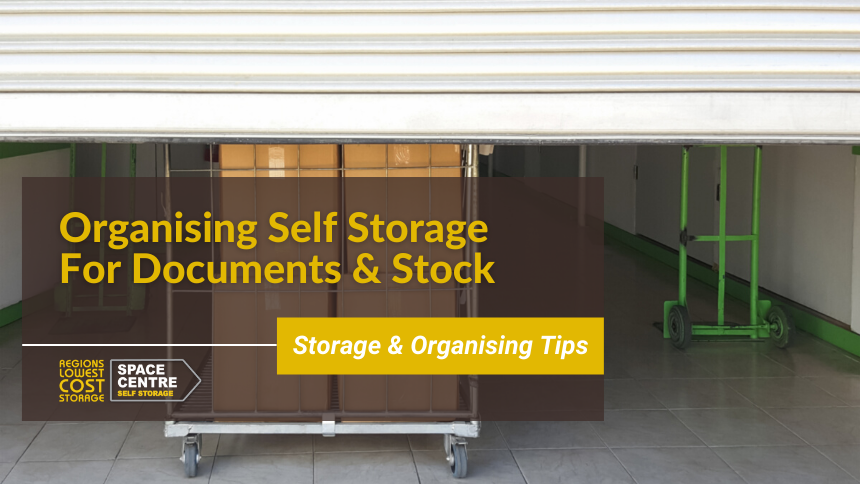 People use self storage for various reasons but whatever it may be, the idea is to keep your belongings in tip-top condition. One of the best ways for organising self storage units is installing racking or filing cabinets but is it allowed?
Can I Install Racking or Filing Cabinets In Self Storage Units?
The short answer is "Yes" but without drilling holes or fitting it permanently to the walls. The truth is, this is one of a few ways of organising self storage, especially when storing stock or documents.
How To Manage And Store Documents
When it comes to storing files or paper records, businesses must manage important documents through the entire lifecycle. This includes from the time documents are created, through their useful life until their safe destruction or storage. With an organised document storage policy, companies should be able to retrieve the records quickly when required and self storage can certainly help.
Many businesses will likely have piles of paperwork and business records on employees, tax, income and expenses. While most paperwork is necessary, and depending on the size of the business, keeping it does require some space. Digital storage is always an option but for files that can't be kept digitally, or if you prefer keeping it in a physical location, a business storage unit is your best bet.
Organising Self Storage For Documents And Stock
To keep documents, files or stock safe, few options are as effective as a self storage unit as they are clean, dry and secure. A reputable storage facility, such as Space Centre, offers the ideal solution to protect your belongings from humidity, dampness, theft, natural disasters and accidental loss. Organising self storage in terms of space can be challenging but these tips can help.
Maximise the height of the unit by adding shelving or tall racks. Remember to read the storage rules and regulations before doing anything
Put the items you need easy access to closer to the entrance
Pack heavier boxes or items at the bottom to minimise collapses and potential injury
Use an inventory management software for easy and accurate record-keeping
Create a master list of every item in the storage unit
Leave a walkway down the middle for better access to all the documents and boxes
Label every box on multiple sides
Stock Storage Ideas To Help You Save Time And Money
Whether you have a stock room at your business premises or renting a self storage unit, here are a few things you can do to improve how you store your stock.
Add more shelves
Pack items correctly utilising the space between the floor and the ceiling
Reinforce boxes to avoid items falling through the bottom
Place the more popular items near the front
Create an organising system of where to place your items
Keep the stock room private and only accessible to specific staff members
If your stock requires it, make sure to rent a climate-controlled storage unit
Consider Mobile Storage Units
You can choose between several types of storage equipment to help turn your stockroom into an organised space for merchandise. The choice of shelving, racks, drawers, bins or cabinets will depend on what you are storing but something you should seriously consider is a mobile storage system. These are typically freestanding shelves or filing cabinets on wheels that will help maximise the available space while making it easier to move.
Do's and Don'ts When Organising Self Storage Units
As simple as self storage maybe, people still make silly mistakes by not following best storage practices. Whatever you are selling and storing, make sure you pack everything correctly and avoid the following storage mistakes at all costs:
Don't overfill a box that it becomes too heavy to lift safely
Spread heavy items over a few smaller boxes
Avoid packing heavy items on top as they could cause damage to the boxes and contents below
Don't pack items that you might need first underneath boxes that are intended for long-term storage
Be careful what you wrap in a newspaper as the ink can smudge and result in stains
Never use boxes that have previously been stored in damp areas as they will buckle and break
Recommended: Do's and Don'ts Of Packing Boxes
How To Find The Right Storage Unit
If you are using self storage for personal or household purposes, it's often difficult to determine what size unit you'll need, especially if you are new to the industry. Contrary to what many may think, the floor space of your storage unit is not necessarily the same size as your house. If you're unsure, ask the staff at the storage centre as they should be able to advise you accordingly.
Speaking of storage providers, make sure you do your research as there are things you should look at before signing anything, including costs. Have a look at this article for some guidance on what storage costs entail.
Space Centre has been in the industry for more than 20 years with decades of experience in removals. As such, we've created an easy-to-use online Price and Size Guide to make the process as simple as possible.
Organising Self Storage With Space Centre
If space is an issue at home or the office, a self storage unit can simplify things considerably. All of our storage units are clean, dry and secure with prices guaranteed for 12 months. There is also no deposit and no hidden costs so no unexpected bills.
At Space Centre Self Storage, we don't tie you to a long-term contract and we don't charge a fee if you need a different unit or extend your rental period. Our facilities are monitored by 24-hour CCTV while each unit also has a smoke detector.
Our storage facilities in Bristol, Stroud, Gloucester and Stonehouse
are in convenient locations near major access roads. Contact us through our website for more information or to request a quote.