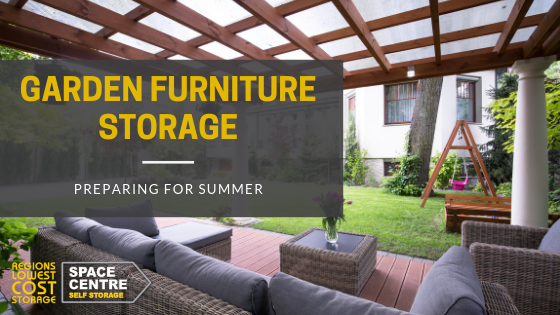 Where has the year gone as it's at that time again where we talk about garden furniture storage and preparation! We had a great Easter weekend with lovely sunshine and everyone is hoping for a good long summer. Now is the time to get the dusty garden furniture out of storage, the shed or garage and getting it ready.
If you read some of our earlier blogs and prepared everything properly for storage, it should really only be a case of getting it all out and dusting it off. However, if you didn't, you may need to put in a bit more effort cleaning and restoring where needed. In this article, we share some handy tips on making sure everything is ready for the season.
Garden Furniture Storage And Preparation
For those who chose self storage or utilised the last bit of space in your garage, you did the right thing. Your mower, hedge trimmer, BBQ, table and chairs along with all the garden toys should be good to go. Of course, that is if you cleaned everything before you put it away in the first place. Let's take a closer look at a few preparation tips for outdoor furniture.
Preparing Wooden Furniture
While you can leave good quality wooden furniture in the garden all year round, it will eventually weather out. Cleaning it after a long winter is essential but you first need to remove all the surface dirt, dust and cobwebs. For this you're probably better off using a stiff bristle brush to really get in there.
You can also restore hardwood furniture that has aged somewhat using a product like Cuprinol's Garden Furniture Restorer.
After cleaning, simply paint it onto the wood and it will start to lighten the colour
Use an abrasive pad and really work the product into the wood
Leave for about 15 minutes and then wash off
If you are not using a furniture restoring product, you should first clean the furniture with soapy water. Then, rinse and dry it thoroughly followed by lightly sanding the surface to remove any weathered areas.
The final step is protecting the wood using teak oil as it will guard against the elements. Apply the oil using a rag rubbing it in gently following the grain of the wood. While you can add multiple coats of oil, just make sure the first one dries completely.

Cleaning Wicker Furniture
Wicker furniture has been around for some time and certainly a popular choice for many. However durable it may be, over time it also shows dirt, dust and sometimes even mildew but the good news is that wicker is completely washable.
Use a regular garden hose but NEVER a pressure washer
Wash using a gentle scrubbing brush and mild soapy water
Allow the furniture to dry completely in the sun which usually takes 24-36 hours
Cleaning And Preparing Aluminium Garden Furniture
Aluminium garden furniture is extremely durable and can stay outdoors for long periods of time. As tough as it may appear, it may oxidise over time causing all sorts of damage and it still needs protection. A top garden furniture storage tip here would be keeping it in a clean, dry indoor space.
If you don't have room for it inside, you should consider outdoor furniture covers. You can find a large variety of PVC-backed polyester covers at Garden4less which will keep your furniture safe from the elements. Most of the covers even have built-in UV-filters for added protection against sun bleaching.
To clean aluminium furniture, follow these simple steps:
Use a non-abrasive cleaner to remove scuff marks
Wash with soapy water
Rinse off with a hose
Protect the surface with some clear car wax
Wrought-iron Or Metal Garden Furniture
Wrought-iron tables and chairs can also remain outside most of the time but they are susceptible to rust. The best way to keep them in excellent condition is by using a specialist paint.
Before painting, remove any rust spots with steel wool or a wire brush but be gentle
Brush off any loose dirt
Scrub everything down with soapy water
Sand it down slightly and touch up rust spots with an enamel paint
Recommended product: Hammerite's Direct to Rust Metal Paint that you can apply straight onto the rust without having to prepare the surface.
Plastic Garden Furniture Storage And Preparation
Plastic garden furniture is possibly one of the most popular and while they are weather-proof, the discolouration can still occur. We recommend storing it indoors during winter whether it's an outbuilding, shed or garage. If your garden shed or garage has windows, cover the furniture with dust sheets to avoid bleaching from sun exposure.
When you're ready to use your furniture, simply follow these steps:
Wash it with hot, soapy water and a little bit of bleach to remove stubborn stains
Rather use a sponge than something abrasive to avoid scratching the surface
Rinse thoroughly before the furniture dries
Add a protective layer of clear car wax
Some plastics can become brittle over time to make sure you check for split struts
Spruce Up Your Garden Furniture
We've all seen how dreary garden furniture can be especially after being in storage for a long time or when they start to age. However, there are a few creative ways you can give your outdoor furniture a much-needed makeover.
Spray Painting
Try to be bold this year and use a can of spray paint to turn your weary garden furniture into something more exciting. Spray paint is cheap and repainting a metal, aluminium or wrought-iron chair every year is quick and painless. Whatever you decide to do, just remember to wash and dry your furniture thoroughly before applying the spray paint.
Reupholstering
If your outdoor chairs have material seats, they can fade after a few seasons, especially if they're exposed to direct sunlight. Why not spruce up your patio furniture by reupholstering the seats? For the most part, you only need a little bit of fabric and a staple gun. Simply remove the seat pads from the chairs and choose something new and stylish. You can easily remove old ones and replace them with something new every year.
Slipcovers
Slipcovers could serve multiple purposes when it comes to garden furniture storage. While they're great for a fast and inexpensive makeover of dated furniture, they can also protect from the elements. The best part is, slipcovers are cheerful, cheap and easy to remove when you change your mind the following year.
Whitewash Finish
Adding a whitewash finish to outdoor furniture creates a beautiful setting and it's relatively simple to do as well. Start off by watering down white paint with two parts water to one part paint. Apply the paint and wipe with a dry towel and then use a dry brush to go over the finish again for added depth. Remember, whitewashing is all about creating a certain effect and it's not supposed to look perfect so be creative this year and give it a shot.
Conclusion
When it comes to garden furniture storage and preparation, planning ahead and knowing what to do play a vital role. It's best to take good care of your outdoor furniture and equipment as prevention is always better than cure. If you don't have space at home to store everything, you can rent a self storage unit short or long-term.
Please get in touch if you need more information about our storage units and prices. Our friendly, professional and experienced staff are open to answer any questions you may have. For added convenience, our drive-up units also make it easy to load and unload your belongings. Check out our price and size guide to help you find the right storage unit.