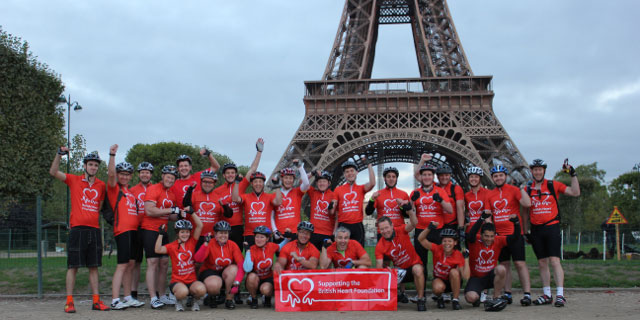 Back in December we let you know that Space Centre Self Storage co-owner, Lucinda Dangerfield and her brother Piers Marks are doing a charity cycle ride and taking on the enormous task of cycling from London to Paris in aid of the British Heart Foundation.
At 3 months in and with just over 3 more to go until the actual leaving date, practice is going well. Lucinda is getting used to being in the saddle for longer spells of time and is making good use of technology to track her routes, distances and times.
The weather in the first three months of this year hasn't been friendly. "I've been training in the horrible cold and wind and I'm covered in chillblains" said Lucinda
"It does weird things to your ears; sometimes it means it takes a little while for my ears to adjust when I stop. You can't hear properly for a little while"
Despite battling the weather Lucinda is pleased with the progress she's making. She's had to get used to a new bike and has also just started out using clip in shoes, which is a challenge in itself. "It's been very scary! I'm just hoping I don't fall off at any traffic lights at the moment" she laughed.
Lucinda is determined to succeed and is confident she'll be completely ready for the journey in July.
Lucinda & Piers will start their journey from central London on 21st July, cycling the 140km to Portsmouth where they will board the ferry for the crossing to France. Day 2 will see them cycle another 140km through the small towns and villages of France until they reach their overnight stop at Evreux. The final day takes them through Normandy and onto Paris and the Eiffel Tower.
Coronary heart disease is the UK's biggest killer and every 3 minutes someone in the UK suffers a heart attack. 30% of these are fatal and they often strike without any warning. Research by the British Heart Foundation helps save the lives of many people, and their research into congenital heart conditions has helped many babies survive into adulthood.
If you'd like to support Lucinda and Piers and help them raise funds for the British Heart Foundation you can donate here.