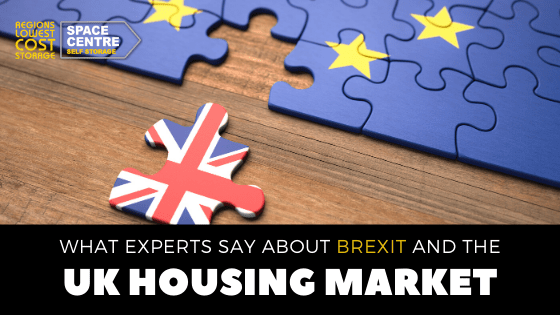 Regardless of whether you wanted to leave or remain, Brexit has impacted the UK housing market for everyone. But now that the verdict is out and the UK has left the EU, what are the predictions for post-Brexit future?
According to data from the Land Registry, the average annual house prices increased by 2.2% in December which is up from 1.7% in November. For the first time in two years, house prices have increased all over the UK.
The UK Housing Market By The Numbers
December was the first month since February 2018 with an increase in house prices across all regions and countries. The average price for a house in the UK is £235,000 which is £5,000 higher compared to December 2018. London house prices saw a 2.3% increase year-on-year in December which was also the strongest rise since October 2017.
Further evidence comes from the Bank of England with data indicating a notable increase in mortgage approvals for house purchases in December. It totalled 67,241 which is the highest monthly level since July 2017.
David Westgate, chief executive at Andrews Property Group said: "For all regions to have delivered positive annual growth for the first time in nearly two years highlights just how resilient the UK property market has been against a backdrop of extreme political uncertainty."
What Experts Say About Brexit And UK Housing
With Brexit taking place on 31 January 2020, we are now in a transition period that will last until the end of 2020. However, nobody knows exactly how Brexit will impact the UK economy and house prices until there is either a deal or no deal.
There are some interesting findings through a survey of more than 2,000 people by property-buying firm Good Move. It found that that 75% of Brits overestimate the impact Brexit has had on the UK housing market thus far.
According to experts from the estate agency, building, mortgage and buy-to-let sectors, a base rate cut is highly likely. This comes after the most recent vote by the Monetary Policy Committee where two out of nine members voted for a decrease for the second consecutive month. This will make it even harder for anyone who is deciding whether to move house or remortgage their property.
Getting Into The UK Housing Market
One thing that remains constant, regardless of Brexit, is the need to move due to personal circumstances. This includes getting married, having a new baby, empty-nesters or simply want a bigger or smaller place. These will always be reasons to buy or sell property no matter what happens with Brexit.
That said, some housing experts believe that the current 'bounce back' could continue until Brexit and even into the Christmas period. If someone has recently viewed a property they really like, it will appeal even more considering the additional incentive of low-cost financing.
At the moment, first-time homebuyers can get into the UK housing market with less competition than in recent years. There is also the added benefit of being exempt from paying stamp duty if the property is under the £300,000 threshold.
What Does This Mean For Home Buyers?
People selling a lower-value property and buying a more expensive one can actually save money if they secure a good price. Of course, things could changes slightly if the market picks up over the next few months. This means a better market to sell which will put more pressure on home buyers as they will compete for properties on sale. This could result in a slight price hike compared to the 18 months.
Managing Director of Residential Sales at Leaders, Kevin Shaw said: "Some properties are selling almost immediately and securing a good price, particularly when buyers are competing to secure a home. Though others are taking a little while to sell, especially if they are priced higher than buyers are willing or able to commit to."
The Impact Of A No-Deal Brexit
While a no-deal Brexit is not ideal, it remains the default position if the UK and EU can't agree to a trade deal by the end of 2020. Business leaders and financial experts across the UK have expressed concerns over the possible repercussions.
In September 2019, KPMG predicted that house prices could drop between 6% and 20% in the event of a no-deal Brexit
The Office for Budget Responsibility said in July that a no-deal Brexit could lead to "house prices falling by almost 10% by mid-2021".
Bank of England governor Mark Carney said in February 2019 that "UK growth would be 'guaranteed' to fall in the event of a no-deal Brexit".
Ross Counsell, director at Good Move, believes that the situation is relatively stable after the Tory party election victory. For the moment, it looks as if it could lead to more significant growth in house prices for 2020.
Final Thoughts
UK house prices have increased at their fastest rate since mid-2018 and saw a rebound in demand after the decisive election results. In February, the average house price rose 2.3% year-on-year to £216,092 across the nation, the strongest growth rate in 18 months (source: Nationwide).
The election outcome may have provided a boost to buyer sentiment but the future outlook will largely depend on the UK's economic performance in the next few months. It could, in fact, take a hit depending on the result of Brexit trade talks and the coronavirus outbreak.
Self Storage In The UK
Taking into consideration everything that Brexit may bring, the UK self storage industry remains a big positive. Demand for storage is higher than ever where the UK leads Europe with 47% of the total number of facilities. Whether you're in the process of moving or looking to downsize, self storage is the most reliable and affordable solution.
If you aren't sure what size storage unit you need, our Price and Size guide will help give you an estimate. Our staff at Bristol, Stroud and Gloucester are friendly and experienced, ready to assist in any way they can.
Remember, at Space Centre Self Storage, we do not increase our prices after you move in and can guarantee the rate for at least 12, if not longer. If you are ready to reserve one of our self storage units, please contact us by phone or email.