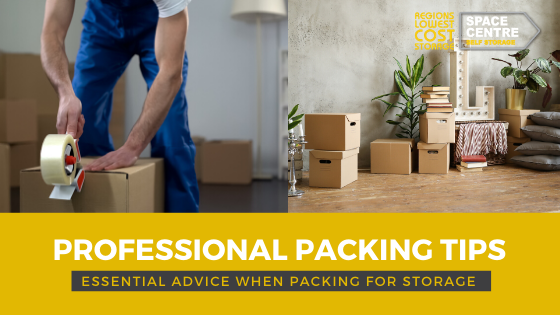 Planning on putting your belongings in self storage? Want to keep your valuables in excellent condition, long-term or short-term? Space Centre has put together some of the top packing tips whether you're moving, downsizing, renovating or going on an extended holiday. One way or another, packing for storage the right way is essential.
There's no doubt that self storage gives much-needed peace of mind knowing your things are safely stored away but you still need to deal with packing everything properly. Putting all your stuff into storage in the first place can be a challenging process which is where our professional packing tips come into the equation.
Professional Packing Tips For Self Storage
Packing up an entire house or student accommodation into a single storage unit requires careful planning, organisation and patience. Whether you are putting things in your garage, the attic or a self-storage unit, packing everything properly will help you make the most out the available space.
Declutter and Purge Unwanted Goods
The first of many top packing tips involves decluttering and getting rid of whatever you no longer need. Put a box and a few bags aside and start collecting anything you don't think you'll need in your new home. This includes clothes you don't wear anymore which can go to a charity shop and games, books, DVDs and crockery you haven't used for a long time. Consider this as the ideal opportunity for a spring clean so you can start fresh in your new place.
Helpful Advice: 'Practical Storage Tips To Declutter Your Home'
Dismantle Furniture
If you have furniture that can be dismantled, take them apart to make moving and packing for storage easier. For those with IKEA furniture, this is probably a little easier as you can find instructions online on how to dismantle it properly by following the steps in reverse.
Save loads of space by packing the pieces into a good quality box and taping it up. Don't forget to include all the small bits and pieces like screws or bolts. Not only does this help save space but you will minimize knocking furniture into walls and doorframes trying to manoeuvre beds or desks out of your home.
Choose Appropriate Packing Boxes
Using the right box for the right item is just one of several packing tips that can help streamline the process. Make sure you have good, clean, dry, sturdy boxes and avoid re-using old ones. If you've been storing boxes in the loft or garage, chances are they probably won't hold under pressure.
Use boxes that have lids or where the tops can be taped shut. Most removal companies will supply good quality boxes but if you get yours from the local supermarket, make sure they are up to the task. Smaller boxes should be used for heavy items like books and dishes while larger boxes are better suited for lighter items such as bedding, blankets and linen.
Remember, it's easier and safer to carry a small heavy box compared to a large one weighing a ton. Similar sized boxes are easier to stack when packing your removal van and storage unit.
Don't Overload Your Boxes
Packed boxes should never weigh more than you can comfortably, and safely, lift. Heavier items should be packed at the bottom of the boxes for a stable base. They need to remain "square" and do not bulge at the top or sides. By following this simple tip, they will remain stable when stacking them in your self storage unit.
At the same time, you should also avoid under-packing your boxes. A half-empty box could result in the contents shift around during transport, getting damaged or crushed under the weight of heavier boxes or other items. Use foam packing peanuts, newspaper, packing paper or bubble wrap to fill empty spaces without adding excess weight.
Label and Tape Packing Boxes
Label boxes on the top and at least one of the sides using a heavy black marker. One of the most essential packing tips is to put a unique number on the box indicating the room it came from. You can also add a short description of the contents and remember to use good quality packaging tape. Closing your boxes using quality packing tape will help maintain their structure and protect your valuables. Tape right across the seams and use multiple strips to ensure the boxes don't burst open when moved.
Wrap Fragile Items
When packing fragile items, use special packing paper, towels, newspaper or bubble wrap. To make sure everyone knows what's inside, clearly mark boxes containing fragile items with words like "FRAGILE", "GLASSWARE", "BREAKABLES" or "HANDLE WITH CARE".
Protect Your Furniture
If furniture can be disassembled, do so carefully as previously mentioned but if not, it's important to protect it properly. Use old sheets, blankets or bubble wrap to cover furniture but don't forget to clean everything before putting it in storage.
Once in the storage unit, store sofas end-to-end and stack chairs upside down, seat-on-seat. You can store vertically by stacking lighter items on top of desks or tables but remember to cover to avoid scuff marks or scratches.
Recommended: 'How To Store Wooden And Fabric Furniture'
Cheap And Creative Packing Tips
While these only cover some of the most essential packing tips, there are several creative ideas you could follow.
Packing With Suitcases
Boxes might be the primary focus for many but there are other incredibly useful things for storing items. Suitcases are a prime example as they are perfect for not only moving clothes but you also comics, books or toys. Unless you need your suitcases for an upcoming trip, use them to pack away your things and try using ones with wheels as you can transport its contents without straining your back.
Vacuum Seal Bags
Vacuum seal bags are handier than you think as it can make transporting bulky blankets and duvets much easier. These bags are especially useful if you have too many which can take up unnecessary space. Save on space by vacuum sealing blankets, towels and your seasonal duvet before moving.
Use Original Boxes For Electronics
It may not always be possible but the best way to pack TV or gaming console is using the original box they came in. These boxes are the right size and will provide better protection. If you no longer have them, try to find a box that will fit the device snugly or use bubble wrap or blankets to fill any empty space.
Wrap Breakables In Socks and Towels
Packing tips come in all shapes and sizes but have you thought about using socks or towels to wrap breakables? You don't need bubble wrap for everything and clean socks or towels work just as well for your delicate or fragile belongings. Wedge them between your vertically stacked plates and they'll be cushioned from excess movement during transport.
What Not To Do When Packing For Storage
If possible, don't use garbage bags when packing for storage as they can easily tear and have almost no ventilation which can result in mildew. Other things you ideally shouldn't do include the following:
Don't fill a box until it is so heavy you barely lift it
Always spread heavy items over a few boxes
Don't pack heavy items on top as they could damage boxes underneath along with the contents
Never pack items you might need first under things you know will remain in storage long-term
The ink on newspapers can smudge and mark items so be careful what you wrap
Avoid using boxes that have previously been stored in damp areas as they will buckle and break
Moving And Packing With Space Centre Self Storage
At Space Centre Self Storage, we want to help make your move as smooth as possible. Our staff are friendly, professional and trained to assist wherever they can. As the real self storage experts, we can provide you with moving boxes and packing materials. You also get free insurance for goods in your storage unit up to the value of £3000 where you can use our provider or your own storage insurance company.
Please follow our weekly blog or join us on Twitter and Facebook for more interesting articles, helpful advice and packing tips. Contact us today for more info on our wide range of flexible storage solutions in Bristol, Gloucester, Stroud and soon-to-be Stonehouse.