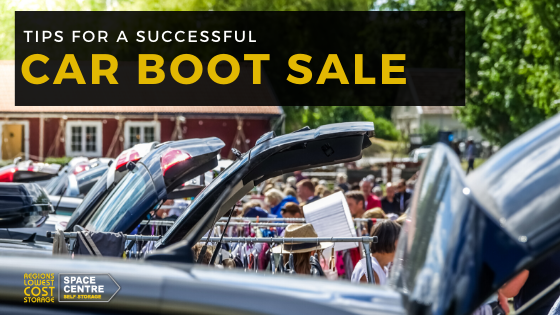 Is your house full of unwanted clutter? If you did a clear out during the lockdown, chances are your home or garage may be overloaded. Even if you rented a short-term self storage unit to keep your things safe, it may be a good idea to attend a car boot sale. Aside from creating much-needed space, you can make some serious money from items you no longer want.
Running your own stall can be somewhat daunting but we've compiled a guide filled with tried and tested car boot sale tips to help you enjoy a successful (and safe) day.
Planning for a Car Boot Sale
Keep in mind the following to ensure that your items are kept in good condition until you sell them and to get the best returns from your efforts. It's important to find a good car boot sale and not just any random event, especially with the challenges we face around Covid-19.
Research the Car Boot Sale
Technology has helped make car boots even more accessible as many are now on Facebook and other channels. You must check the night before or early morning to ensure the boot sale is still happening and what time you have to be there.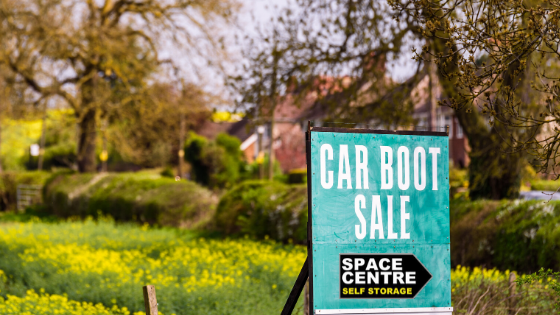 A top car boot sale tip is to visit the event the week before to try and get a feel for how it is run and how busy it appears to be. If there are only a few cars at the busiest of times, it may not be the best place considering the small number of potential buyers.
Before deciding anything, make sure you put aside the items you want to sell. Remember, some things are more popular than others so to save time, effort and money, here's a list of what sells better at car boot sales.
Packing And Safe Transporting Of Goods
Once you've identified what you want to take, pack your items carefully in the right boxes so they can't be crushed. Use packing paper or bubble wrap for fragile goods and always pack your car or van with heavy items at the bottom and more delicate items on top. Pack the night before and in such a way that things cannot slide around when the vehicle is in motion.
Check tyre pressure if you're transporting heavy goods and make sure you drive carefully, allowing for longer stopping distances. Make sure that you have a clear view before you start driving, moving any obstructions if there are any.
If the event is far away, make sure you've done your research and know what to expect before driving all the way there. Read online reviews before setting off and take a look at Carbootjuction.com or Carbootsales.org.
Take A Decent Float And Carrier Bags
Without the right change, you could potentially lose a sale so make sure you have more than enough coins and notes. Whilst your prices should ideally be in full pounds to avoid scratching around for pennies, having enough change will help just in case people pay with large notes.
Make sure you have at least £10-20 in spare change and don't forget to bring plastic carrier bags (we all have extras lying around at home). You'll be surprised how many people ask for a bag even if they only buy 1 item.
Pack The Necessary Equipment
One of the most important factors to consider is the equipment you might need. Think about what you are selling and how you might display the items. Depending on your goods, take a folding table, a clothes rail and some sort of changing room or stall. Use a plastic sheet, tarpaulin or picnic blanket to display goods on the ground as it could be wet or muddy.
Arrive Early And Unpack Quickly
For best results, arrive early to get a good spot and start selling as soon as possible. If you get there at the suggested time, chances are you could get a below-average pitch as you'll be at the back of the lot with less foot traffic. Remember, you are paying for the full sale so don't waste time and just make the most of it.
At many a car boot sale, customers can't buy from you until after set up but other sellers could use this time to buy from you as soon as you arrive. They don't always offer the best prices but it's the ideal opportunity if you just want to get rid of stuff.
Set Realistic Expectations For Your Car Boot Sale
It is important to be realistic as you are not going to fetch high prices for anything at a car boot sale. People attend these events as they want great deals so don't expect offers anywhere near what you paid for the item. In some cases, you'll be lucky to get £10 to £20 for a new pair of shoes even if it's still in the box. This is usually around 10% of the item's original value so if you have something valuable, rather put it on eBay.
However, you should always stand your ground and say no if you don't want to accept someone's offer. It may vary but the average price people expect to pay for stuff at a car boot sale is typically 50p and £5. Do your homework and visit a few local boot sales beforehand to get a better idea on pricing.
Be Prepared To Haggle
At a car boot sale you are almost guaranteed that whatever price you quote, someone will try to haggle you down. A simple tip here is to start a little higher than you're hoping for while being realistic and reasonable. If you were the buyer, how much would you be willing to pay for the item?
Don't Forget Refreshments
While there might be food stalls at your car boot sale, it's not always the case and do you really want to spend your profits on an overpriced burger or fish and chips?
You are better off packing snacks to keep you going so think of it as a small picnic. Pack sandwiches, crisps or other snacks, cold drinks, a bottle of water or flask of coffee depending on the weather. Something warm will also help with those early morning starts.
How's The Weather?
Considering that you will be outside for a few hours at a car boot sale, you'd be silly not to look at the weather forecast. If it's not too cold, you may not need a warm jacket but it's best to be prepared for anything. At least make sure you take enough layers to keep warm but also take off if it gets hot. Remember to pack sun-cream, sunglasses and a hat if it's a nice day.
Storage Tips For A Car Boot Sale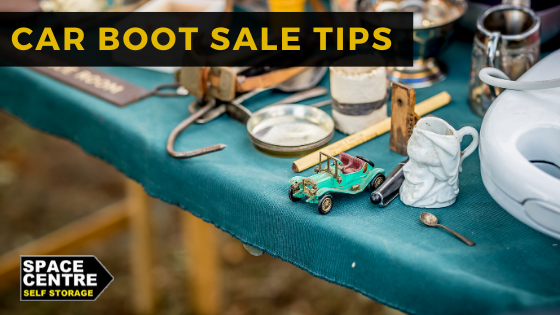 Safe stock storage is vital for a successful car boot sale or even seasonal fairs. If your goods get wet or damaged when storing at home, in the garage or garden shed they will be worthless so you should take the necessary precautions.
Storing things at home could make your space feel cluttered with the added risk of damp and making your home a target for burglars. Perhaps it's time to consider renting a self storage unit to keep your car boot sale goods safe and dry.
Related: 'Stock Storage And Car Boot Sales'
Attending a Car Boot Sale and Covid-19
This month many outdoor markets, car showrooms and car boots have been allowed to reopen. Organisers of car boot sales have been working tirelessly to ensure they can safely abide by the new rules and regulations. Among others, the new government guidelines stipulate the following:
people must obey social distancing at all times
put in place contactless payments
limiting the touching of goods
if anything has been touched, it should be quarantined for 72 hours
reduce or limit the number of interactions between sellers and buyers
Recommended: 'Planning Rules Lifted for Fairs, Markets and Car Boot Sales in England'
Affordable Storage For Your Car Boot Sale
If you are looking for a quality, affordable and reliable storage facility, we are open for access 24 hours a day with many of our units on the ground floor offering easy drive-up access. Space Centre Self Storage, offers a wide selection of damp-free, totally secure and easily accessible storage units in Gloucester, Bristol, Stroud and Stonehouse.
Get in touch with our experienced staff members who are used to supporting professional car booters and antique dealers. They will be able to advise you on the best type of unit for you and on how to pack and label your items properly. Our prices are guaranteed to remain the same for at least 12 months and you can store with us short or long-term without limiting you to a minimum rental period.