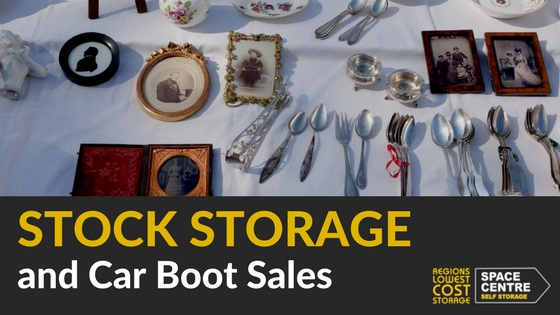 It's that time of year again for clearing out the house and finding the best stock storage solutions for you. The weather may suggest otherwise but it is Spring and before we know it, Summer will be upon us. Have you noticed more and more signs for car boot sales?
Car boot sales are one of the best ways to declutter your house or garage while making extra money. If you're thinking about doing one this year, these tips should help you get started. Just remember, stock storage is an important part of the process whether you're new, a regular or a seasonal trader.
Tips For a Successful Car Boot Sale
A car boot sale is far more exciting than uploading items on eBay and waiting for someone to buy. You get to spend time in the sun talking to people, making friends and make a day of it. Getting it right though means following a few simple but important guidelines.
Find a local car boot sale and research the event
To start out, find a local car boot sale using carbootjunction or keep an eye out for signs in your area. Besides saving time and money on traveling and meeting people you may already know, a local event means easier access to wherever your goods are stored.
It's also important to do research on the event as different types of car boot sales attract different crowds. Selling high-end antiques at a bric-a-brac event is not a wise choice so finding the right event for the right items is essential.
Carefully sort through your stock
Decide what you want to get rid of and determine what other people might be interested in. Popular items at a car boot sale typically include clothes, shoes, kid's toys, baby goods, furniture, books, CDs and DVDs.
If you have the time, dust, clean or even iron as you want buyers to get a positive first impression. It's likely to increase the chances of a sale regardless of the item. Wrinkled or dirty goods won't get much attention so a bit of extra effort could go a long way.
Set up carefully using the right equipment
Setting up your stall or stand is of the utmost importance and this means choosing the right equipment. Your items should be clearly displayed with visible price tags but don't overload your display area either. High-end goods should be kept in the car or at the centre of the stall to avoid theft or damage.
If you're selling clothes, don't forget to bring a large mirror and a portable changing room. Use a collapsible table to display your goods instead of dumping things on the ground or in boxes. We can almost guarantee an increase in sales.
Stock storage tips when in transit
Packing your car is as important as packing your own self storage unit. Use sturdy boxes, packing paper and bubble wrap to keep items safe while in transit. Pack your car with heavy items at the bottom and delicate items on top while ensuring nothing can slide around. Check tyre pressures especially when you're transporting heavier goods taking a longer journey. If necessary, remember to move any obstacles from your rearview before setting off.
Top Tip: Put your display equipment in an easy to reach area so you can quickly set up. Take advantage of the first few customers while everyone else is still finding their feet. Most of the sales take place within the first hour so you don't waste too much time setting up.
Bring a decent float
Chances are slim that card facilities will be available so your float needs to provide the exact change for your buyers. You can always make arrangements for online payments if someone buys an expensive items. Just remember to insist on proof of payment via email or text.
Bring a friend
Although you could do it alone, a car boot sale is more fun with a friend or family member. They can help keep an eye on things for security reasons, boost sales and help to set up faster. You could also both sell your own things which means there the variety of stock will make your stall more appealing. In addition, you can even split the cost of the pitch, which is usually between £10 and £20.
Benefits Of Effective Stock Storage
Stock storage is vital to make a success of your car boot sale. If your goods get wet or damaged they will be worthless, so it's important to take the necessary precautions. If you want to fetch the best price for your stuff, consider renting a self storage unit at your local storage centre.
Storing your items at home, garage or shed may not be ideal as your space could get cluttered very quickly. It could also put your goods at risk of damp and not only that, your home is a target for burglars as well. Use a reputable facility like Space Centre Self Storage to keep your goods safe between now and the event. This form of stock storage means your goods are dry, safe and out of the way until you need it.
Low-Cost Storage Units
Whether you need a big storage unit or a small locker, self storage gives you great peace of mind. As you sell your items, you can even downsize your unit so you're not paying for space you don't need. We recommend renting a drive-up unit so you can load and unload your goods directly into your vehicle.
In addition to temperature-controlled and damp-free storage units, most facilities are alarmed and protected with CCTV. At Space Centre Self Storage, we provide free insurance up to £3000 and can help arrange additional insurance for high-value items.
Give us a call to find out more or to arrange a visit at our facilities in Stroud, Bristol and Gloucester.