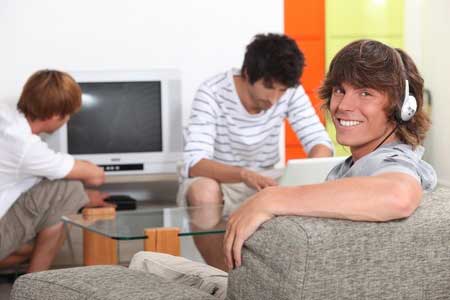 Many students will move out of halls this summer and into rented accommodation.
Some, of course, will move back into their halls of residence in readiness for a second year at college of university. Others will move from one rented, shared student house to another.
Is that you?
If so, have you thought about what you'll do with your belongings over the summer?
If you are moving to a new room, within the same hall, are you happy – or able – to bring everything home over the summer holiday period and then take everything back in September?
If you are staying put, are you happy to leave everything in your room? Do you know who has access to your room? Are you even allowed to leave it there?
The same applies if you are in rented accommodation. If you leave your belongings in your room, are you comfortable with who your friends will have around in the summer? Maybe they're planning a party with guests galore on the invite list. You may also find that your lease doesn't allow you to stay in your accommodation over the summer.
Some parents will be only too pleased to provide transport to bring their child's belongings back with them, for the holiday period. Others, however, will not have the room at home to put a desk, swivel chair, television, microwave, clothes, shoes, bike and any other things which will need looking after over the holiday period.
If you're reluctant to bring everything home with you but have reservations about leaving your goods where they are, why not look at temporary storage options?
The best temporary storage option for a student, would be a small unit at a self storage centre close to your university or college.
If you go down the route of temporary storage at a self storage centre, remember to speak with the owners or centre manager to find out the best way of storing your items.
DON'T just book a unit and overlook the packing of your items. Although the units will be damp free, individual items will need to be packed properly for added protection.
If you are at university or college in Bristol or Gloucestershire and you would like to speak to us about a small self storage unit for the summer months get in touch. We can give you advice on how to pack and prepare your belongings for temporary storage.
Owners Lucinda and Mark Dangerfield have vast experience in helping students when it comes to keeping their belongings safe during the holiday period and also during gap years.
Image Copyright: / 123RF Stock Photo