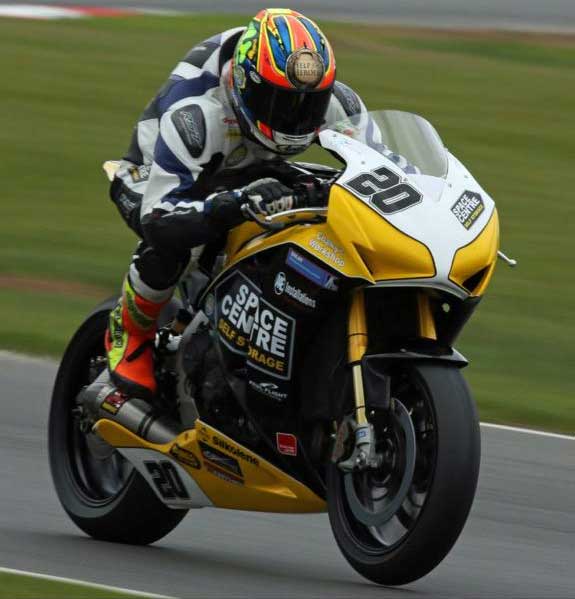 Dan Cooper has just returned home as the Isle of Man TT Privateers Champion for 2015. This is a huge achievement for Dan and great news for Space Centre Self Storage who have been sponsoring Dan for the last year .
Dan has been competing in the TT since 2010, it can be described as one of the toughest race tracks in the world. This year Dan decided to run his own team under the Dan Cooper Racing banner. It has taken him a huge amount of commitment to start his own team and build bikes competitive enough to compete in international road races. Not only does Dan have to battle against the larger factory supported teams that have huge financial backing. He also suffered a disappointing setback at the Northwest 200 that nearly ended his TT chances before they began.
Talking about the run up to the TT Dan said "After the setback at the Northwest 200, when I crashed the bike through no fault of my own, I was devastated. The bike was a right mess and as I was sat on the side of the road after the crash, I felt like crying as I thought my TT was over before it started. But we got stuck in as soon as we were back home and it was a race against time to get it ready for the TT. But we managed to get everything done and in place by the time we left for the island, apart from the front forks which were ready just 2 hours before the start of first practice on the island!"
Dan managed to finish all of the 6 races that he started, which in itself is a big achievement. His best result was a brilliant 6th place in the Lightweight Race on his 650cc Supertwin. With his consistently good results all week, he secured the TT Privateers Champion Award for 2015 with his best ever week.
" I just want to say a massive thank you to everyone who has believed in me and supported me this year, a special thank you to Mark Dangerfield at Space Centre Self Storage for supplying the Honda Fireblade as without it I wouldn't of been able to run two bikes this year. I am delighted to have won the TT Privateer's Championship and it makes all the hard work we've put in worth it "
Space Centre Self Storage director Mark Dangerfield is a big fan of bikes himself. He said " Dan's extremely talented, and being a local lad we wanted to give him a helping hand. It's really difficult to start your own team, especially when you are competing against riders that have more factory help at their disposal. It also just happens to be that he is part of a sport that I love and we are really pleased he has done so well! "
Dan Cooper Short Bio
Dan started racing Mini-Moto at the age of 11 in 1998 and in 200 won his first Southern Mini-Moto Championship, followed by a third place in the British Mini-Moto Championship.
In 2000 Dan got his first race bike as a Christmas present from his dad– a Honda RS125R GP and went on to enter his first race at Darley Moor in 2001.
Dan's racing went from strength to strength over the next 10 years achieving impressive finishes and lap times. In 2006 he won the British 125GP Championship, and competed in his first TT in 2010 where he managed an impressive 2nd place in the Supersport race.
Dan will be racing next at Castle Coombe on June 27th & 28th. He will then be preparing for the World's fastest road race, the Ulster Grand Prix in August and the prestigious Maccau Grand Prix held in November.
To find out more about Dan and his team visit his website dancooperracing.com
You can read more detail on Dan's performance at this year's TT in this Stroud News & Journal article