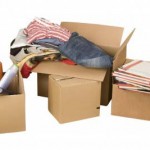 Storing goods during long term travel is one of the major decisions that any potential traveller will have to take when planning a lengthy journey. It could be for six months, a year or even longer. However, years of hoarding and cluttering up the rooms has left you with a myriad of belongings, all of which will have to be sorted and dealt with before you leave on your journey.
There are several options. Of course, you could sell the house or maybe rent out your property with the furniture included. Both make sense. However, a lot of potential travellers will go down the path of storing their goods. After all, consider this. What happens if you get three or four months into your trip of a lifetime and decide that it's not for you? Imagine arriving home to nothing or to a house where you are locked into a long-term rental agreement with your tenants. What if you've sold your furniture and belongings prior to departure and now you're faced with the task of buying everything again?
Putting your goods in safe storage will insure against such a scenario. It's the easy and sensible option. Negotiate a good long-term storage deal, pack everything away, lock the door and hit the road. Whatever happens after that, you are safe in the knowledge that when you come home, you can collect your stuff and get on with life.
Finally, remember that selling your goods might not only be an emotional experience, but a time consuming one too. Garage sales, photographing everything and putting it up on line, answering enquiries, negotiating a price, postage – it takes up valuable time when you just want to be planning your trip.
Once you have chosen the storage route, you will need to consider how to pack your goods and how best to store them.
Five top tips to prepare your belongings for storage
1) Make sure furniture is clean and wrapped in plastic for protection.
2) Get hold of some decent boxes for valuable items. They can cost a lot but there's nothing worse than packing a box and having it fall apart on you when you lift it up. Your boxes are going to sit in storage, piled on top of each other bearing the weight of the box on top so they're going to need to last.
3) Buy decent packing tape. Here at the Space Centre Self Storage we can advise you on what is best
4) Be selective and don't necessarily keep broken items for the sake of it.
5) Throw away anything big that you don't like. Look at it this way. If you throw away what you don't like, you can probably downsize the storage space that you need and use the money that you save on storage costs to replace them with things you actually want when you return.
If you live in the North Bristol or Gloucestershire area and are contemplating a journey, however long, why not contact us at Space Centre Self Storage. We will endeavour to help you make the right decision at the right price.
Have you used long term storage or want to share your experience of using safe storage ? Maybe you have some additional tips for our readers who are storing goods while they're away? Post them in the comments box below.