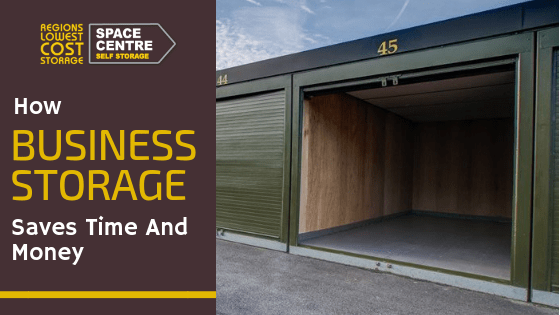 Many people think of self storage as rows of garage type facilities with old, unwanted household furniture and loft items. Not surprisingly, it's not always the case as business storage units feature prominently at many self storage facilities.
Businesses are increasingly using self storage to keep their overhead costs to a minimum and not just home businesses either. People who work from home can easily run out space and business storage becomes essential for admin documents among others. Many businesses factor self storage into their budget as it is ideal for tools, equipment and stock.
Some facilities offer short- and long term business storage options so doing your research is vital. Short-term self storage is ideal especially if you're moving to a smaller office and don't know what you will need.
Business Storage Examples And Applications
Many types of businesses use self storage and for good reason. They can store their equipment, stock or tools at a central location without exorbitant warehouse costs. All they really have to pay is administrative bills and minimal business storage expenses.
Some examples of businesses using self storage include the following:
Plumbers, electricians, garden companies
Gyms, Yoga studios and health spas
Theatre companies
Event management companies
Cafes and restaurants
Accountants and solicitors
Online and offline retailers
Engineering companies
Think about trade shows or exhibitions with your own stands – where do you store them when not in use? Retailers can really benefit from business storage to keep all their seasonal stock in a safe place until next year. Cafes, bars and restaurants can safely store chairs, tables, bar equipment and promotional items. In terms of entertainment and theatre companies, they can store stage sets and costumes until they need it.
Document Storage
Business storage is essential when you work with loads of legal and accounting documents. Accountants or financial consultants need secure storage space, especially for confidential client financials. Although businesses can store some data digitally, many need long-term storage to satisfy HMRC requirements.
Some historical documents must be kept for legal reasons, i.e. Tax /VAT/HR/HSE records – especially if your business uses heavy or loud machinery. We've compiled a short summary of different types of business documents along with suggested storage solutions.
Credit card bills and bank statements can be shredded after checking and paying what you owe. Bank statements need to be kept with tax documents if you are taking a deduction.
You shred insurance policies as soon as you receive your renewal. The same applies to monthly and quarterly investment statements.
The only documents you need to keep for 7 years are tax records. Remember to keep copies of your tax returns with supporting documents including statements and receipts. For more details on archive storage for tax documents, businesses should visit the HMRC website.
All businesses must keep accident records to record all workplace injuries. Companies that require health surveillance checks must keep their records for 40 years. This specifically applies to companies where employees are exposed to noise, vibrations or fumes.
Life-time storage includes birth certificates, marriage licenses, divorce papers, military discharge and death certificates.
If you can't keep up with all the documents, perhaps it's time to consider renting a business storage unit. Whichever method of storage you choose, always consider outside factors like light, temperature and humidity as they directly affect paper. Warm, moist air can cause mould spores whereas light damages paper causing ink to fade and accelerates aging of paper.
Effective Business Storage
Whatever your reasons for renting a business storage unit, the benefits are overwhelming. Storing extra office furniture and equipment means everything will remain safe and in excellent condition for when you need it. Self storage also costs considerably less than retail or warehouse space. Having the right storage space enables a business to function optimally and stay organised.
While many e-commerce businesses are home-based, they shouldn't really use their garage or shed for storage. Their stock can easily get damaged or misplaced which directly affects the bottom line. Here are a few business storage tips for documents, furniture, equipment or stock:
Make sure your storage unit and items are dry as mould grows quickly and can cause serious damage
Use wooden pallets to keep valuables elevated. In the event of a flood or burst water pipe, your goods will be safely above the water line
Store the important documents or items that you might need regular access to at the front of your storage unit. This makes looking for something much easier which ties in with the next point.
Clearly label all your boxes to avoid searching for hours
When storing documents, organise your boxes by year and type of record
Choose a storage facility in a convenient location, somewhere close to the office so you can easily access your documents and stock when needed.
Only provide essential personnel with access to your storage unit
Why Choose Space Centre Self Storage?
We are conveniently located near major access roads in Stroud, Bristol and Gloucester. Our storage facilities are in secure compounds and each unit is alarmed along with CCTV and smoke detectors. We also provide your own high-quality padlock so only you have access to your unit.
Space Centre Self Storage provide quality, affordable self storage units in a wide range of sizes. Get in touch with our friendly, experienced staff for more information and to reserve your storage unit online.
If you have any interesting storage stories or would like to share some of your own tips, please comment in the section below or find us on Facebook, Twitter, Pinterest or Google+. We'd love to hear from you and our readers always appreciate a good story.