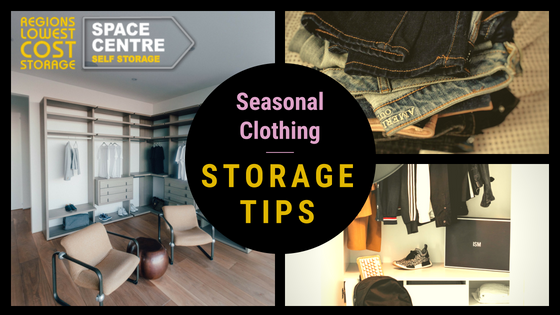 With the heatwave dissipating somewhat and a distinct chill in the air, it's almost time to pack away your seasonal clothing. More people are walking around with trousers and hoodies gearing up for the cold weather ahead. Enjoy the last bit of sunshine as one season ends, another begins and with that, our seasonal storage tips.
Many of us can divide our wardrobes into spring, summer, autumn and winter collections which makes storage slightly easier. However, limited storage space in your cupboards and drawers means your clothes could end up all over the place. In the end, we keep an obscene amount of clothes in one big pile with winter woollies and summer clothes mixed together. Worst of all is that we probably won't even wear half of the clothes we own.
It's important to sort through everything in your cupboard before the new season starts. Take a look at these simple storage tips to avoid mould, discolouration or insect damage.
Seasonal Clothing Storage Tips
Stuffing everything into a bag or a box under the bed could damage your clothes so careful planning is essential. Clean, pack and store clothing properly to increase the lifespan of your wardrobe. It's simple really – the better you look after your textiles, the longer they will last. Our storage tips will help whether you're storing clothes in your garage, under the bed or a self storage unit.
Wash, dry or launder everything first
Before you even think about storing clothes, you really should clean everything first. Keeping smelly and dirty clothes in a bag or box for months only spells trouble. Depending on the item of clothing, that means using your washing machine at home or visiting the dry cleaners. You don't need to iron your clothes as you will likely have to do it when you retrieve them.
Without cleaning and drying your clothes properly, moisture can build up which is a haven for insects, mould and mildew. In addition, deodorant and perfume can also stain clothes while dirt clings to clothing when stored for extended periods.
Divide and conquer
In a similar fashion to a popular decluttering and moving exercise, divide your clothes into four piles. It's a simple but effective process to distinguish between what you want to "donate," "throw out," "keep" and "store". This is not the time to be sentimental! Don't keep unnecessary items or damaged clothing that you haven't worn for the last two seasons. You should donate clothing in good condition to a charitable organisation or give it to someone in need.
While we are talking about winter, not every day will be cold so keep a few heavier summer items aside for those occasional mild days. You can certainly pack away things such as shorts, bikinis, sandals and tank tops.
One of our favourite seasonal clothing storage tips is to add dryer softener sheets when packing summer clothes and footwear. Who doesn't want fresh, wrinkle-free clothing when you unpack everything again next spring?
Folding versus Hanging
You need to decide which items you are going to hang or lay flat. When hanging clothes, make sure you use a sturdy, quality padded hanger. Some example of clothes that you should hang include your vintage leather jacket, silk blouse or suit. In addition, store any cocktail outfit or evening wear in a garment bag for added protection.
The golden rule when laying clothes flat is to avoid stacking or creating too many layers. Carefully fold delicate items like cashmere or any other heavy knitted item of clothing. Line them with a layer of acid-free tissue for even more TLC. Hanging can cause Denim to stretch in all the wrong places so we recommend folding as a first choice. Clothing items such as T-shirts and tops work both ways and depends heavily on personal preference.
Use the right storage containers
While cardboard boxes are great for many things, we don't recommend them for storing clothes. They are ideal for short term storage but over extended periods, mould and mildew are very likely. We recommend sealable plastic storage containers although they don't come without risk either. Make sure you clean and dry them thoroughly beforehand as any trapped moisture can cause problems depending on storage conditions.
One of our more popular storage tips (and for good reason) is an unused suitcase that has been scrupulously cleaned. If you're looking for more aesthetically appealing storage, consider linen storage organisers instead of unattractive plastic bins. Fabric organisers allow air to circulate which helps your clothing remain fresh.
Bonus Tip: Don't use vacuum bags for long-term storage! Keeping items like wool and silk in a plastic vacuum bag can damage the material and make them lose shape.
Why Use Self Storage?
When looking for a long-term storage solution for seasonal clothing, choose somewhere cool, dry and dark. Your clothes need good airflow without direct sunlight so your attic, garden shed or garage is not ideal. Our household storage options solve these problems as the storage units are safe, clean and dry. Read this article on 'How To Pack Your Storage Unit' for expert advice and additional self storage information.
Space Centre Self Storage provides clean, secure and affordable self storage units in a range of sizes at convenient locations in Stroud, Bristol and Gloucester. Our staff are experienced, friendly and able to provide you with all the necessary information and assistance. We can also provide you with boxes, bubble wrap, packing tape and a padlock.
Please give us a call or get in touch via LinkedIn, Facebook or Twitter if you need more information. We'd be happy to answer any questions you may have.