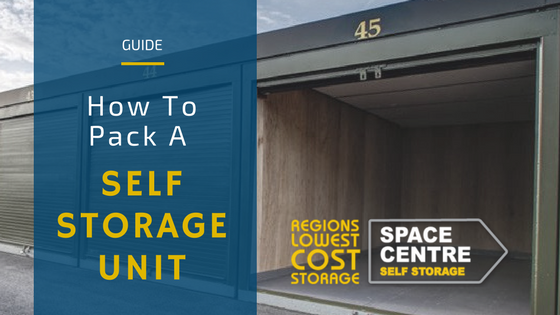 Packing your self storage unit is not a complicated process but it does require some careful thought and planning. At the end of the day, you want to fully optimise the storage space you're essentially paying for. People often think they need more space than they actually do and therein lies the problem. One should never base storage requirements on how much you can squeeze into a room or garage. It's always best to ask the professionals to help find a storage solution that suits your needs.
Poorly organised storage units can be hazardous in so many ways. Boxes stacked incorrectly and too high could easily topple over damaging goods or, even worse, cause serious injuries. Packing your storage unit is not a game of Tetris but hopefully these simple tips will help you effectively organise your storage unit.
Label All Your Boxes
We cannot stress enough the importance of labeling and you'll thank us later. Take your time when packing and be sure to label each and every box on the top and at least on one side. Use a unique number, the room it came from and a short description of the contents. It's best to use a black permanent marker.
Clearly marking boxes that contain fragile items is possibly one of the most important storage tips. Use words like "FRAGILE", "GLASSWARE", "BREAKABLES" or "HANDLE WITH CARE". At the same time, place a special mark on boxes you are likely to access more frequently. The last thing anyone wants to do is unpack everything just to find a single box.
Pack Large, Heavy Items First
It may seem obvious but we recommend always packing large and bulky items first, ideally against the back wall. Packing a self storage unit this way means you know there's nothing hiding behind them when you're looking for something. Solid furniture items like a desk or dining room table can also form a strong base for stacking other items. Just remember to cover furniture with bubble wrap, a think blanket or high-density plastic to prevent any surface damage. One last seemingly obvious tip is to use the right boxes and to never pack the heavy ones on top.
Dismantle Furniture and Other Items
Some items don't need to be stored as they are, especially TV units, tables and sideboards. If furniture can be disassembled in any way, be sure to do so before packing them into your self storage unit. Tables with removable legs are great examples and so are chairs. Using drawers from cupboards can also help ease the packing process as you can store smaller items inside. Don't forget to put nuts, bolts and other small components in a Ziploc bag and tape it to the corresponding item.
Create A Master List And Location Map
This may seem redundant but we guarantee it's well worth the effort. All you need to do is write down on a piece of paper the contents of each box and the box number. It's particularly useful when you're looking for a specific item and especially if some of your boxes are packed completely out of view.
If you have a lot to store, keep a clipboard near the entrance with a full list of everything inside the unit. We suggest making a sketch or drawing a map for larger self storage units indicating the rough locations of goods. Don't forget to make a note if you stuck smaller items inside a cupboard or chest of drawers.
Leave Space For An Aisle
Think smart when packing your self storage unit and leave a walkway down the middle, wide enough to walk in. This means you don't have to go through a maze of boxes and furniture to access items at the back. Make your life even simpler and pack boxes with labels facing towards the aisle so you can easily identify each one.
More Tips On How To Pack Your Self Storage Unit
We've only mentioned 5 storage tips which we believe are most essential but we know there are many more. To help you understand the importance of packing your self storage unit effectively and to help you get started, we've highlighted a few more.
Store sofas end-to-end and stack chairs upside down, seat-on-seat. This will greatly help you minimise the amount of space required.
Use pallets to store boxes and items off the floor wherever possible.
Stack light boxes on heavy ones from the back of the unit and fill your space methodically towards the front. Use single items for filling gaps as you go to maximise your storage space.
Use empty space inside wardrobes, chest of drawers, laundry baskets or even suitcases to store clothing, linen or pillows.
Be sure to safely pack any items with sharp edges to avoid accidents. Outside equipment should be cleaned prior to storage and lawnmower blades and other cutting tools should be lightly oiled to maintain optimum quality.
Space Centre Self Storage provides clean, secure and affordable self storage units in a range of sizes at convenient locations in Stroud, Bristol and Gloucester. Our staff are experienced, friendly and able to provide you with all the necessary information and assistance. Please contact us for more information and feel free to share any self storage tips you'd like to add.