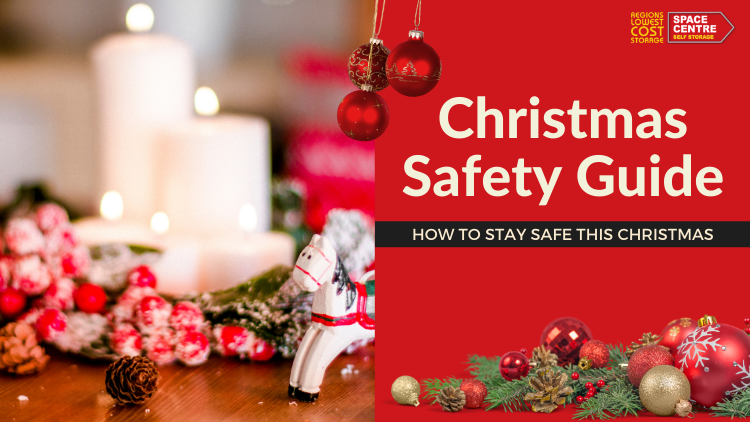 Everyone loves the Christmas holidays but we all know it's going to be a little different this year due to the Covid-19 restrictions. Regardless, it's still one of the most wonderful times of the year with loads of activities and guests but also potential safety hazards. To make sure you and you guests enjoy a merry Christmas, without any accidents, we've created a basic Christmas safety guide.
Christmas Safety Tips For A Happy Holiday
Fire safety may be a bigger concern over Christmas but it should be on your list all-year-round. The best way to prevent potential fires is to check the batteries in your smoke alarms. If you can't reach due to mobility issues, make sure you ask a friend or family member to help you. With fire hazards in mind, let's take a look at how you can prevent any disasters over the festive period.
Keep Your Christmas Tree Away From The Fireplace
Who doesn't love sitting by the fireplace for a cosy Christmas but it can be a dangerous place if you are not careful. Whether you bought a real or artificial Christmas tree, never put it near the fireplace and that also applies to any other flammable items, including Christmas cards or presents.
Never Leave Candles Unattended
There are many important Christmas safety tips and candles are certainly part of it. We know scented candles are part of the festivities but they also pose a serious fire risk. Under no circumstances should you leave any candles unattended as they can quickly burn flammable materials regardless of the type or size.
All it takes is for someone to knock it over by accident without knowing and that can be disastrous. Another vital piece of advice is to never leave candles near draughty open windows. This can easily fan the flame which could ignite flammable materials such as curtains, Christmas cards, wrapping paper and even presents.
Don't Use Ancient Christmas Lights
We know some Christmas decorations can be expensive or they might have sentimental value but you should replace fairy lights if you've had them for a while. Newer LED lights will meet much higher safety standards as they don't burn out or get hot to the touch. If you are decorating your home or Christmas tree with fairy lights, remember to switch them off before you go to bed or when you leave the house.
The Risk Of Overnight Cooking
The rush of Christmas preparations can be exhausting and that can lead to complacency. If you're in a rush to get the food ready for the festivities, you may be tempted to leave something in the oven overnight or cooking while you go to shops. As any fire safety expert will tell you, this is a huge fire hazard. Never leave food in the oven or on the stove unattended and rather ask friends or family members if they can help.
Keeping Safe From Christmas Thieves
As festive and happy as the Christmas holiday might be for most people, it's also the perfect opportunity for burglaries. The best way to deter potential burglars at home is to keep presents away from the windows.
Also, don't forget to lock your front door, even if you are in a 'safe neighbourhood'. A seemingly simple, but effective, safety tip is to make sure your home appears occupied at all times. Leave a few lights on when you go out and don't put anything of significant value on display.
Some criminals will even look through your rubbish to see if there are jewellery boxes or other expensive items. To avoid anyone seeing what you purchased, break apart the boxes and tear up any receipts before you put in the bin.
Christmas Shopping And Online Scams
Whilst that takes care of the physical threat, what about online fraud? If you ordered Christmas gifts online, be on the lookout for email scams from criminals pretending to be popular retailers such as Amazon. The email usually appears genuine where it states that your order has been dispatched, or that you need to confirm payment.
Never take these emails at face value and look at the email address properly and how it greets you. For example, rather than using your first or full name, the email might say 'Dear Customer'. For more tips on how to identify fraudulent emails, here is a great article from Which.co.uk.
Christmas Safety Tips When Decorating Your Home
In addition to fire safety and keeping burglars and scammers at bay, how you decorate your home can also play a part. It's important to consider what decorations you use especially if you or your guests have toddlers and young children. Here are a few simple ways to make your home safe for the whole family.
Avoid glass baubles as they can break and cause cuts
Don't use tiny decorations with young children around as they pose a choking hazard
Place all extension cords close to the walls to avoid trips and falls
For external decorations, light the pathway to your house and keep it clean from snow and ice
Make sure the entrance is safe to approach to prevent slips and falls.
Only install light bulbs and extension cords rated for outdoor use
Use a safe ladder when putting decorations on the roof
Christmas Safety Tips For Pets
Along with keeping your guests safe, your pets are also part of the family so you should take care of them as well. Let's face it, cats want to climb a tree, even if it's a Christmas tree, and play with anything shiny. Dogs might want to mark its territory or chew off the pine needs, and sometimes decorations too. Keep them safe by installing a foldable kid's playpen or a doggy exercise pen.
One way to keep them and the tree safe is to work off some of your pet's energy outside the house or in another room. You may want to consider using Christmas decorations that are less attractive for a cat. A novel way of keeping them from climbing the tree is to place a foil cover around the base of the tree as cats hate walking on it.
Merry Christmas From Space Centre Self Storage
After a rather challenging year, we know you are looking forward to the festive holidays. Hopefully, these Christmas safety tips will give you the guidance you need to keep everyone out of harm's way. Let's celebrate Christmas safely and remember to adhere to the government's Covid-19 regulations and guidelines.
If you are looking for a secure place to store your clutter, whether it's excess furniture, large gifts or Christmas decorations, you could rent a small self storage unit or storage locker. They are available various sizes which makes them incredibly versatile and affordable.
Get in touch with our friendly, experienced staff for more information and to reserve your storage unit today in Stroud, Bristol, Gloucester or Stonehouse. From everyone here at Space Centre, we wish you and your family a safe and Merry Christmas.