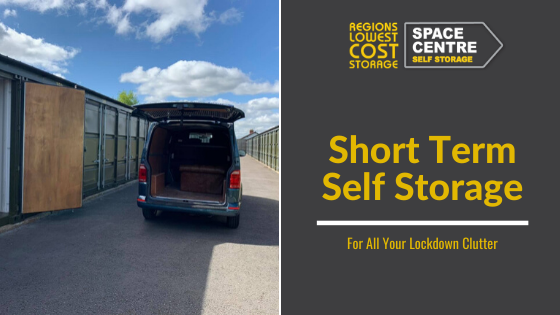 The Covid-19 lockdown has resulted in many of us clearing out the house, garage and loft. While people have decided on what to keep, bin, donate or sell, you still can't really go anywhere. With rubbish tips, recycling centres and charity shops mostly closed and car boot sales not being allowed just yet, your best option is short term self storage.
Decluttering And Short Term Self Storage
Unless you want to put everything back in the loft or garage, a short term self storage unit is the ideal solution to get everything out of the house temporarily. Besides, didn't you do a clear out to get rid of clutter and not add to it?
You can make more space at home by storing your belongings safely in a self storage unit. But remember, it involves more than just throwing things into random boxes and leaving it in the unit. You need to plan ahead and make you follow these professional decluttering and packing tips.
Preparing For Short Term Self Storage
Decluttering your home is the first step in creating a more organised space. From there, you need to choose the right packing materials, pack everything properly while finding the right storage facility. A good home cleanout requires time and planning with the idea of doing one room at a time. Let's start off with a few simple decluttering and packing tips.
How To Declutter Like A Pro
The first you need to do is make sure you have enough quality boxes, bags, packing tape and bubble wrap. Separate your belongings into different piles of things you want to keep, store, throw away, sell or donate. This is often referred to as the 5-pile system.
Once you've established where to put your things, you need to pack everything properly. Remember, not only are you packing for short term self storage but also for safe transport to the storage facility. If you don't follow the basic packing rules, things could break which means expensive repairs or replacement bills.
Basic Packing Tips
People think packing boxes is easy but it can be disastrous if you don't do it properly. Here are a few of most important tips on packing for self storage:
Use sturdy boxes and fill them to the brim and seal. This means you can easily and safely stack boxes on top of one another
Tape the bottom of the box securely so that it doesn't give way
Use bubble wrap or newspaper when packing fragile items and clearly mark the boxes as "Fragile" and "This side up" to prevent mishandling
Make sure you clearly label everything so you know what is in each box
If you're moving furniture, dismantle if possible as it's easier to carry and pack
Protect furniture items with bubble wrap, soft blankets, sheets or special packing paper
Choosing The Right Storage Unit
While packing is a big enough challenge, finding the right storage unit is whole different ball game. Most people find it difficult to visualise how much space they need especially when using short term self storage for the first time. It's important to get it right as you don't want to pay for space you don't need.
Most self storage facilities offer a wide range of units in varying sizes but it's all about maximising the available space. At Space Centre Self Storage, we provide a helpful, visual guide on how much space you may need depending on the size of your moving van or truck. Have a look at the example below or click here for the price and size guide on our website.

Related: 'Top Packing Tips Professional Swear By'
How To Arrange Your Self Storage Unit
Packing a self storage unit is not an overly complicated process but it does require some planning. Good, strong boxes are always on the list along with labelling, thinking about weight distribution and creating a master inventory list. It all comes down to fully optimising the storage space you are paying for and that means following a few simple rules.
Label boxes on the top and at least on one side using a unique number, the room it came from and a short description of the contents
Clearly mark boxes that contain fragile items and those you are likely to access more frequently
Pack large, heavy items first and ideally against the back wall
Use the right boxes and don't pack the heavies on top of the light ones
Dismantle furniture and other items
Create a master list and location map
Leave space for an aisle for easy access
Recommended: 'Tips For Organising Your Storage Unit'
Short Term Self Storage During The Lockdown
While Space Centre Self Storage is open 24 hours in most of our centres during the lockdown, it's for storage access only. Our administration hours and staff on premises are limited and please respect the social distancing rules along with the general health and safety rules.
Our storage facilities are conveniently located in Bristol, Stroud, Gloucester and Stonehouse offering clean, dry and secure units with many on the ground floor providing drive-up access. We also offer free insurance for goods up to the value of £3000.
Get in touch with our friendly, professional and trained staff who will assist in any way they can and read our weekly blog for all the latest industry news and updates.