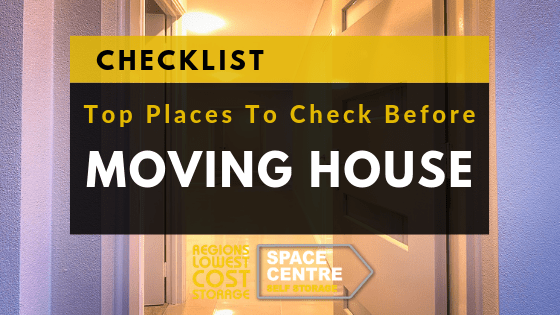 Moving house can often be chaotic and stressful where forgetting important things is common. There are some preventative measures such as using experienced movers and doing a final walk-through. Doing so will not only save you time and money but also help avoid a difficult situation. This especially refers to making sure you pack important medication and cell phone charger before handing over the keys.
Packing is part and parcel of moving house and can be a challenging ordeal, particularly if you have a large house or loads of storage space. We all know how quickly things pile up and get shoved into all corners of the house. This is where that all-important question comes in when moving house: "Did I forget something?"
Tips When Moving House
Preparation is key to a successful move and it will help you remember everything. Packing generally takes much longer than you initially expect so be sure to leave enough time to get everything done properly. A well-known formula is to double the time you think you might need or add on 50%. This will somewhat ease the stress levels during packing and leave you better organised to not leave something important behind.
While there may be several other places to look before moving house, these are the most common:
The upper level of your garage
Underneath goods and heavy equipment in the shed and garage
In and behind the shed
The Loft
At the back of kitchen cupboards
Space between drawers especially when leaving furniture behind
Underneath sofas and scatter cushions
Down the back of radiators
Inside the bathroom cabinet
Check The Bathroom
Of all the things you should remember, prescription medications are the most vital. The reason many people forget is that they often leave it for last as they might still need it whilst packing. Always add the bathroom to the top of your checklist and make sure to empty your medicine cabinet. Don't forget to grab your shampoo, shower gel, moisturising creams and razors as it will cost you to replace them.
Packing The Kitchen
A trait most people share is packing everything except the essential kitchen equipment ahead of time. While that approach works, people often forget their favourite knives, frying pans or pots. Another important piece of advice is to give away any items left for the refrigerator or simply pack them into a cooler box for transport. Replacing all of your sauces and spices can really add up so it's best to make sure you take them along.
Jackets, Clothing and Phone Chargers
Because moving is not a simple and quick exercise, people often keep a jacket or an extra change or clothing with them. When moving house in colder weather, people forget coats, jackets, boots, gloves or scarves as they are often left out to pack last. One way to avoid this is to put everything that you want to pack last in an obvious and specific spot. This way the chances of forgetting to grab your cold-weather gear is minimal.
Phone chargers are also among the list of commonly forgotten items as we tend to rely on our mobile phones even more when moving house. Avoid losing expensive mobile devices and chargers by checking all plug points before walking out the door.
Related article: 'Things To Remember On Moving Day'
Strange Things Left Behind After Moving House
While clothes, cell phones, laptops and kitchen utensils are deemed normal, there have been some strange things people have found. Many new homeowners are surprised by what they find but nothing can compare to these list of items:
a very greasy deep fryer with fat still in it
milk that was seven months past the expiry date
pet snakes and caged chipmunks
nude photographs of previous owners
pentagrams and séances covering the walls
a loved one's ashes
In some instances, new homeowners have been met by what seemed to be a stray cat but it turned out to be the previous owner's beloved pet (or not so much loved after all). For more grizzly discoveries after moving house, take a look at this article.
Final Steps
Before leaving your old humble abode, do one final sweep of every room. If your better half is there to help, doing it together speeds up the process and spot things you may have missed. If you're using a professional moving service, they will have a checklist to ensure everything has been packed and moved.
When you are absolutely certain that you are not forgetting anything, remember to leave behind relevant items for the new homeowners. This includes appliance manuals, spare set of keys and garage door or electric gate openers.
Moving house can be a messy and time-consuming process so why not make it easier on yourself and rent a self storage unit? At Space Centre Self Storage, our units are clean, dry, affordable and available for short or long-term. For flexible and affordable storage solutions, contact us today. We can help find the right storage unit for your needs and provide you with expert storage and packing advice.