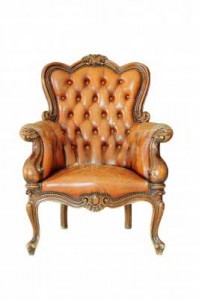 If your favourite piece of furniture appears to have seen better days, you might be planning a trip to the local refuse yard. However, before you kick that old chair or couch into touch, why not consider giving it a new lease of life with some brand new upholstery. Like sanding and refinishing, reupholstering your favourite piece of furniture, chair, couch or cushion can really give new life to some of your older pieces.
You may need to clear space in the garage as this won't be a quick project, or you may want to consider short term use of a storage centre while you complete your project. Wherever you decide to start and store your project, you need to make sure you've got everything you need.
Once you have chosen the route of reupholstering a chair or seat, you need to organise yourself and make sure that you have the correct tools and fabrics at your disposal. Why not consider some of the essential tips. It will help you transform that favourite piece of furniture.
Three reasons why you should reupholster
Reupholstering can be a great alternative to buying new furniture for your dining room, living room, or bedroom. You can reupholster almost any type of furniture that has been covered in fabric, and, if you are up to the challenge, you can save a lot of money by doing it yourself. Many people decide to take up the challenge of reupholstering because it:
Saves time spent on ordering custom furniture
Allows you to choose the exact type of fabric and cushioning you want in your piece
Enables you to salvage antique furniture or furniture that has sentimental value
Choosing a Fabric
Before you can take on the task of reupholstering, you will first need to decide on the type of fabric you want your chair, cushion, or sofa to have. It is important that you choose upholstery-quality fabric, and not regular fabric. Upholstery fabric is much more durable and will stand up to the test of time, unlike regular fabric. Most upholstery fabrics are stain-resistant too, which means that you don't have to worry too much if you spill that cup of coffee!
Necessary Tools
Needle nose pliers
Staple gun (with staples) or upholstery tacks
Rubber mallet
Sharp scissors
Welting (cloth used to trim along the edges of furniture)
Glue gun
Cotton batting (to make the furniture soft to sit on)
Reupholstering a Chair Cushion
Reupholstering a chair cushion is a relatively easy job and is perfect for beginners. Practice on your cushions before you head straight to that loveseat or sofa bed!
Unscrew the seat cushion from the chair frame
Remove all of the staples or tacks in the fabric using the needle nose pliers.
Remove the fabric. If it looks worn out, remove the old batting from the cushion too.
Most chair cushions are made out of a single piece of wood. Take this piece of wood and lay it on top of your new fabric. Cut around the piece of wood with your scissors, leaving at least two or three inches extra overhang on each side.
Replace the stuffing with new batting. Lay the seat board on top of the batting, and pull the sides of the batting tight over what will be the bottom of the seat. Staple the batting down with your staple gun. Trim off excess batting.
Lay the piece of wood, batting-side down, over your fabric. Pull the sides of the fabric and stretch it over what will be the bottom of the seat. Staple the fabric down on all four sides. Be careful to make the corner edges neat.
Trim the excess fabric et voila – a new seat!.
Have you reupholstered a piece of furniture? If so let us know how you got on using the comment box below.
If you want to store any old furniture prior to upholstering and need some advice, Space Centre Self Storage has units of all sizes at three centres across the North Bristol and Gloucestershire area. We provide a damp free environment to make sure that when you come to reupholstering, your favourite piece of furniture is ready for its transformation.