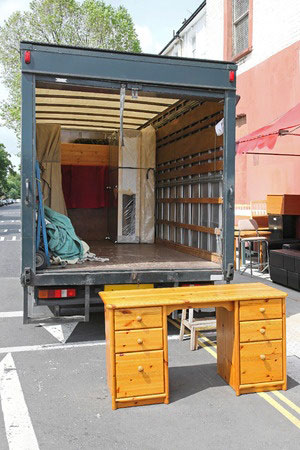 There are a whole bunch of things that are stressful about moving house, many of which you don't have much of an option with. But when it comes to removals you have 3 choices
– Hire a removal company
– Hire a man with a van
– Do it yourself
Which option you go for is likely to be determined by the amount of belongings you have to move and how far you have to move them. If you have the contents of a whole house to move, it's likely you'll go for option 1. If you have a smaller property or flat, or are in furnished rented property you may prefer option 2 or 3. Whichever option you are taking, if you have enough notice about moving there is one thing you can do that could save you time and money – have a good sort out! There is no point in paying for space in a removal van (or self storage unit if having to store short term between moves) only to get to your new property and immediately throw things away. Clear that garage, loft and garden shed before you get your quotations.
Now a couple of important questions to ask yourself if you're still not sure about which removals route to go down.
Q1 – Can I fit everything in the one van?
The answer will of course depend on the size of the van, but to be sure about what fits, you need to be clear about how much stuff you have and also have an idea about how to pack it. A 12ft x 12ft room full of furniture and belongings does not require transport or storage of the same proportions. Things can be boxed or stacked. If using a removal company the number of rooms you have will help them estimate the size and number of vehicles required
Q2 – How far do I have to travel?
Can the removals be completed in one journey? If you're travelling a long distance and you're moving yourself it's not likely to be cost effective if you have to make multiple journeys, but may be achievable if you're only moving a few streets away. For removal companies, the distance you are moving will factor in any quotation given.
Q3 – Have I got anyone to help me?
This may be relevant if using a removal company and will depend on the service option you have taken. But if moving yourself it's quite important. What if things don't quite fit? Is it worth the cost of another van or trip, or can friends or family members take the overflow? In terms of time, a few friends helping could be the difference between the ability to move yourself or not and could save time and money.
Q4 – Is insurance included?
When using a removal company there should be a level of insurance cover for your belongings included but check the small print. Exactly what is covered? Does it matter where (if any) the damage occurs; in transit or while being unloaded etc. If you have valuables, is the level of insurance cover provided enough? If moving yourself or using a man with a van, is there any insurance at all? Will your existing house contents insurance cover your move?
Q5 – Will I need storage?
This may seem an odd question as we're talking about removals but with more people self building there is often a need to store some house contents. People take some of their belongings to a rented property while storing the rest until the new property is completed. In addition, we are finding that more people are not willing to risk losing the sale of their existing property if they can't find their dream home. More and more people move into smaller rented accommodation while continuing their search.
Once you've decided on which removals option you are going to take, make sure you avoid damage by packing and transporting your belongings safely.
If you need storage in the Bristol, Gloucester or Stroud area get in touch. We know that sometimes choosing the right size of storage unit can be difficult so you are welcome to visit our branches and see the different sizes of unit available. Out staff are always on hand to offer helpful advice.
Image Copyright: Baloncici / 123RF Stock Photo