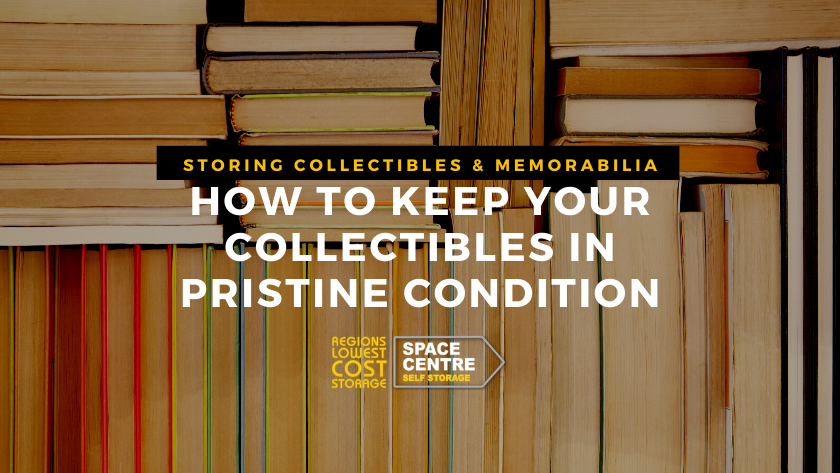 Whether you're an avid collector or a hobbyist, storing collectibles and memorabilia correctly should be your top priority. Regardless of what it's worth, it's priceless to you so following the right steps and procedures will help keep your collection safe. As storage experts, we've written this simple guide outlining some best practices for storing collectibles and valuable memorabilia.
If you're planning on putting your collection into self storage, you want to ensure that you pack and store everything properly. Carefully storing collectibles in a clean, dry and secure environment is the only way to keep everything in pristine condition. This includes antiques, vintage clothing, comic books, vinyl records and more.
Start By Organising Your Clutter
Many people store collectibles alongside other possessions and whilst it can work, over time you will run out of space. This can lead to a cluttered garage, spare room or hobby room which could make finding your valuables rather difficult.
By assigning a dedicated storage spot, you can help keep things more organised and the best place to start is throwing away items you no longer need. A good idea is to either dump it, sell some stuff or donate to charity.
Recommended: 'Decluttering Tips For A Proper Home Clear-out'
Use The Right Packing Supplies and Storage Containers
Whether you are preparing your collectibles for display or storage, packing them properly and choosing proper containers will increase longevity. Although each item may require a different approach, some general rules do apply when storing collectibles and memorabilia. This includes avoiding direct sunlight, only wrap something when necessary and know when and how to clean. Let's start with choosing the best packing boxes, materials and accessories.
Moving Boxes And Storage Containers
Boxes are by far the simplest and most economical choice for storing and moving collectibles into self storage. Whilst moving boxes work for many collectibles, make sure they are sturdy, clean and of general good quality, especially for long-term storage.
Of course, you can also use plastic containers with a sealable lid for an air-tight environment. Whatever you decide on, we recommend getting one or two box sizes for everything to make stacking easier and to maximise storage space.
Bubble Wrap, Sheets, Blankets, and Old T-shirts
As you start storing collectibles in boxes and bins, make sure you fill the gaps with bubble wrap, old T-shirts or sheets. Packing peanuts can work but they often leave spaces whereas bubble wrap forms a protective layer around individual items providing excellent protection during moving and long-term storage.
When storing larger items such as antique furniture, musical instruments and vehicles, you need sheets and blankets. They offer excellent protection against dust, sun exposure and even small surface scratches. If you're serious about collectible storage, you can also invest in vehicle covers or special furniture covers specifically designed for moving and storage.
Plastic Sleeves For Storing Comic Books, Vinyls And Trading Cards
Bigger items are usually more sturdy and robust compared to thinner items such as vinyl records, comic books and trading. When storing these types of collectibles, the best option is plastic sleeves. Aside from offering the right protection from dust, they also allow collectors and guests to handle them without the risk of fingerprints, smudges or stains.
Recommended: 'The Best Way To Store Vinyl Records'
Packing Accessories For Storing Collectibles
Tape, markers, tie-downs and labels are three of many packing supplies that can help collectors take better care of their collections. Tape is used to reinforce bubble wrap and ensure boxes are closed properly so nothing falls out the bottom. Markers and labels are perfect to ensure you never forget where everything is packed. Lastly, tie-downs are vital when storing collectibles that may shift when loading, moving and unloading into a storage unit.
How To Retain The Value of Collectibles And Memorabilia
We've already established the importance of decluttering, using the right packing boxes, materials and storage but what else can you do to ensure collectibles retain their value? And remember, this is about storing collectibles for decades and not just months or years!
Store items with all the original boxes to increase their value
Keep the receipts to prove the date of purchase. Sometimes even the receipt can become collectable so put it in a box or store it with the product
Keep items in a dry area as placing them on a concrete floor in a garage will not keep the moisture out
Avoid a bug infestation by making sure your boxes are tightly sealed or wrapped. Silverfish and moths, for example, can quickly ruin clothes and paper
Control the climate by storing in a cooler room or storage unit and not the garage
Need A Secure Place For Storing Collectibles?
If you're ready to purge some of your valuables, you need to make the right decisions. Is your collection outgrowing the guest room, garage or home office? Choosing to keep collectibles in self storage is often the best bet especially if you are not quite ready to sell. Do the right thing and rent a self storage unit to keep your collectibles and memorabilia in pristine condition.
This guide is the perfect starting point but if you are serious about storing collectibles, it is worth doing some research. If you need more advice or are thinking about self storage as a solution, get in touch with us today!
Space Centre has facilities in conveniently-located facilities in Stroud, Gloucester, Stonehouse and Bristol with storage units of all sizes. For added convenience, here is our easy-to-use price and size guide to help you find the perfect storage unit.