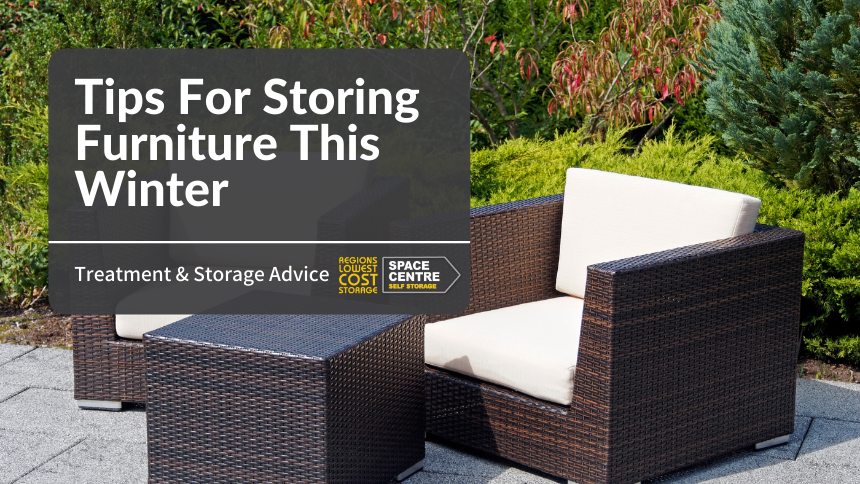 Like clockwork, autumn is in full swing with winter fast approaching and that means it's time for some furniture storage advice. In this article, we share valuable cleaning tips, treating and storing furniture and garden equipment to ensure everything is in excellent condition next season.
Furniture Storage For Winter
If you want to prolong the life of your furniture and prevent damage, you need to clean and treat everything properly. And, anything that can't be left outside should be stored somewhere safe and dry. This is most often a garden shed or garage but if you don't have space at home, you can rent a self storage unit, especially if you bought new furniture this season. No matter what furniture storage option you prefer, these tips can help.
Tips For Storing Furniture Outside
If your furniture remains outside, the best advice we can give is to get some good quality furniture covers. Make sure they fit your furniture snuggly and you can tie it down so they aren't blown away by a strong wind.
If possible, try and cover the furniture in such a way that you avoid any water from pooling in one place. Keep furniture on gravel or any other hard surface as leaving it on grass will leave the feet permanently wet which could make it more susceptible to rot. If you don't have a choice other than grass, remember to treat the legs and feet with a good preservative.
Garden Furniture Storage And Preparation Tips
Garden equipment and furniture storage go hand-in-hand as you want to keep everything in good condition until you need it again. Whether you have wood, aluminium, metal or wicker furniture, it's important to clean everything before putting it away. To make it even easier for you, here is a summary of some simple preparation and storage tips.
Treating And Storing Wooden Furniture
Clean your wooden garden furniture with a specialist wood cleaner using a soft brush
Wipe away excess substance with a clean, dry cloth until the furniture is completely dry
Varnish with a wood treatment to form a protective layer to strengthen your furniture during extended storage
Treating And Storing Metal Furniture
Clean your metal garden furniture with warm soapy water
Only use a clean, soft cloth
Rinse the cloth thoroughly after cleaning and ensure all pieces are completely dry
Rub car wax onto the surface with another soft cloth and buff once dry. This will act as an added layer of protection during moving and storage
Treating And Storing Wicker Furniture
Use a vacuum cleaner with the relevant fitting to get into the weaves
Use a soft dust cloth to remove any excess dirt
Gently wipe the furniture down with a damp cloth
Dry it properly using a soft, micro-fibre cloth before putting it into storage or under furniture covers
Treating And Storing Plastic Furniture
Plastic garden furniture is by far the easiest to clean and store. Simply wash with warm soapy water and dry with a soft cloth. For white plastic furniture:
Fill a bucket with one gallon of warm water and three tablespoons of dishwasher detergent
Use a sponge and the solution to wipe the plastic patio furniture
Leave the solution on the furniture for approximately 15 minutes
Rinse off properly to prevent erosion
The bleach in the detergent will help whiten the furniture
Garden Equipment Maintenance And Storage Tips
The UK winter can be especially harsh on anything left outside, especially lawnmowers and expensive power tools. Whether you're an avid gardener or just love relaxing in the garden, taking care of garden equipment now will help save you in the long term. Here are some simple (but practical) maintenance and storage tips for garden equipment.
Before packing anything away, clean shovels, rakes and other garden tools
Use a hard brush and a little soapy water to remove dirt and grime
To avoid rust, apply a light coat of 3-in-1 oil or WD 40 to all the exposed metal areas
Sharpen shears, clippers, pruners, and shovels at a store or get your own sharpening stone.
As with furniture storage, try to keep things in a dry area. If possible, try to hang garden tools from the wall, rafter or tool rack to provide added protection and to keep things organised.
Cleaning And Storing Power Tools And Other Garden Equipment
Your list of garden equipment should include lawnmowers, powered trimmers or hedge cutters that follow a similar maintenance process.
Clean all power tools and equipment properly before putting them away
Change the oil in all gas-powered equipment before storage
Let the engine run for 15 minutes to heat any sludge before draining
Don't let it sit all winter as sludge can harden and cause engine trouble
Grease all joints, bolts and vulnerable parts to protect against rust
Empty the fuel tank before storage by either tilting the machine and using a plastic can or running the engine until empty
Make sure you thoroughly clean your trimmer around the base to ensure there is no remaining grass or dirt
Easy Tips For Furniture Storage
When using a furniture storage unit, cover everything with plastic sheets and that means the floor too. This will help protect both from dust and damage while making it easier to move heavy items. Here are a few basic furniture storage tips you need to memorise:
If you can disassemble furniture, keep the corresponding nuts, bolts and screws in a Ziploc bag. You can also strap it to the furniture or place it inside locked drawers or cupboards.
Pack big, heavy items at the bottom with lighter, smaller ones on top
Make sure the top items are stable and securely fastened using cable ties, soft rope or plastic wrap
For added protection, place foam underneath to protect the surfaces
Use extra padding on the bottom when storing furniture on top of one another to avoid damaging the fabric
If you're using self storage, make sure you know the dimensions of your unit. This will help maximise space while saving on cost as you won't have to pay for space you don't need. When considering the cost of self storage, it involves more than just rental price as we explained in this article.
Furniture Storage At Space Centre
Garden furniture and equipment can last for many years if you look after them properly. If you follow our guide and pack everything properly, a small to medium unit should provide ample room for your furniture storage requirements.
Space Centre has been in the industry for more than 20 years and knows the importance of good pricing, quality units and exceptional customer service. We have facilities in Bristol, Stroud, Gloucester and Stonehouse in convenient locations with 24-hour CCTV, access control and a special lock only you have a key for.