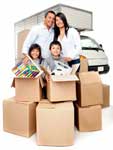 So, you're moving house. What's more, you've got a date and have already started packing. The boxes are marked 'CDs', 'Books' 'Breakables' etc and basically, you're ready to go. Well, nearly.
Have you considered, how you are going to move your belongings from old to new and what mode of removal you're going to use? Some people will leave this task until the last few days, claiming that signing on the dotted line, surveys and solicitors are of far greater importance.
That's right, the organisation of buying and selling is crucial to the move. However, when D-Day arrives, the physical side of moving house is actually one of the most stressful parts of any property switch. It has to be right, otherwise your fresh start can be tarnished – on day one.
There are three choices available when moving house. You could hire a local removal firm, enlist the help of a man with a van or simply do it yourself. A tough decision? Not really. Basically, it depends on your situation and budget.
1. Removal Firms
The most expensive method of moving your belongings would be choosing a removal firm to do everything for you. Yes, they can pack and unpack your belongings while you put your feet up in your new local, but obviously you pay a premium for this. However, if you have a substantial amount to move and you are short of time, this may be the only available or practical option. Many removal companies also offer storage, but it's nearly always cheaper to organise your storage privately.
Make sure you get at least three quotes and make sure you have listed what needs to be moved accurately, remembering the attic, garden, garage, shed etc. Some firms usually visit to take a look, so get a fixed quote.
2. Man with a van
Hiring a man and a van is a lot cheaper. That said, they won't have the resources for a very large house move unless they are prepared to make a few trips. However, you can often pay by the hour for a van and either one or two people to move the items for you. So, if there isn't much stuff to be shifted from A to B, this might actually work out cheaper than renting a van, especially if you're available to help them move the items. If that's the case, you only need to pay for one extra pair of hands. As a footnote, it's important to make sure your goods are fully insured whilst in transit and that you use someone with recommendations.
3. DIY
By renting a van and maybe getting a few friends to help, you can save a great deal of money. However, it can be very hard work and time consuming!
If you are in the North Bristol or Gloucestershire area, why not contact us. We will provide you with all the help you need and of course, information on our storage centres should you wish to use one.
Got any additional tips on moving house for our readers? Write them in the comments box below.