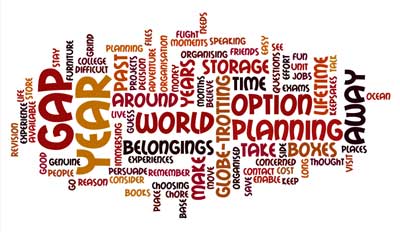 Believe it or not, the decision to take a gap year can be one of the most difficult you make in your lifetime. For most people, it is much easier to stay put and paddle around in your own backyard than to dip your toe into the ocean halfway around the world.
The planning takes time and effort and after so many years slogging away in the classroom and feeling the pressure of organisation, the planning side is a genuine reason why so many youngsters take the easy option.

Even if you get past first base and decide that a globe-trotting experience is what you would most like to do before immersing yourself in the world of 9 to 5, you will have to save a good bit of money, maybe even hold down a couple of jobs in order to make it happen.
However, do yourself a favour and talk to someone who's done it.
You'll probably find that they spend a lot more time telling you about what they gained from their experiences than what it cost them. It will almost certainly persuade you to go for it. And guess what, there are very few who have any regrets.
Planning your gap year
Whilst it might be viewed as a chore to many, there can be many fun moments to planning your gap year. Organising the initial flight, choosing those special places you have always wanted to visit and speaking with one or two of your close friends to see if they fancy an adventure of a lifetime too.
However, whilst college is over and your gap year will enable you to live your life away from the grind of projects, revision and exams, remember that over the past three or four years you will have built up many belongings, pieces of furniture, files, text books and keepsakes. Have you thought about where you will keep these whilst your are globe-trotting?
Mum and Dad's place might be an option, but many families will have downsized once the children have left. So, spare bedrooms are not always available. It's also highly unlikely that you will have organised a property to move into when you arrive back from your 12 months away, so a garage, loft or shed is not an option either.
If you are concerned about where and how to store your belongings whilst on your gap year, why not consider long term storage at your local storage centre. Whether you have boxes and boxes of goods or just a few items that mean the world to you, your local storage centre should be able to help.
If you're in North Bristol and Gloucestershire we have the unit to suit your needs. If you have any questions, get in touch, we'll be happy to help.