Whether you rent out a property long-term, through AirBnB or Home Exchange, using secure storage can help. If you own a rental property, you know firsthand just how difficult it can be to make everything work consistently. You need to make sure all the maintenance is up to date and if you run an Airbnb or HomeExchange, housekeeping must be done between guests. Not to mention having all the furnishings in good repair, practical and well-suited with the decor.
With decades of experience in providing secure storage for homeowners, renters and businesses alike, we know a thing or two about making the most of a self storage unit. Here are a few ways to limit the stress associated with rental properties and how secure storage can help.
Secure Storage For Landlords
When a tenancy agreement ends and you are looking for new tenants, a secure storage unit is particularly handy. It can help you in presenting the property in the way possible way and make sure it's move-in ready. Having a safe place to store all of the small or big items that often detract from the property's appeal can go a long way in increasing its 'rentability'.
What Can You Use A Secure Storage Unit For?
Some tenants who move in prefer finding a few appliances and pieces of furniture, while others – especially those planning to stay for an extended period of time – would rather bring all of their belongings with them. They would then use these items instead of the ones you have supplied. For these types of tenants, you'll need a safe location to store the items from your rental property and a secure storage unit is ideal for this.
Self storage can provide landlords with the extra space they need to ensure a rental property is always well-stocked and ready for guests. It's also a great place to keep any seasonal items or decor that you only need occasionally. Plus, if you ever need to do repairs or renovations, secure storage can help with that too. You can store just about any furniture or belongings that you need to remove from the premises while work is being done.
Storing Lawn Equipment And Cleaning Supplies
Whether you're renting it out or not, maintaining a home requires regular upkeep and maintenance. From chemicals, towels, paper goods and other items to maintain your property and clean lawn equipment, you'll need a safe place to keep it all when not in use. A 20sq ft secure storage unit should be sufficient for maintenance supplies, including
lawnmowers
hedge trimmers or weed whackers
sheers
rakes
spades
salt spreaders for the sidewalk
Secure Storage For Furniture
As a rental property owner, there are many benefits of renting a secure storage unit for extra furniture. For example, you can swap out old pieces for new ones to keep your properties looking fresh and up-to-date. You can also use the storage unit to keep furniture items you are not using at the moment.
As mentioned earlier, you can put just about anything into self storage when doing renovations, including beds, sofas, tables, fridges, dishwashers and other household appliances. In fact, this is one of many reasons people choose a secure storage unit.
Secure storage is particularly useful in emergency situations. What if there is a flood or you experience a dreaded pest issue? At this point, you'd want the house empty so you can clean up, repaint and do whatever is needed without accidentally ruining your stuff.
Top Tip:
If you ever have a pest issue, remember that certain types of furniture could be a breeding ground for the critters or bugs you are trying to eliminate. We highly recommend consulting with a professional about whether to leave the furniture on the property during fumigation.
Home Staging And Self Storage
As any real estate agent will tell you, it's vital to present a rental property to prospective tenants in the best possible way. Although you don't want to go overboard, making a few minor changes is necessary if you want high-quality social media images and postings on property-related or other websites.
Keep in mind that making any big changes could be seen as compromising the rental process, and you might get accused of misrepresenting the sale. With that in mind, if you are staging a property, a secure storage unit is the safest and most affordable way to store furniture, appliances, toys, clothes and equipment until you need it again.
Home Staging Tips To Make Your Property Stand Out
Whilst you can hire a company for home staging, there are many small things you can do as seen on shows like HGTV, Grand Designs, Flip or Flop and Dream Home Makeover. Here are a few home staging tips and tricks to keep in mind:
Remove clutter from all the living areas and perform a deep clean
Remove any personal photos or framed photos on walls and surfaces
Clear bathroom counters of personal items
Keep your wardrobes neat and tidy
Use baskets and storage containers to organise your kitchen and linen cupboards
Remove scuffs from walls and look for areas that may need some TLC
Consider painting a few walls, especially where the old paint has chipped
Move furniture away from walls to make a room appear bigger
Put away garden tools, hoses and other equipment
Set up the dining room table to look like a special family dinner
How To Minimise Secure Storage Costs
A reputable secure storage facility can provide a safe place for your belongings, regardless of how much you are storing. They often have storage units in various sizes that can house anything from a few boxes to furniture, appliances and even a small car.
To make the most of your storage space, make sure you rent the right size unit. Why pay for a more expensive and bigger unit if you can safely pack everything into a smaller one? At Space Centre Self Storage, our units range between 10 and 200 sq. feet but in the UK, the bigger units can go up to 300 sq. feet.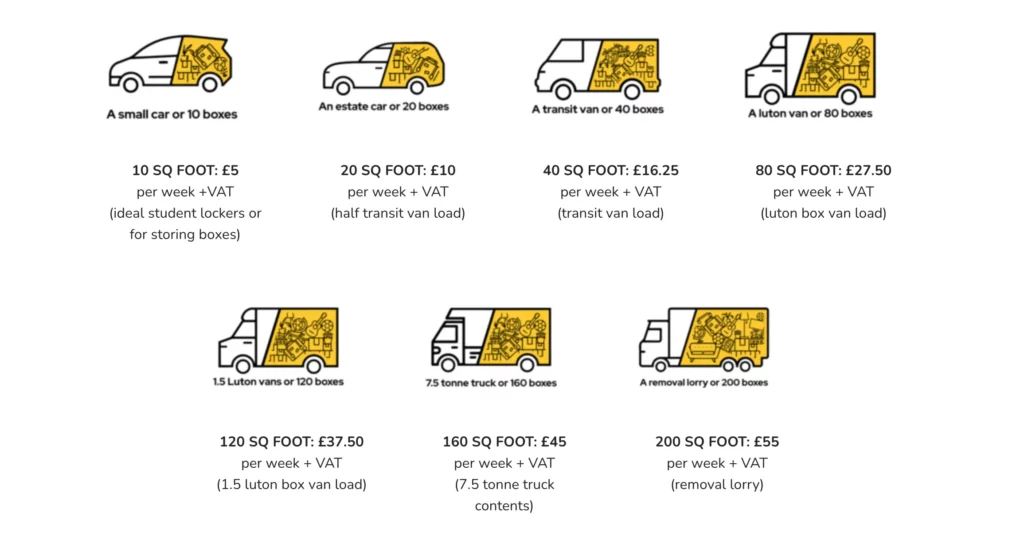 Save Space And Money By Only Storing What You Want To Keep
The reason for renting a secure storage unit is to hold onto things you might need in the future while keeping your property organised. However, before you put anything away, ask yourself if you will actually use the items again. Not storing random items you won't need or don't have a purpose for will allow you to rent a smaller unit, which will ultimately help lower your storage fees.
Pack Your Secure Storage Unit Properly
Packing everything correctly is essential to keeping your valuables safe and ensuring they remain in good condition until you need them again. Here are a few essential packing tips to keep in mind when renting your secure storage unit.
Wrap fragile items in bubble wrap to prevent breakages during transport and storage
Clearly label and mark everything
Keep a detailed inventory
Always pack heavy items at the bottom
Disassemble what you can
Leave an aisle for easy access
Store sofas end-to-end and stack chairs upside down, seat-on-seat
Use pallets to keep boxes and other items off the floor
Use empty space inside wardrobes, chests of drawers, laundry baskets or even suitcases to store clothing, linen or pillows
Insure Your Items While In Storage
Many people believe that their belongings are already insured while in storage but that is not the case. Most often, storage insurance is an additional service provided by the facility and at Space Centre, we provide you with free insurance for goods up to the value of £3,000. If your contents exceed this amount, you need to take out specific insurance by checking with your independent self storage insurance provider.
Regardless of who you choose to use, getting storage insurance will give you the necessary peace of mind knowing you will be fairly compensated if your belongings should get damaged, broken, or stolen.
Follow our weekly blog or join us on Twitter and Facebook for more interesting articles, helpful advice and storage tips. Contact us today for more information about our wide range of flexible secure storage solutions in Bristol, Gloucester, Stroud and Stonehouse.