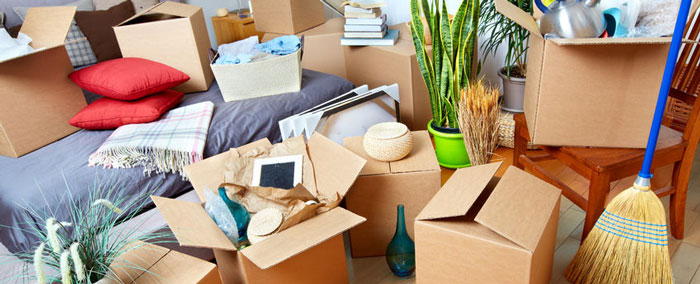 That's the first question on everyone's mind when they consider using self storage for the first time. It doesn't matter how much, or how little you have, trying to imagine it packed neatly away into a locker or larger sized unit can be difficult. After all, you're probably used to seeing the sofa, cupboards, beds and everything else in place in the living room, bedroom or kitchen. It isn't easy to imagine how the things from each room would look packed and stacked into one much smaller space.
So what do you need to think about when working out the size of self storage unit you'll need?
Firstly, and this is quite a common misconception, you won't need a self storage unit the size of your house to hold everything that's currently in it. It's easy to worry about the space when you look at everything you own around you; but don't forget, at the moment it's all spread out across your home and it won't be that way when it's packed up for storage.
Next, think about how things can be packed to utilise storage space that your own furniture will provide. For example, if you have dressers and chests of drawers you may well be able to store boxes, cartons or cases inside them once they're in place in your unit. When doing this it's advisable to keep some sort of inventory so you know what's been stored where, especially if you are likely to need access to things while they are being held in storage. You don't want to have to empty the whole unit in search of that one item!
Finally, when asking about the sizes of unit available at any self storage facility don't forget to ask the height of the ceiling. Unlike at home, when you're storing your furniture around the room at floor level, you will now be storing and can utilise the height of the locker by stacking things. Just remember to stack safely when doing this with heavier boxes and items at the bottom of the pile and lighter more fragile items further up.
When you are packing things up to put them into storage, always remember to pack properly to avoid damage.
Make sure everything is clean and dry especially if storing longer term
Protect furniture with covers
Don't overfill boxes and risk the bottoms dropping out
Don't underfill boxes and risk things rolling around and breaking
Mark your fragile boxes for ease of movement later
If you're packing up your house contents to go into storage you may find the following posts useful.
One final thing to consider when using self storage, and this one is nothing to do with the size of unit but the value of the contents and your home insurance. Always check your home insurance policy to see if your goods are still covered while in self storage. If not you may need to arrange some additional insurance. We provide free insurance for your goods up to the value £3000, but if you're storing a whole house of contents, you will probably need more.
Here at Space Centre Self Storage we compare our unit sizes to van sizes to help you visualise just how big a unit is. We also let you know the ceiling heights so you know how high you can go, but if you're still not sure we are happy for you to visit our self storage sites in Stroud, Gloucester and Bristol to take a look at the different units available.
Image Copyright: Kurhan / 123RF Stock Photo