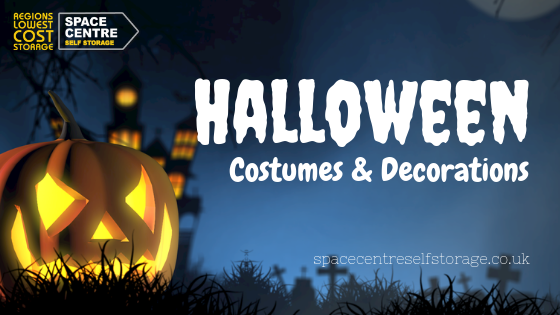 Whether you love it or hate it, October is all about Halloween. While North America plays host to the bigger traditional celebrations, it has become somewhat of a global occasion. Houses are being decorated, fancy dress Halloween parties and pumpkin sales are all on the increase across the UK. This year we have decided to share some crazy Halloween tips for DIY decorations and costumes.
Halloween Tips for Cheap DIY Decorations
Buying Halloween decorations is easy but making your own with the kids is much more fun (and cheaper). If you're planning a Halloween party, your house must look the part without breaking the bank. We found some incredibly creative homemade Halloween decorations that will make any house look haunted, perfect for the occasion.
Glowing Garden Eyes
Quite possibly the easiest and most affordable of the lot, these glowing garden eyes are ideal. All you need are old toilet rolls, scissors, a pencil, black paint for added spookiness and glow sticks. Cut out the eyes, paint the toilet roll, pop in the glow sticks and your glowing garden eyes are set to scare.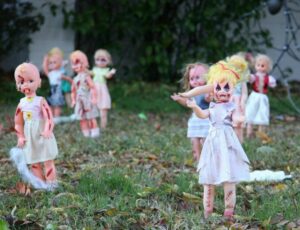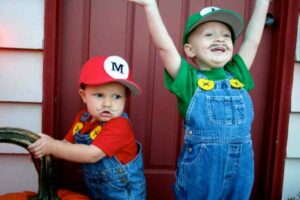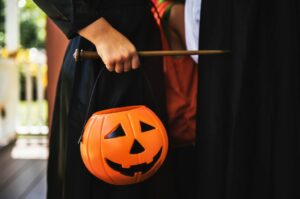 Bleeding Candles
Candlelight adds to any atmosphere and while it often refers to a romantic dinner setting, candles are perfect for Halloween. Not just any candles will do, why not make them bleed. Another very simple, cost effective and fun activity where you only need a lighter or matches, white and red candles. Simply light the red candle and let the wax drip onto the top and sides of the white candles.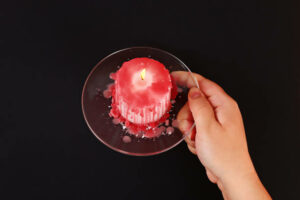 Creepy Halloween Dolls
What's a scary movie without creepy dolls in every room? Take it to the next level this Halloween and make your own dolls, place them in your house or your front lawn for a real freak show.
While you probably can't make your own dolls, you could visit a pound store to buy a few cheap ones. Even broken dolls will work as they'll just add to the atmosphere. Use black and red felt pens to draw crazy eyes, scars and rip some of the clothes for an added scare-factor.
For more Halloween tips and instructions on how to make these dolls, please visit the Homedit website.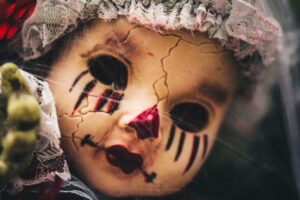 Haunted House Mirror
Perhaps not as scary as Halloween dolls, the haunted mirror can cause quite a stir. Many see mirrors as the doorway to an alternate universe and often not a friendly one either. Add this to your repertoire as it's very easy to make and a must for every Halloween party. Simply cover your mirror with cling film and use watered-down acrylic paint for a freaky finish. Just imagine all the cringe-worthy photographs you can take.
Halloween Tips For DIY Costumes
Now comes the hard part and that is getting the kids to choose a character or theme for their costume. We've included three DIY Halloween costume ideas for the wicked and the not so wicked.
Mario and Luigi  
If you're looking for a very simple and cheap Halloween costume, look no further than Mario and Luigi. While we haven't found any specific instructions to make it yourself, there is an easy workaround. Most little ones have dungarees lying around so add some yellow felt, put on matching caps and you're ready to go.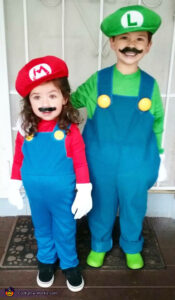 How To Make A Witch Costume
What's Halloween without witches? A popular costume for girls has always been that of a wicked witch. There are many witch outfits readily available at a selection of stores but they're also quite easy to make at home. You can even add a broomstick, face paint, warts, moles and everything else.
Simply cut holes in a bin bag for the head and arms and add a belt around the middle to turn it into a dress. You can also shred the bottom of the bin bag for a true reflection of a witch's outfit. If you really want to look the part, buy a witch's hat at the supermarket for a few pounds.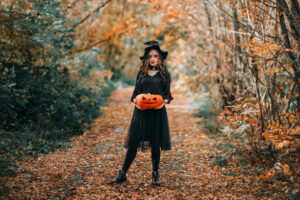 Making A Vampire Costume
Vampires and witches go hand-in-hand and this one is a Twilight fan-favourite. Most of us have played with fake vampire teeth and we all know how much fun they are, especially for kids. Except of course the difficulties chewing sweets and trying to talk without mumbling.
This costume is very easy to make with things you'll probably have lying around the house. Vampires traditionally wear black trousers with a white shirt and, of course, a cape. You can use jeans or any other kind of black pants along with a white t-shirt. As for the cape, you could find something online or simply make one from a bin liner.
Zombie Costumes
It doesn't take much to act like a zombie and kids generally love this concept. They can moan and groan, pull silly faces while stumbling along toward the next house. The most important element to the zombie costume is face paint. Use a white base and then add some red for blood dripping from the mouth. Add dark circles under the eyes and you'll have the face ready to scare. As far as clothing goes, zombies aren't fashionable so you can dress them in anything old, worn and torn.
Halloween Tips For Storing Costumes and Decorations
What happens to all your Halloween decorations and costumes? Do you simply pack it into a couple of bin bags and throw it in the back of the shed, garage or spare room? If so, you will more than likely not be able to use them next year! Rather use plastic, sealable boxes or tubs and don't forget to label them correctly. Always clean and dry costumes before storing them. Even if they won't fit the kids next year, you could always turn it into something else.
Space Centre Self Storage is a local, family-owned and operated business. We provide self storage units of all sizes at very competitive prices without tying people to long-term contracts. Please get in touch if you need a storage unit for your Halloween costumes, decorations or any other household items.
If you have any great Halloween tips for decorations, party themes or costume, we'd love to hear from you. You can comment below or find us on social media.