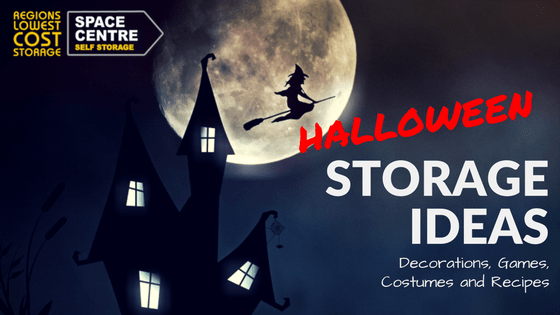 It's that time of year again for the creepy and the spooky Halloween dress up, decorations and treats. Like all things American that find their way across the pond, not many are bigger than this. Homes and shops are decorated, fun activities for the little ones and loads of freaky treats. But as much as fun as it may be, it's an annual event so where do you store everything in between? Is your garage or spare room cupboards a permanent Halloween fest? Over the years we've learned a few simple storage ideas that we would like to share with you.
Storage Ideas for Halloween
In an ideal world you'd have an extra room to store everything; however, it's never quite that simple is it? The short answer to solving your problem is renting a storage unit. It's one way to remove unnecessary clutter from your home and keep everything safe.
Take a look at these storage ideas in preparation for Halloween. This also applies to Christmas decorations and any other seasonal storage requirements you may have.
Clean decorations before storage whether its dust bunnies or insects taking refuge in outdoor decorations especially.
Ensure everything is completely dry before storage as inflatables often collect moisture.
Pile together all your Halloween costumes, party goods, fragile and other decorations. Take a photo and refer to it when shopping for a storage container.
Halloween costumes should be carefully prepped and cleaned before storage.
Fabric costumes should be laundered and stored in soft linen like tissue paper.
Simplify your life with great storage ideas like a translucent box. Try getting one with a colourful lid and label it as well just in case. This way you won't waste time looking for your Christmas decorations in December.
Use newspaper, soft towels or bubble wrap when storing fragile goods. Pack your goods carefully and as compact as you can. You don't want breakables to have too much wiggle room while transporting.
If you have multiple Halloween storage boxes, clearly label each one. For example – costumes, indoor decorations, outdoor decorations and fragile.
When you go Halloween shopping this year, think about hanging on to it for years to come. Not only will you save money, you'll also save on space. If you're still worried you have nowhere to keep it all, maybe this post about creating and finding additional storage at home will help.
We can talk about clever storage ideas all day but right now, let's get freaky with a few Halloween treats and party ideas.
Killer Halloween Party Idea – "What's In The Box?"
If you're hosting a Halloween party why not try this game (not for the squeamish). It certainly sounds like an entertaining experience.
Gross out your guests by filling a box with things resembling eyeballs, intestines, fingers or something slimy. Use a shoe box, cereal box or even an old Tupperware container. Cut a hole big enough for a hand but small enough to still hide the contents. Then cover with a sheet, add in some black paint, fake blood and spider webs to make it even better.
A few ideas to gross out even the bravest of souls include peeled grapes for eyeballs, cooked noodles as guts, canned peaches for liver and last but not least, over cooked rice as maggots. Be creative and let your imagination run wild. Add tomato sauce, cooking oil or even jelly to give it a real twist. Smell is important too so use onions, fish, sauerkraut or any other foul-smelling food. Don't forget to line the box with a plastic bag to avoid leaks if you're using wet items. Sit back and enjoy everyone's reactions.
Wicked Treats
Why not take finger food to a whole new level with these scary tasty treats. There are some good recipes online but you can also visit your supermarket if you don't have the time.
How about a big bowl of eyeballs?
Simply pour raspberry dessert into a bowl or plate and drop in a few chocolate eyeballs. You can get these at Sainsbury.
Hot dog mummies are another great treat
Cut puff pastry into strips and wrap it around a frankfurter and decorate with mustard.
Cheesy bleeding fingers anyone?
Doesn't sound very appetising but don't let the name scare you. It's just cheddar cheese, butter, flour and some skinless almonds. Follow this recipe and you'll end up with a realistic looking plate of bloody fingers.
Halloween is not just for kids so include some fun for the adults as well. Click here to find more recipes for kids and great ideas for the grown-ups.
We would love to hear your ideas for Halloween games and treats. Please leave a comment below or find us on Twitter and Facebook.