It's that time of year again when we all have to start thinking about how to store our garden furniture until the warmer weather returns. It can be a daunting task, but with the right advice, it doesn't have to be. In this article, Space Centre Self Storage shares some valuable tips on garden furniture storage and how to properly clean everything beforehand to avoid potentially expensive damages.
Furniture Storage: How to Clean, Treat and Store Garden Furniture
Garden furniture should be cleaned and dried thoroughly before being stored away for the winter. Not only will this help preserve the furniture, but it will also ensure it is clean and looking its best when you take it out again in spring.
If you have cushions on your furniture, you will need to wash the covers and thoroughly dry them before storing them away. Consider covering them in plastic to ensure they stay clean while in storage.
The way to clean and treat your garden furniture will depend on whether it is made of wood, metal or plastic. Each material needs specific attention to prolong its life and prevent damage during storage.
Furniture Storage for Wooden Garden Furnishings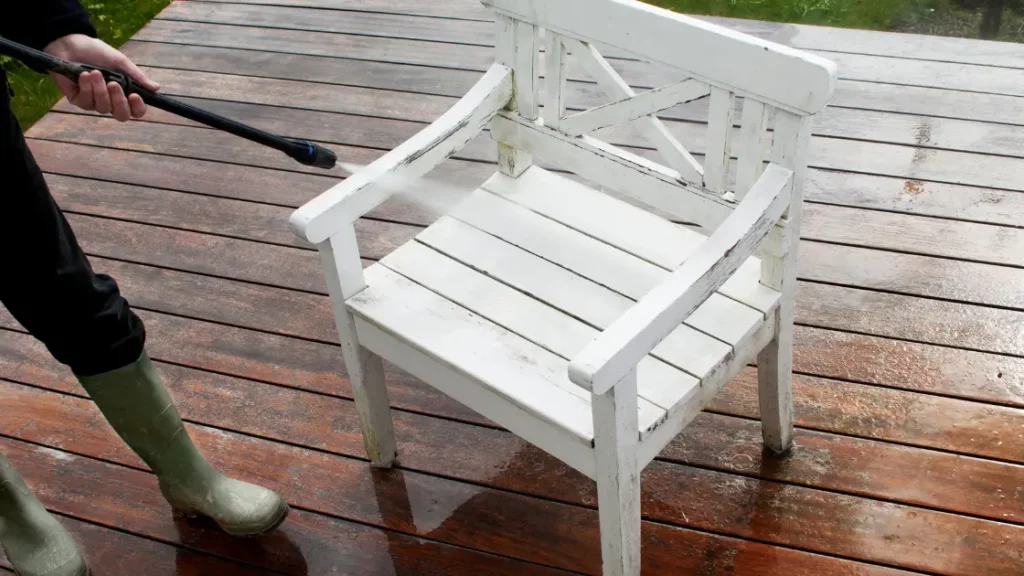 To clean wooden garden furniture, start by using a soft brush to remove any dirt or debris. You can then use a mild soapy solution and a sponge to scrub the furniture. Rinse the furniture with clean water and let it dry completely in the sun.
Once it's dry, sand off any old cracking or peeling varnish and apply a fresh coat. Wood varnish will help to protect the wood from moisture and prevent damage during extended storage. Remember to oil all the metal joints before placing your items in your designated furniture storage.
Preparing Metal for Furniture Storage
Metal garden furniture is incredibly durable but is prone to rust over time. If the paint or plastic coating has started to peel off, these areas need urgent attention before considering your furniture storage options.
Begin by wiping the metal furniture with warm soapy water and a clean cloth to remove dust, debris and flakes of paint or plastic. Use a wire brush to scrub off all the rust spots present on the furniture, and ensure you check underneath to find any hidden rust spots. Treat all exposed areas with rust-repellent paint that you can get at your local hardware store.
Preparing And Storing Plastic Furniture
When it comes to furniture storage, plastic garden furniture is the simplest to clean. Wash off any dirt and dust with warm soapy water, then dry each piece thoroughly with a clean, dry cloth.
If you have white plastic furniture, you can return these items to their former glory using dishwasher detergent and water. Mix three tablespoons into a gallon of warm water and wipe the furniture with the solution. Leave it on the white garden furniture for 15 minutes and then rinse off and dry the furniture.
Preparing Rattan or Wicker for Storage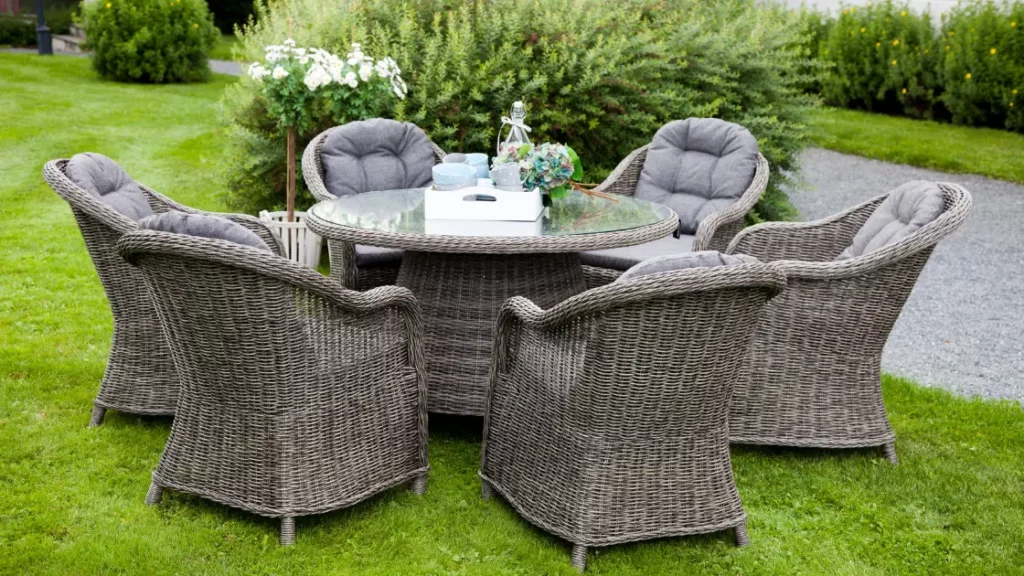 If you want your rattan or wicker furniture to last, it's best to store it indoors, but If you don't have the space, make sure to clean, dry and cover it to protect it from the elements. As you can imagine, the woven nature of these materials means they need a little extra care.
To clean your furniture, vacuum it using the soft brush attachment to remove any dirt and dust from the weaves. Then, wipe with a damp cloth to remove the remaining dirt or mildew. For best protection against future wear and tear, put in a self storage unit at Space Centre until next spring.
Furniture Storage: 7 Tips & Tricks
Garden furniture isn't cheap, so it makes sense that you want to take good care of your investment. The tips below will help you get the most out of your furniture storage and keep your furniture in good condition.
Take the time to clean and prepare your garden furniture before storage to avoid damage.
Do not store furniture in direct sunlight, as this will fade and damage the material.
Avoid storing furniture near any sources of heat or areas that may flood and cause water damage.
Cushion the corners of wooden furniture to protect them from damage when moving items into your furniture storage unit.
Cover your garden furniture with a tarp or sheet to protect it from dust, dirt and moisture while in storage.
Use pallets to raise your furniture off the ground to prevent it from getting damp which will lead to mould growth.
Check on your stored furniture regularly to ensure everything is in good condition, and there is no moisture damage.
By following these simple tips, you can ensure your garden furniture stays in tip-top condition for years to come. Furniture storage doesn't have to be a daunting task, and a little extra care will go a long way in preserving your investment.
For tips on storing garden tools and equipment, please read our blog: Simple Garden Equipment Storage Tips For Winter.
Space Centre: Garden Furniture Storage
If you don't have furniture storage at home, why don't you rent a self storage unit from Space Cente for the winter? A short-term self storage unit is the perfect furniture storage solution for your belongings during the winter months.
You can end your short-term self storage rental agreement anytime and then begin it again when needed. Compared to the cost of replacing expensive garden equipment, self storage is almost always cheaper and, thus a wiser investment than keeping valuables at home.
For more information on short or long-term furniture storage, contact Space Centre Self Storage.