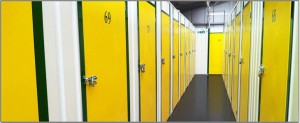 When you head off in search of a secure storage unit, don't forget that the safety aspect is every bit as important as size. After all, if its files, ebay goods, belongings or tools you are looking to store in a safe, dry place, they all have an intrinsic value. They could be your livelihood, important records or simply a collection of keepsakes that to you, are worth their weight in gold.
So, when you've found a suitable location with ease of access and you're happy with the price quoted, why not ask the site owner a few questions about the security aspects of the storage unit and the site. The answers should leave you comfortable in the knowledge that the secure storage unit provider cares as much about the safety and security of your goods and possessions as you do.
With regards to security on site, each storage unit should be locked with the customers own padlock so only they have keys to it. Padlocks must be good quality discus type or closed shackle for insurance. There should also be keypads on the entrance to the main warehouses and barriers where you need a code to enter.
Here are a few questions you should ask when you go about your search for the right secure storage unit
1. Are the units alarmed and covered by CCTV and is that alarm system connected to the Police?
Any good facility should have a modern, fully functioning closed circuit television system that is in operation 24 hours a day. The cameras should provide high quality digital images and be strategically positioned to cover the whole perimeter of the building.
2. Is the site where your unit is located locked and alarmed out of hours?
Check that both the premises and your individual unit has the benefit of an up to date alarm system with 24 hour monitoring and fast response times for any alarm.
3) What height of perimeter fencing surrounds the site?
Consider what deterrents are in place to keep out unwanted visitors.
4) Will I have my own key and will anyone else have access to my secure storage unit?
Ensure that your secure storage unit not only enjoys the protection of your own lock and key, alarm system and CCTV, but is clean and dry thereby ensuring that the items you store, remain in the same condition when you take your goods out as when you put them in.
5) Is the site open on a 24 hour basis?
Director Lucinda Dangerfield said; "Peace of mind and total security is essential to anyone seeking to store their goods or belongings. Here at Space Centre Self Storage we have CCTV at all branches maintained by Siren Alarms in Stroud and an alarm system that goes straight to the police. We also have floodlights that are switched on after dark.
"Outside of hours the site is locked and alarmed within a secure compound so no one has access. We don't do 24 hour access for security reasons and our site perimeter is a high steel fence so no vehicles/people can get in after hours. The secure storage units are very safe and of good quality."
If you have used Space Centre Self Storage in the past and wish to pass on your thoughts with regards to the security aspect of our sites and individual units, please post your comments below.
Alternatively, if you've got a question about secure storage in the North Bristol or Gloucestershire area, posts it below or give us a call at Space Centre Self Storage .