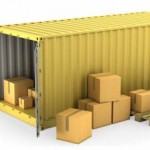 If you fancy a spot of De-cluttering but don't want to throw away those items that have spent the last 20 years in the attic, then eBay is the perfect way to not only create space but to earn some extra money too.
Sign up, list your items and hey presto, your Paypal account gets bigger and bigger and bigger. For many people, eBay provides that second income, however big or small.
Storing your eBay goods before sale, however, can be an issue for many people whose houses have precious little storage area. Where should they keep their goods prior to sale? For years, they have been clogging up the attic and now, the space is required. Maybe you wish to extend into the attic or possibly, for the first time in years, you simply want a junk free zone at the top of the house.
Unless you can find somewhere else to store those goods prior to sale, the space you long for in the attic, will not materialise. Your plans to create that extra room will have to go on hold.
The answer to eBay storage problems is relatively simple. Self storage. It's a cheap, no nonsense, short term way of storing your goods before you sell. Here at Space Centre Self Storage, we open our doors – and units – to a number ebayers who use our facilities to store their unwanted items prior to sale. After all, our dry, damp free, safe units, are perfect for storing antiques, old furniture or those CDs and books that will never see the light of day.
If you are based in the North Bristol of Gloucestershire area, and you need advice on working out how much space you want or whether we can solve your eBay storage issues, why not contact us at Space Centre.
Director Lucinda Dangerfield said; "We have a wide variety of businesses and individuals using our units for storage – from ebayers looking to sell antiques and retro furniture, to others who need to create space in the house but don't necessarily wish to throw away their goods.
"As a company we have opened our doors to many an ebayer over the recent past, many of whom simply don't have the space at home to store the goods that they feel can earn them some extra cash.
"I can remember one client who would photograph the goods outside the unit and then meet the buyer on site to pick it up.
"It was clearly a starting platform for that particular person as they eventually moved in to their own shop. eBay is big business these days and not everyone has the storage space at home to keep their goods.
"There are other options, of course, but if you want to keep costs down, storage can be the cheapest way of doing it."
Are you a seller with any tips for our readers about their eBay storage issues? Leave them in the comments box below.