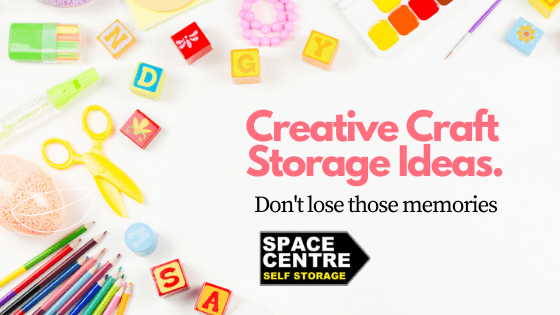 This is an unprecedented year, one which will be remembered for many different reasons by different people. For some, it may be the hardship of not seeing friends and family while others will forever remember the challenges of homeschooling. This includes finding ways to educate kids while keeping them busy with art projects which brings us to today's topic of craft storage.
Homeschooling, Craft Storage and the Lockdown
While some children may enjoy being away from school, others are missing their friends and all the fun activities. Parents have had to step up during difficult times to create fun things to do, one of which is more arts and crafts.
With the lockdown still firmly in place after several weeks, there is a good chance you have loads of artwork lying around the house. As a parent or carer of school-age children, it's always a challenge finding craft storage ideas that actually work.
Choosing what to keep and throw away can be difficult as some kids craft projects can be rather 'interesting'. Let's be honest, unless it's hand and footprints or something special like a family poem or letter, drawings resembling scribbles or blobs probably aren't worth keeping.
Simple Craft Storage Ideas
Regardless of the decluttering project, you have to be quite ruthless when deciding what you want to keep. In all fairness, you only need a snapshot of each year so start by asking the kids to choose a handful of the work they are most proud of.
Another helpful piece of advice is to keep work that shows progression. The most common is usually the first piece of writing they did at the start of the school year and one they did at the end of the year. The same applies to math and topic-specific work.
While there are so many craft storage ideas online, many of them can be expensive and time-consuming. Even the good ones still result in several boxes all over the place which would have to be stored somewhere. Have a look at some of these clever craft storage ideas for treasured school work.
Stationery Boxes
Stationery boxes are among the most useful and easiest craft storage ideas. All you do is cut or carefully tear out children's school work/artwork/certificates you wish to keep in the stationery box. To save space later, don't use a box for every year as it could become a cluttered mess. A better alternative is a box for each key stage or a few boxes per child. Remember to add a date to the piece of work or at least a year group using a clear label on the front of the box.
Craft Storage and Ring Binders
Binders may not be the prettiest of craft storage ideas but they're probably one of the most efficient. You can even add dividers to separate projects by year group and use plastic document wallets or sleeves to protect their valuable artwork.
Using Frames and Photo Books
Wall frames come in many shapes and sizes with some seemingly made for craft storage. These frames can hold up to 50 artwork pieces which allow you to frequently change/rotate what is displayed. Your fridge is only so big and without cluttering all your walls with frames, why not go digital?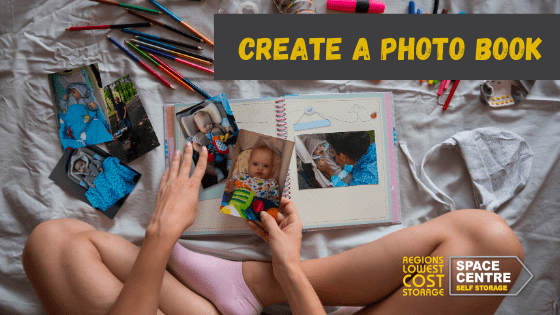 There are only so many places you can put up pictures which will only fade and get crumpled over time. The best way to store important artwork is by using a scanner and saving a digital copy on your laptop, flash drive or desktop computer. From there, use an online photo printing company or create a photo book of your own.
Turn Kids Craft Projects Into Personalised Gifts
Technology means we have more ways to organise, store and share kids' arts and crafts. Once again, using a scanner, reduce the piles of paper and transfer it onto just about anything. With the right software, you can put your kid's favourite drawing on bags, clothes, coffee cups, phone covers and many other types of merchandise. Think of the all smiles and joy these sort of things would bring to the grandparents.
Recommended: 'Storing Paper Records Effectively'
Make A Collage and School Projects Book
Staying on the topic of technology and the online world, you can find cheap templates to help turn your kids craft projects into a stunning collage. Keep in mind that you may need basic Photoshop skills for some of the templates or at least tech-savvy in one way or another.
The last craft storage idea is creating a digital scrapbook album or book of your children's work. You'll be amazed at how beautiful the finished product can look while being small enough so it doesn't take up too much space. These small books are easy to store and read and while you could create a digital copy, there's just something special about holding an actual object.
Related: 'How To Organise School Papers And Artwork'
How Are Families Coping During The Lockdown?
Families are relishing this rare opportunity to spend quality time with loved ones as it's not often we are forced to stay together for extended periods. While the lockdown, in general, may not promote happiness, hopefully being together for a long time has created new memories of how we are coping. This includes all the simple things like family walks, games, gardening and arts and crafts among others.
People have had to adapt with many habits changing during these difficult times, especially if you consider schools are still closed and many people working from home. The way we stay busy and entertain ourselves has forever changed. People are keeping diaries – something they've never done before – and taking likely taking more 'family' photographs than in previous years.
Recommended: '6 Simple Tips For Storing Photographs'
Conclusion
This year is certainly memorable, perhaps not what we had hoped but we will be in the history books one way or another. Don't lose the memories of a very strange year so use some of these craft storage ideas to keep photos and letters safe for future posterity.
For many, it might be impossible to let go of the physical artwork which means putting everything you want to keep in self storage. Remember to use the right tools for the job, including folders, files, plastic boxes and storing in a clean, dry, damp free environment.
If you want a quality, affordable and reliable facility, Space Centre Self Storage is open for access 24 hours a day with storage facilities in Bristol, Stroud, Gloucester and Stonehouse. Many of our units are on the ground floor offering easy drive-up access.