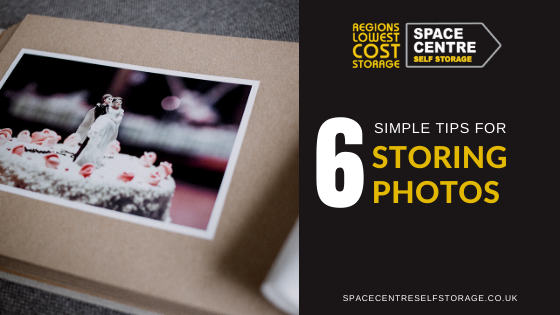 The lockdown has brought about significant changes to our daily routines and homeschooling children is one of many. COVID-19 does present a unique challenge but it won't last forever and you are not alone! Once schools reopen, kids will go back to 'normal' and get the help they need to catch up. That said, while they are at home, why not educate and interest them in different ways? One such idea involves organising and storing photographs which can be an exciting family project.
Lockdown Project: Organising And Storing Photographs
Do you have boxes or packets of old photographs stored in cupboards or the loft? Maybe you inherited pictures of great grandparents, aunts and uncles across interesting times in the past. This is a good time to get the kids involved in organising and storing photographs. Ask them to sort the photos into date or family order and then tell the kids about each picture.
Talk about where and when the photographs were taken and who is featured in them. Be sure to put the necessary information on the back of the photograph for reference purposes. It may seem like fun (and it is) but you can make it educational as well. This can be a research project where they need to guess the era from the clothes on old photographs using the internet to help investigate a specific time in history.
The Importance Of Properly Storing Photographs
Putting details on the back of photographs are important but it's only possible if you stored and preserved everything properly. If the photo is damaged, nobody can make out faces or places and the memory is essentially lost in time. Whilst organising, preserving and storing photographs is important, people often put these tasks aside until later but that rarely turns into "now."
This is not ideal as you must consider the worst case scenario where photos could be damaged or lost. It may not seem realistic but what if your house burns down? Someone could also break in and steal your photo albums or laptop. If you haven't made a digital copy and back-up yet, all of those precious memories will be lost forever.
Fortunately, when it comes to storing photographs, there are ways you can preserve the memories for generations.
How Do I Store Photographs?
There is no better time than the present to take control of organising and storing photographs properly. This a great family project but it does involve some element of planning and includes the following:
Get the right tools for the job
Find a clean, well-lit workspace
Organise all the photographs you want to keep into a system
Make notes as you go along
Scan old photographs to make digital copies
Prepare photographs for storage
Use The Right Tools For Organising And Storing Photographs
Regardless of the task at hand, having the right tools is always helpful. When preserving and storing photographs, you need photo-safe storage boxes of archival quality. This means acid and lignin-free which will help protect photographs from light damage as well as the chemicals found in developing envelopes and older albums that are not photo-safe. While plastic storage containers are great for many things, storing photographs is not one of them as they can trap moisture.
Other handy tools for organising and storing photographs are as follows:
Photo-safe pencils for writing on the back
Photo-safe sticky notes and index cards for sorting purposes
Dental floss to remove photos from old magnetic albums
Dust rags and cotton gloves for handling pictures
Rubber cement pickup for removing adhesive residue from photographs
Choose a workspace
If you don't have a spare room or home office space, set up a table in a spot with enough room and good lighting. Don't use your kitchen table as this project will more than likely take several days. Be sure to wear gloves and handle the photographs with care. Older photos are usually delicate and susceptible to further deterioration from the residue on your fingertips. Always wear cotton gloves whenever you handle your photos.
Recommended: 'Storage Tips For A House Clearance'
Organise The Photographs You Wish To Keep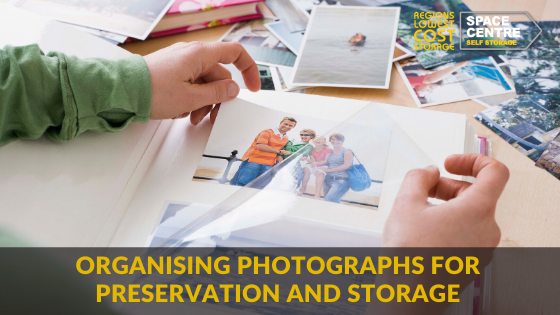 The first step is to identify the photos you want to keep and preserve. Just as you use a pile system when decluttering your home, do something similar with photos. Organise the photos that should go into an album, a storage box and which ones should be thrown away. An added option is to put aside photos that tell a story like your grandparent's first car or house.
Now it's time to organise your photographs and something that works well is either chronologically or thematic. If there are sufficient details on the photos to organise chronologically, it's a great way to organise everything.
When there is no indication of date or place, we recommend following a theme-based approach. Themes are easier to identify than dates so you put together an entire collection of photos based on one theme, whether it's a Christmas album, birthday album or a holiday collection.
Make Notes As You Go Along
Making notes refers to several aspects from labelling photos on the back to using index cards or sticky notes to organise photos on a table or using boxes. These notes can help group your photos accordingly as you sort through them.
When labelling photos, carefully use a permanent marker and include details such as names of people, places and dates. Labelling your photos is important, not only for reference purposes but also when storing digitally. Remember, you may not be able to tell the story to all the grandchildren and great-grandchildren which makes this an essential part of storing photographs.
Using the notes or labels on the photos when making digital back-ups will make them so much easier to find. It may seem time-consuming to change the details but it's quite simple when done in the following way.
Top Tips For Digitally Storing Photographs
As mentioned earlier, themes make it easier to organise photos and using keywords or tags to group images is a great way of creating themed digital photo books. You should ideally have a naming system from the start so you can continue organising and storing photographs in an ordered way.
An example of a good naming system is something like YYYY-MM-DD-Theme-Location-Description. If it was a 2018 Christmas holiday photo with family in Germany, name it as follows: 2018-12-25-Xmas-Germany-family-holiday.
Some of the keywords you can use include:
Family
Weekend
Holiday
Sport
Pets
Funny moments
Beach
Christmas
Easter
Related: 'How To Group Image Files'
Scan Photographs For Digital Storage
Photographs are part of your family's history so keeping them safe is essential. Today, you'd be silly not to scan and digitise photos as the technology is there and easy to use. Besides preservation and safety, digital backups also make it easier to share and enjoy those special moments online with friend and family.
If you have negatives and slides, you should try to find a scanner that will digitise them as well. When you have printed photos and the negatives, it's better to scan the negatives as these will show better colour and a clearer picture.
Scanning your photos is one thing but you can also scan your index cards if you prefer. Digital copies are safe as houses but hard drives can still crash and flash drives can easily go missing so we suggest putting all the digital images in cloud storage.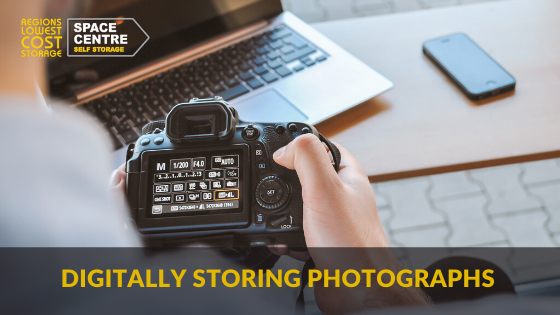 Top Tips:
Always wear clean, cotton gloves when handling old photos as your fingers could leave behind oils that can damage precious heirlooms and collectables. Remember to support the photos properly as you sort and identify them as many older prints can sometimes be fragile.
Preparing And Storing Photographs
Whether you are storing photographs at home, in the garage or a self storage unit, you need to organise your pictures into envelopes or boxes to preserve their condition. The best container for storing printed photographs should have a soft, sealed and water-resistant exterior (plastic) but with dividers to separate photos on the inside. Using that as a guideline, use envelopes or file folders as dividers and a plastic tote or file box to contain them.
One of the most popular containers for storing photographs is still the shoe box and for good reason. Firstly, you will likely have some lying around and secondly, they are stiff and square-shaped which means shoe boxes can keep photos flat and well-protected. The only downside is that shoeboxes are not water-resistant so it's best to use them for organising purposes and plastic, water-proof containers for long-term storage.
How To Pack Photographs In Boxes Or Envelopes
Use stiff, flat materials and containers so that photographs stay flat
Don't cram too many pictures into a box that is too small as it will lead to damage and dog-ears
If there is extra space in the container, fill it with non-acidic tissue paper
Also, use non-acidic dividers to avoid peeling old photos apart
Use albums with acid-free sleeves, sheet protectors or photo corners
Avoid adhesives as it contains acids that can deteriorate the quality of printed photos
Don't overstuff the photo album as it can damage the spine and cause pages to fall out
Choose photo albums made from textiles, such as leather, that don't appeal to moths and other pests
Wrap your photo albums in tissue paper before placing them in bigger boxes for added protection
Looking For Affordable Storage Units?
Now that you have organised your photos physically and digitally, they can easily be shared with friends and family. Your children, their children and many more generations will be able to share your family's history because you took the time to create a meaningful storyline during one of the most challenging times humanity is facing.
Remember, if you don't have the necessary space at home, you should consider renting a self storage unit. At Space Centre Self Storage, our units are clean, dry and secure with facilities in convenient locations in Bristol, Gloucester, Stroud and Stonehouse.
While the lockdown has impacted our business as well, we are open for storage access and staff are available on a part-time basis. Please call us or visit our website if you need any advice or would like to know more about our storage units.