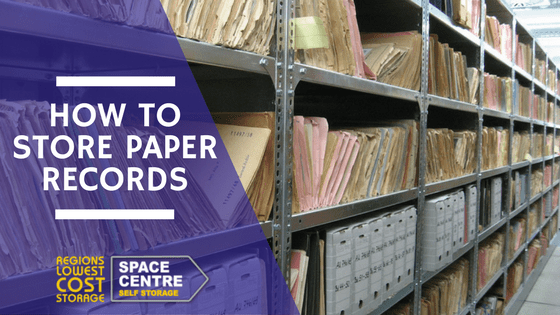 The importance of storing paper efficiently is essential. Not just as a business looking to store financial and client documentation but also for personal reasons. You may have valuable family documents, birth certificates, academic qualifications and other sensitive material. What do you do with all your important files? What is the best way to archive paper records?
As a business owner you might find it challenging to determine what to keep, trash, recycle or store. First, identify whether or not the files will be accessed and referenced on a regular basis. If that's the case, digitize those records to provide your clients with fast and efficient service.
Storing Paper Digitally Saves You Time and Money
Technology has advanced to the point where storing paper digitally is now more affordable than ever. Documents can be scanned and stored on site meaning less paper clutter around the office or home. This is particularly useful if you have limited space.
Digital storage also contributes to a paperless work environment which not only makes it environmentally friendly, but also improves filing and record keeping practices. Digital documents can be organised even more effectively using record management software. Files are easier to access, reference and compare in a document-heavy industry like financial and insurance companies.
Effective document storage is a vital part to any storage management plan. When called upon for tax or VAT purposes, or any legal entity like the health and safety regulator, you need to be prepared. You should ideally have multiple copies plus the originals on hand, either in a safe, on your computer or a flash drive.
Remember to add passwords to sensitive documents as a deterrent for unauthorised access. Consider multi-layer security measures to counter spyware, hackers and possible theft or file corruption.
Storing Paper Using Self Storage
Some people digitise everything where others prefer a more traditional approach with self storage. If you keep client files for several years, consider using a self storage facility for the historic documents. This will help organise your office or home, free up additional space while your important documents are safely locked away.
Having a well organised storage space is important. Put newer files at the top of your boxes and closer to the entrance of your storage unit. Mark your boxes accordingly to easily find what you are looking for later.
Most storage facilities have climate controlled units ideal for storing paper but do your due diligence when relocating your files. Check if their units conform to your business regulations, if they are dry, dust-free and with 24 hour security. Some facilities may even offer an 'on-demand delivery service' so your files can be sent to you when needed. This is not a standard option but it's definitely worth finding out what they can offer you.
Tips on effectively storing paper
All paper intended for long-term storage should ideally be printed on acid-free paper. The humidity levels of a storage unit, or any storage space, must be regulated. Light and heat sources should also be minimized.
Where possible, paint the walls of your storage space with a light color. Light colours can help prevent damage that may result from sun exposure and proximity to light fixtures. Some storage facilities might allow this but it's not always the case.
If your storage unit is big enough and the facility allows it, consider installing shelves. It's a great way to organise everything and keeps your storage space uncluttered. Avoid packing boxes directly on the ground and be sure to label each box for easy identification upon document retrieval.
More importantly, you must have a contingency plan in place. Regardless of all the necessary precautions to protect the integrity of your documents, unforeseen situations do occur. These include accidents or natural disasters which can certainly damage or even destroy your files. Make multiple copies of originals and consider digitizing everything, or at least the most important files.
Preserving old family documents
Valuable family documents should be preserved correctly. It's important to protect documents from environmental damage like exposure to light, temperature and moisture. Handle these documents with care by following our guidelines below:
Use a clean, dry and well ventilated space
Clean and dry your hands before handling documents
Cover documents or pack away when not in use to protect from sunlight
Keep original packaging as it could help with safekeeping and identifying
Do not write on the documents or use any form of adhesives
Please share your thoughts below if you have any other suggestions on how to store and care for personal or business documents. Your comments could be useful to many of our readers.
Get in touch if you have any questions or need advice on storage solutions for you. Our units are affordable, clean, secure and available in many sizes.