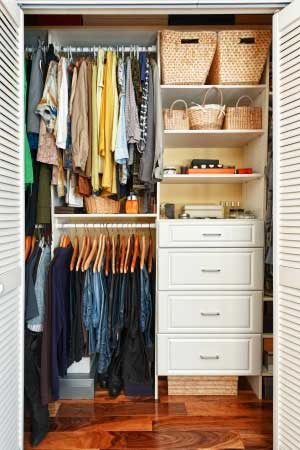 Creating storage space is key to all of us. It doesn't matter whether it's your lounge, conservatory, kitchen, bathroom or bedroom, we could all do with some extra space. At this time of year especially, you find yourself looking for extra cupboard or storage space. The presents have been unwrapped and the kids have a host of new clothes, toys, computer equipment or TVs to find a home for.
And the place it needs to live is in the bedroom -somewhere!
A seasonal clean out or a general tidy up may solve your problems. But the chances are, there'll be little that can be got rid of. You're going to have to look a little more closely and be a little more inventive about creating storage space in the bedroom.
Here are 7 ideas to help you when it comes to finding extra storage space in your bedroom.

1. Use the space under your bed
You can buy all sorts of storage containers to slide under your bed. These are useful for clothes, toys, books or shoes and they are out of sight!
2. Organisation is nine tenths of the law
When it comes to your bedroom if you organise your space efficiently, you will find there is more room elsewhere in the room for other items. Use drawer organisers and multiple purpose hangers to tidy up that heap of tangled belts or ties.
3. Utilise unused cupboard space
Just like in kitchens there are many over the door hangers and storage baskets that can be attached to your wardrobe doors. Also consider adding the extra shelf inside if there's space. If you're worried about drilling holes, use kitchen type stacking racks to double the storage space for things like shoes.
4. Have you considered changing the bed?
In children's rooms especially, there are some great 'storage' beds out there that allow you to utilise every bit of space in and around the bed.
5. Maximize storage on walls
Use open and closed shelving, bookshelves and storage units on your walls. Choose wall mirrors that hang on the walls over large ones that sit on the floor.
If you can't live without your television, a flat screen mounted on the wall will instantly add space to your bedroom. The same applies with your speakers. Wall mount them rather than sit them on a chest of drawers.
6. Store seasonal clothes wisely
It is always important to find somewhere to store seasonal clothes. You could vacuum pack them to make more space. If you've got more than a wardrobe full you may even consider a small self storage unit to give you the extra seasonal space you need.
7. Use dual purpose furniture
A bedside table may look nice, but a small set of drawers or a small cupboard will be more practical if storage space is an issue. Consider things like a floating drawer instead of just a shelf – it will give you double the storage.
Have you created extra space in your bedroom? Tell us how and why. Leave us your suggestions and tips that have worked for you.
Image Copyright: / 123RF Stock Photo