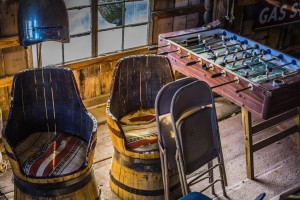 Every man needs his space, that goes without saying. It could be the garden shed, the spare room, the attic or a converted garage where you can come and go as you please. Known affectionately, as a 'Man Cave', your secret getaway is, in many ways, the last bastion of masculinity.
Enjoyed by the likes of Hollywood superstars, George Clooney and Brad Pitt, the trend of the 'Man Cave' is also taking off in the homes of many British men. A survey commissioned earlier this year, revealed how 61% of British men admitted to having created their own 'Man Cave' in their home.
What is a man cave used for?
Storing books and files
Collecting football and rugby programmes
Stacking those CDs that never get an airing in the house
Stashing books, comics or magazines
Watching your own television programmes
Home to your own laptop or games console
Unfortunately, whilst a Man Cave is prevalent in many households these days, there are those families who simply don't have the space to create a male sanctuary. The birth of your first child might have seen to the spare room, whilst the return of one or more of your children, post university has put paid to any plans of transforming your currently unused bedrooms into a shrine to your books, comics and CD collection.
If that's the case and you cannot find a single empty corner to store your belongings or to set up your own games console and / or television, then why not consider a self storage unit as the spare room you've always wanted. You could utilise the space to de-clutter your shed or garage, in order to create your very own Man Cave, at home, or you could use the self storage unit as your own private hideaway.
At Space Centre Self Storage we offer units of all sizes to suit your needs. They are secure and damp free and provide the ideal amount of space for you to establish your own Man Cave. For peace of mind too, there are no long term contracts to sign or hidden costs. What you see is what you get.
With centres in North Bristol and Gloucestershire, Space Centre Self Storage is accessible to many thousands of people in the south west and we pride ourselves on our customer service and after care. So, come and talk to us, we will provide you with a free quote as well as helping you with any ideas of how you might transform your own unit into a mantuary!
Equally, if you are pushed for time, give us a call.
Have you got a man cave? What do you use it for, storage or to escape the world every now and again?